Hello there, I wanted to rescue some of my old MySpace blogs and archive them here on my own site. Over the next few weeks I will retroactively chronicle a particularly colourful period exactly two years ago. This was originally posted on November 18th, 2007.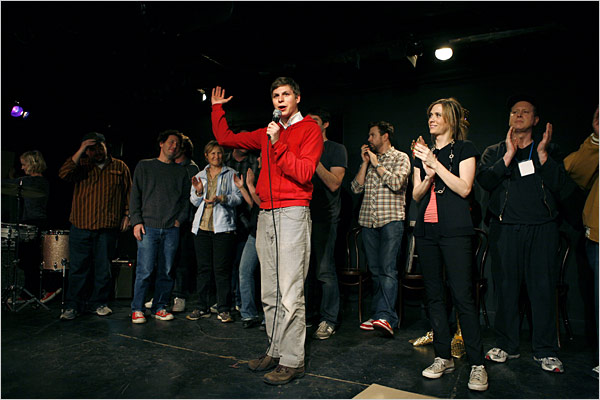 I was one of the lucky bastards who witnessed the live on stage SNL show at New York's UCB Theatre last night.
A fund raiser for staff who have been laid off during the writers strike, it was organised by Amy Poehler and featured the full cast, along with ex SNL members Rachel Dratch and Horatio Sanz. Plus Norah Jones turned up to sing on The Lonely Island's "Iran (So Far)".
Yo La Tengo were the band. And one Michael Cera was the host.
Comprised of sketches too weird, too off color and perhaps too funny (!) for network TV, it was quite fantastic.
I feel privileged indeed to have been front row for this amazing event and see performers like Will Forte, Kristen Wiig, Jason Sudekis, Fred Armisen Andy Samberg and Bill Hader off the leash.
This is my last night in NYC, onto Philly tomorrow, then Roanoke, Virginia, then Asheville, NC and beyond!
P.S. Please note that you cannot give me sightseeing suggestions for a past road trip. Unless you happen to be the Tenth Doctor.