Hello there, I wanted to rescue some of my old MySpace blogs and archive them here on my own site. Over the next few weeks I will retroactively chronicle a particularly colourful period exactly two years ago. This was originally posted on November 30th, 2007.
Okay, so I got behind on my blogging. Am sitting in Flagstaff preparing to drive back to L.A. tomorrow.
But that exciting final part is for later, here's some adventures I had earlier.
….flashback to Saturday morning…
After having stayed up very late developing a man crush on Robbie Robertson at the Belcourt, I got precious little sleep before my drive to Memphis.
But, needs must and I hit the road, stopping to try the biscuits at the Loveless Cafe. Biscuits. Good. Again.
Then it was long ass drive through wind and rain through deepest Tenessee, powered along by espresso, Doubleshots and lots of tunes.
Such as…
Old Salty Dog Blues - Flatt & Scruggs
I'm a Man - Bo Diddley
Hurricane - Bob Dylan
Maybelline - Chuck Berry
Back Door Man - Howlin' Wolf
Man of Constant Sorrow - Stanley Brothers
Ode To Billie Joe - Bobbie Gentry
She's Not There - The Zombies
Dark Lady - DJ Food
Alabama Song - The Doors
Know How - Young MC
When I got to the posh Madison in Memphis, I was royally fucked on only three hours sleep and promptly collapsed in a heap.
In a struggle to get out before sundown, I hotfooted it over to Beale Street to have a nose around.
The heartland (tourist trap) of Memphis was a little too Disneyland for me. The proximity of Hooters and Coyote Ugly didn't really make it any better.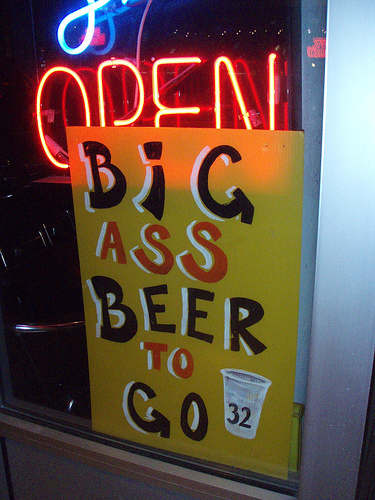 So instead I headed over to Sun Studios to check out the Heart Of Rock And Roll (Huey Lewis reference unintended).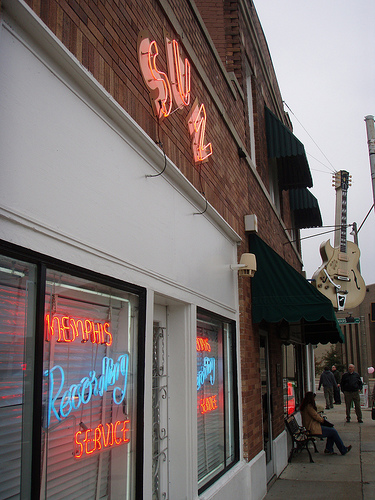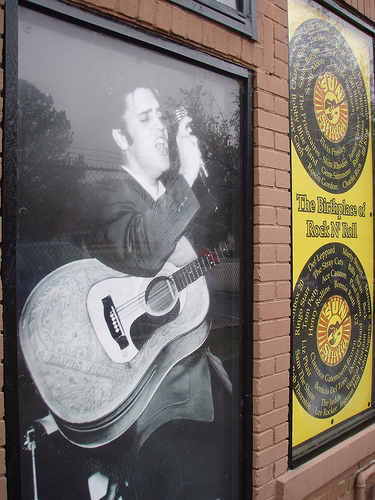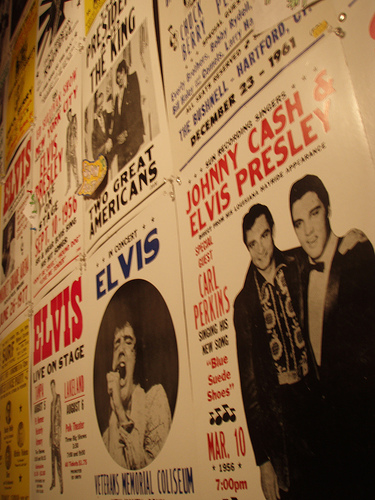 This tour was short and very, very sweet; pretty thrilling to be in the very spot where arguably the very first rock and roll record was cut. ("Rocket 88" by Ike Turner, fact fans.)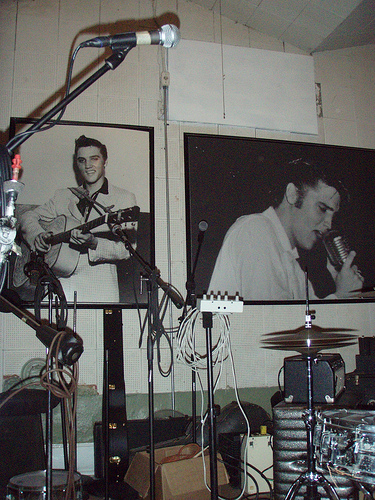 And forget Elvis, I have to say I got a shiver when the very nice guide told me that Jerry Lee Lewis' "Whole Lotta Shakin' Going On'" had been recorded in the very room. In one take. That's pretty incredible.
The tour itself was conducted by David Brookings, a budding singer songwriter himself and the spit of Jack White.
Apparently you can still rent out the studio for 85 dollars an hour. Some people just hire it to sit around with some beers and listen to Johnny Cash.
Then it was on to some Memphis hotspots. First up the ribs at Rendevous came highly recommended by my travel advisor John Landis and Peggster-in-chief Harmony.
I'm no ribs afficionado, nor do I have a doctorat in B-B-Q, but good they were.
Being a bit shattered and acutely aware that nothing was going to top Gypsy Pompe's bluegrass Spiderman, I didn't go crazy in Memphis.
I stuck my head in at Otherlands coffee, Neeleys and some coffee shop with a lady doing flamenco, but that was about it.
I must say that I was liking the fact that live music was playing in pretty much every venue in town - and with appreciative audiences. It's quite something.
My actual exciting highpoint of the night was the discovery that someone had smashed my tail-light and it was busted.
So then I made a 10pm trip to Hertz to swap my rental car over. This low speed cruise to Memphis airport whilst trying to evade the Smokies, was like a very unexciting game of Grand Theft Auto.
Man, how many cops are there in Memphis? Every corner was lurking with the Tenessee Fuzz, lurking like sharks with their headlights off.
Anyway, I made it to Hertz and switched my wheels (cough - a red Ford Escape) for another set of a wheels (cough - a blue Ford Escape).
Yeah, anyway, up yours pigs.
I digress.
Next morning, I got up and out like a proper tourist and had breakfast at the rather amazing looking Arcade Restaurant.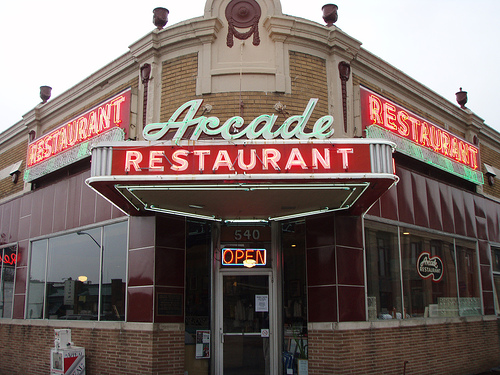 And then it was on to my double whammy, Graceland followed by Stax.
I wouldn't say I was a big Elvis nut, but I couldn't pass up on the 2nd most visited home in the U.S. (1st is the White House).
And it didn't disappoint. Aside from it being as sacred as the Vatican for Elvis fans, it was an amazing snapshot of a house whose furnishings had been lost to the mists of 1977.
Pretty much the house inside was one third Southern mansion…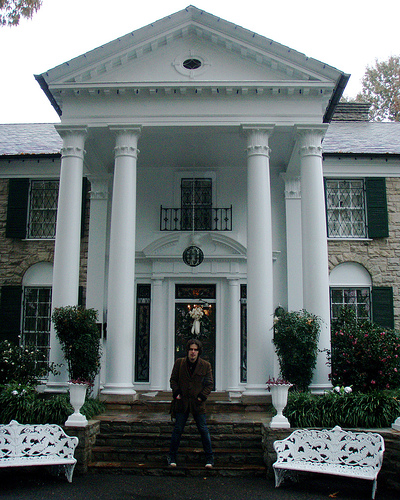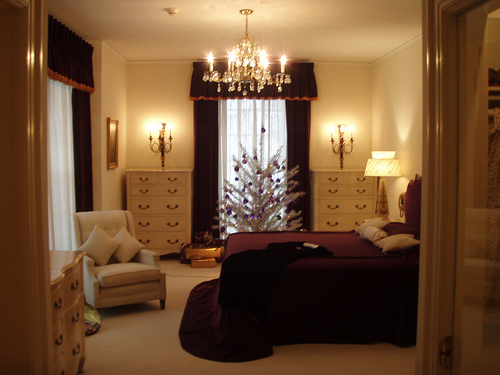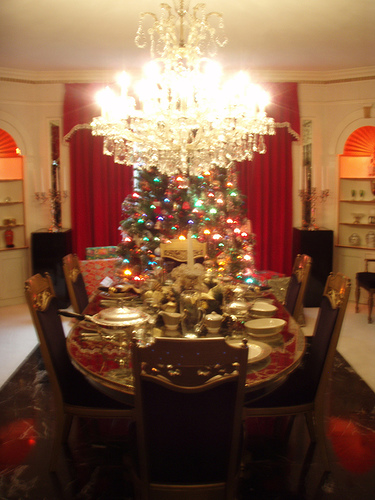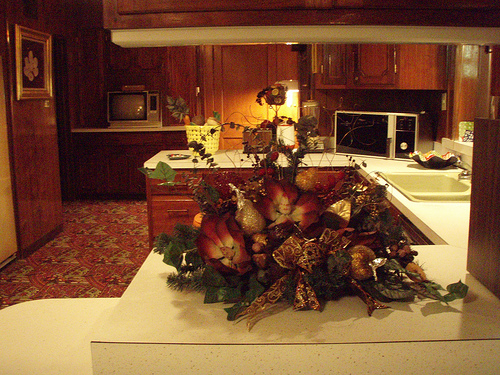 One third Trader Vics decor…(the Jungle Room no less!)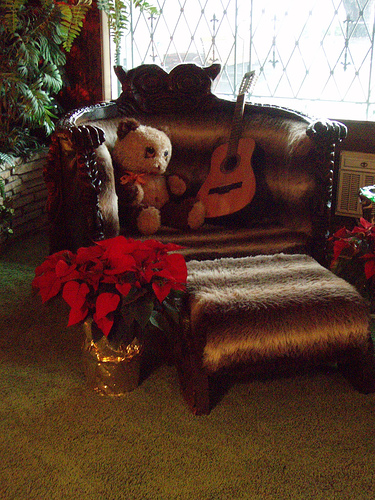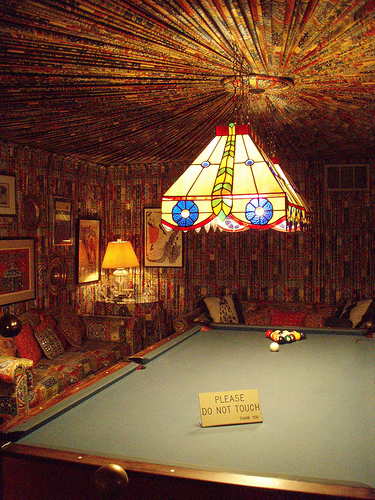 And one amazing third…2001 Space Odyssey. Check out the amazing TV room where the Pelvis would watch all three networks at once.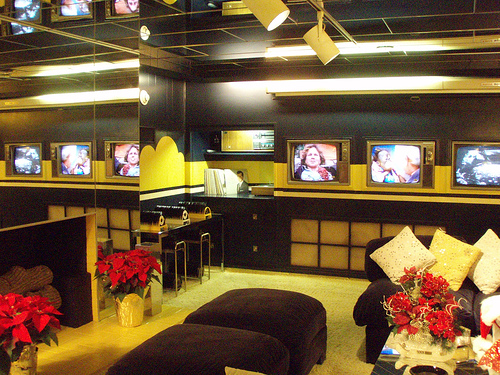 Thank god he wasn't around to today. The room could barely hold all the main networks let alone Cinemax, TBS Superstation and E!
Not even Mike Teevee could cope.
The rest of the tour of office bulidings, squash courts and trophy halls was filled with memorabila and personal items.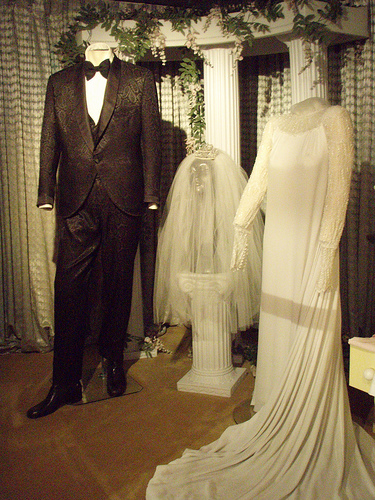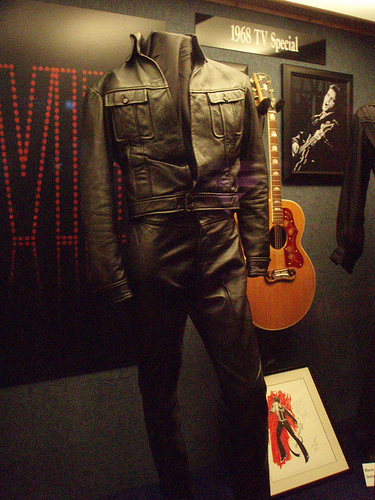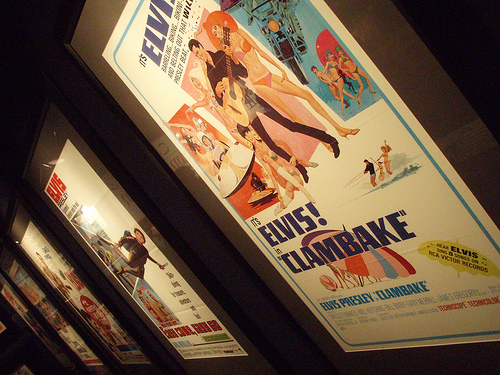 As a result, I must admit I find myself a little unmoved at the final stop of the tour, Elvis' grave, buried next to his parents and with a marker for his infant twin brother.
I don't know why, but as much as I'm sure that's the main attraction, it still felt odd being part of a line to see someone's grave. Maybe they should have let the 'tranquilty garden' remained exactly that and let the Graceland tour be more about white fur beds with in built radios.
I did a quick skip around Elvis' automobile museum and also an exhibit called Elvis: After Dark.
Ostensibly this was supposed to be about the night time antics at Graceland. But rather than tales of Cybil Shepherd, white panties, milk and cookies, it was just a tame series of anecdotes about the King's insomnia.
There was a TV with a genuine bullet hole in it. Which was pretty cool. How do you like them apples Travis Bickle.
Post Graceland, I zipped right over to the corner of McLemore and College, once home of Stax Studios and Stax Records.
Man, what a great tour this was and simply staggering to think how many classic tracks had been recorded there. Green Onions, Walking The Dog, Soul Man, Knock On Wood, Soul Finger, (Sittin' On) The Dock Of The Bay, Theme From Shaft and so many more.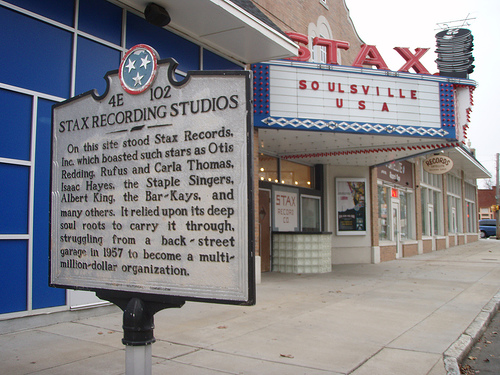 It made me wonder why a similar thing hasn't been done in London. So much rock history has been lost to redevelopment.
I used to always be amazed that there's no recognition of where Trident Studios used to be in St Annes Court, Soho. Bowie recorded Ziggy Stardust there for godsakes. Queen too with…Queen and uh… Queen too.
So with that I left under an almighty thunderstorm and dark clouds above. Fuelling me on my long drive to Hot Springs was a bunch of Stax recordings that I stocked up on…
Pretty much all the tunes mentioned above were blasting out as I made the trip in deepest Arkansas.
I also picked up Isaac Haye's Hot Buttered Soul (Best Album Cover ever) and zoned out listening to the epic intro to Walk On By and his even more extended By The Time I Get To Phoenix.
Sorry to say, but not much was a-hopping in Hot Springs on a wet Sunday November night.
I felt like I could have been in a Deep South version of I AM LEGEND, there were so few people about.
I was the sole diner in a steakhouse on Central Avenue, but the bartender filled me in on its origins as the Native American's "Peace Valley", a concept that was later taken up by warring Mafia clans who would holiday here.
But what was once Switzerland for the Cosa Nostra was now a quaint little tourist spot.
I stayed at the Arlington Hotel which along with the Majestic had once hosted one Al Capone. There are supposedly many tunnels under the hotels so the mobsters could escape the cops.
Not that the hotel has any gangster chic anymore. It has a Starbucks.
In the morning I went for a (!) hike, had a proper old fashioned spa session in the Arlington's 1920's era baths and then went to the Pancake House, where I saw a family say grace before tucking into an obscene stack of syrupy badness.
It was time to leave Arkansas.
Tunes for this part of the trip.
Walking The Dog - Rufus Thomas
Respect - Otis Redding
Hold On I'm Comin' - Sam & Dave
B-A-B-Y - Carla Thomas
Tramp - Otis Redding & Carla Thomas
Soul Finger - The Bar-Kays
Soul Limbo - Booker T. & The MG's
Respect Yourself - The Staples Singers
Never Can Say Goodbye - Isaac Hayes
An Unknown Quantity - Bill Ramsey & The Jay Five
Bad Kids - The Black Lips
Mother Sky - CAN
Slow Cookin' - Bobbie Gentry
Six Days On The Road - The Flying Burrito Brothers
Molotow Cocktail Party - Vivi Bach & Dietmar Schönherr
More later…
P.S. Please note that you cannot give me sightseeing suggestions for a past road trip. Unless you happen to know Dominick Hide, or indeed his flipside.