Hello there, I wanted to rescue some of my old MySpace blogs and archive them here on my own site. Over the next few weeks I will retroactively chronicle a particularly colourful period exactly two years ago. This was originally posted on November 30th, 2007.
Phew. I just got back to L.A.
More of that later, but here's something I blogged earlier….
It's Monday morning and I'm passing by signs saying "Miller Lite Welcomes Hunters", bars called the Wooden Nickel and spots like Blowout Mountain.
Oh, yes. The drive from Hot Springs to Oklahoma was a long and lonely one.
Maybe I was tired or maybe I picked the wrong stretch to 'get into' country, but I had 327 miles of roadbound introspection. And a lot of Neil Young, Loretta Lynn, Johnny Cash, Flying Burrito Brothers and also Cat Powers' phenomally sad Nashville album, The Greatest.
As I travelled northwest on the 270 past Lake Ouachita and over Mount Ida , I listened to two whole Gram Parsons albums back to back. That's a lot of heartache in one sitting.
One song in particular, 'She', damn near set me off. Sigh.
Little did I know that when I stopped at a convenience store in Pencil Bluff, I was about to experience a very real sense of loss.
Call me a little paranoid, but as a foppish tourist, I like to stow my gadgets away in the little central compartment of the car.
But whilst stuffing in my iPhone, iPod, digital camera and dictaphone (yes, I could combine them into one), I heard an almighty crack.
I broke the front of my iPhone. oFuck.
Worse still I got two splinters of perspex stuck in my hand. One is still in my thumb and will have to be tweezered out. iPain!
With parts of my poncy Apple gadget sticking into my flesh, I felt a Max Renn moment coming on. Maybe I would be able to pull texts out of my stomach in future.
Either way my phone was phucked. It was very, very blue for a long time.
Yes, okay. It's a very shallow sense of loss, but man was I heartbroken.
It was then I truly "got" country.
Sad tunes for this portion included…
She - Gram Parsons
There's A World - Neil Young
The Greatest - Cat Power (so sad!)
Hot Burrito No.1 - The Flying Burrito Brothers
But also…
25 Minutes To Go - Johnny Cash
Fist City - Loretta Lynn
Louisiana Man - Bobbie Gentry
Convoy - CW McCall
I got to Oklahoma under cover of darkness and paid a visit to the Oklahoma City National Memorial, the tribute to the victims of the Federal Building bombing.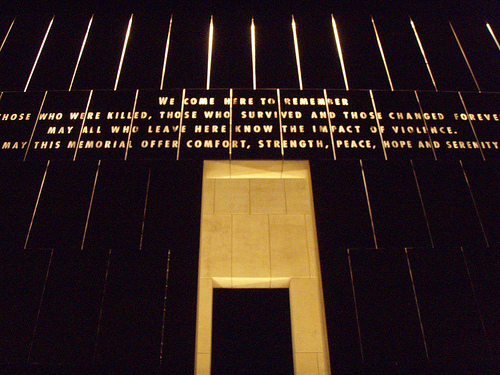 It must be humbling at any time of the day, but a night it was very emotional. The Field Of Empty Chairs was quite, quite haunting.
I checked into my hotel, and went for a bite to eat down in Stockyard City at the Cattlemen's Steakhouse.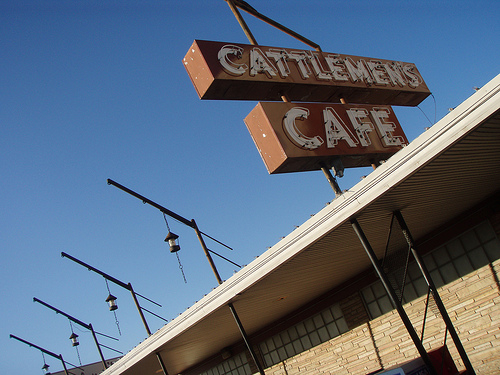 Again I stood out as a English wine drinking fop among the Stetsons of the red meat eaters. But, it was some damn good steak as to be expected.
Sad to say, not much was doing again on a freezing Monday night in November. I had a quick scoot around Bricktown, but decided to hit the hay.
Not literally. My hotel was actually really nice. It had wireless and shit.
As far as fancy lodgings go, OK was a-okay by me.
Although the needlessy ornate coffee maker was called a Java Pod and the coffee sachets were called Coffee pods. That's a step too far, even for a media whoopsie like me.
So then it was an early 7 A.M. start, a double espresso at the great coffeeshop The Red Cup and it was off on the second half of my adventure.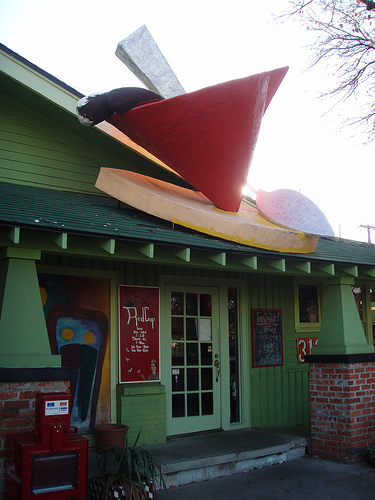 Oklahoma, much like the musical I feel I hardly know thee, but it was westward ho again. My mighty Route 66 adventure begins!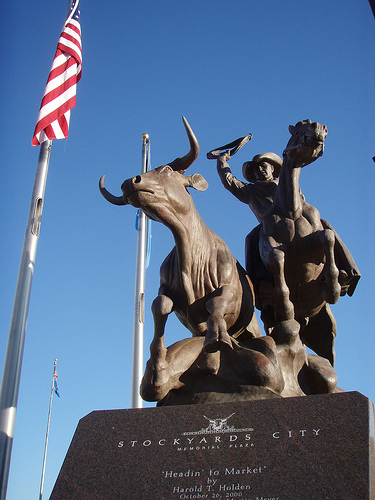 More soon.
I am going to collapse.
E
P.S. Please note that you cannot give me sightseeing suggestions for a past road trip. Unless you happen to know how to hypnotize yourself back in time with only an antique pocket watch and the memory of a young Jane Seymour to help.