Hello there, I wanted to rescue some of my old MySpace blogs and archive them here on my own site. Over the next few weeks I will retroactively chronicle a particularly colourful period exactly two years ago. This was originally posted on December 1st, 2007.
So I hit the road first thing and began to motor west, getting my kicks, Route 66 etc.
You get the idea.
Powered again by espresso and tunes, it was great to be driving down America's great original highway once again. I'd done a stretch of it around Arizona about 9 years ago, but this was a much longer drive West into the California sunshine. (There would be an ironic pay off to this.)
For those who don't know Route 66 runs mostly parallel to the I-40, sometimes veering off to many towns that have dwindled since the building of the interstate. There's still a roaring trade in nostalgia, but it's ironic when you travel down the the W-I-40-Business loop, it's past endless derelict motels and cafes.
I headed out of Oklahoma into Yukon, birthplace of Garth Brooks himself. He has a boulevard named after him. I combated the omnipitence of Mister Brooks by blasting out Yo La Tengo.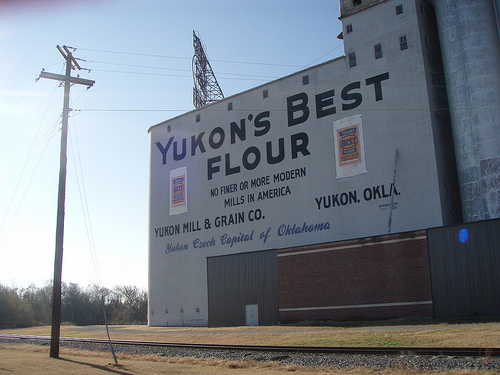 Then I was moving, moving, moving on to El Reno where I made a brief stop at Sid's Diner for another coffee. I have to say most of the coffee served on the trip at such stops wouldn't be in my top 100 of caffeine experiences, but you got to support these non-chain places, especially if you essentially are only using their restroom.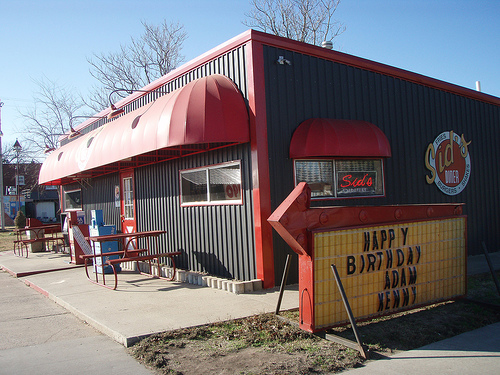 El Reno is famous these days as being a main location for Rain Man. I resisted the temptation to spill toothpicks all over the floor and count them.
Between El Reno and Hinton was an awesome stretch of the original historic Route 66, and this bridge on the South Canadian river made me feeling like Kowalski for the first time. I wasn't speeding. For the record, not speeding. Ahem.
I took a brief toodle around Red Rock Canyon State Park and then swung by one of the touristy Route 66 Museums in Clinton.
Then it was on to another amazing strip of country of my way out of Oklahoma.
Apologies for the glut of freeway line photos, but here's another awesome one.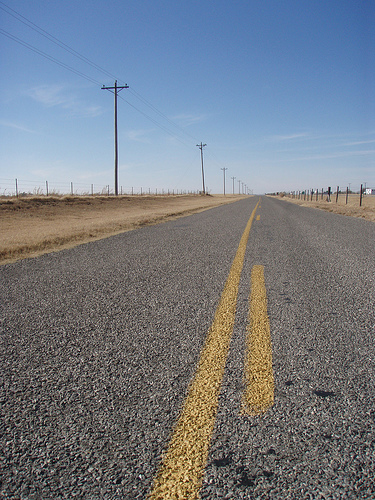 Then just before hitting the Texas border, I hit the ghost town of Texola. This was pretty haunting. There were geniune tumbleweeds.
I don't want to sound like a big puss, but I damn near ran back to my car after taking these rather bleak pictures.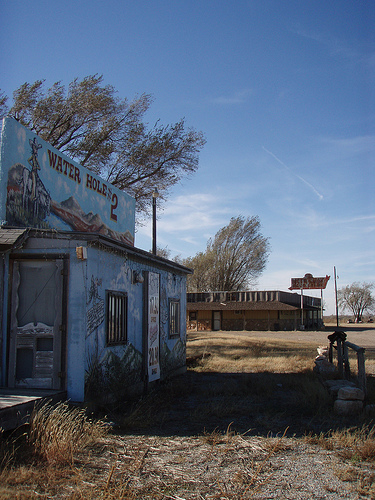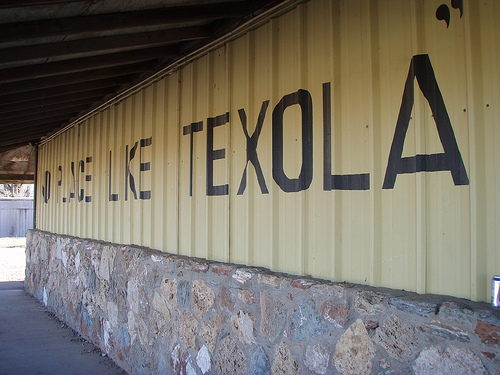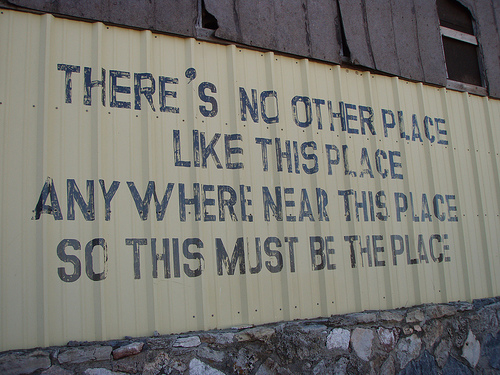 Spooky.
Then I was over the border on the South Service Road and into Shamrock Texas.
I stopped at the Pioneer West Museum, tipped the nice lady in the empty museum and took these pictures, whilst faintly creepy Christmas music played.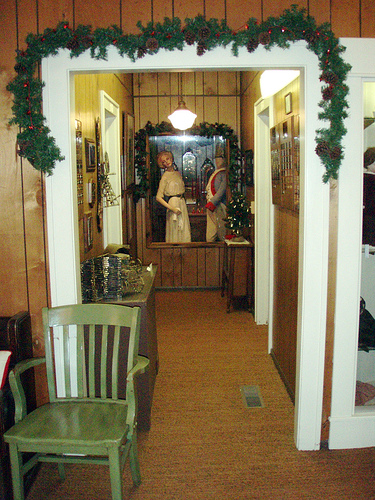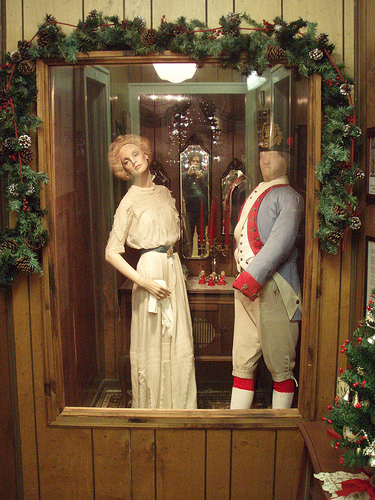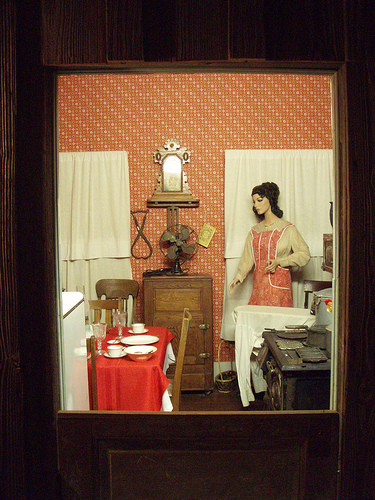 I was in the building for all of 7 minutes. But it was an intense hit of Americana.
Then it was off again, barrelling down Route 66 to McClean and this extraordinary collection…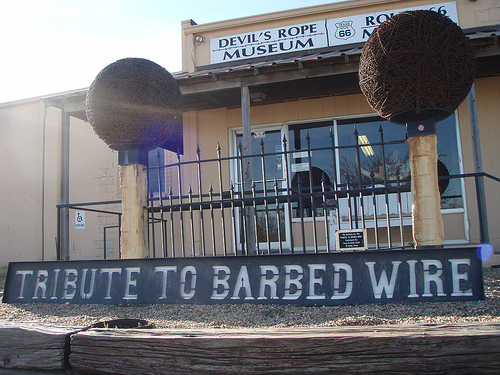 That's right. Man, I didn't even know 'The Devil's Rope' was a euphemism for barbed wire. But here, in McClean, Texas, was the barbed wire Graceland.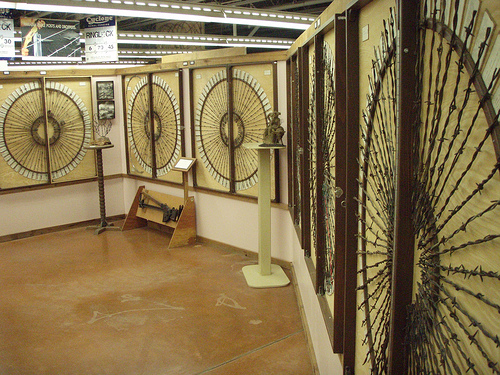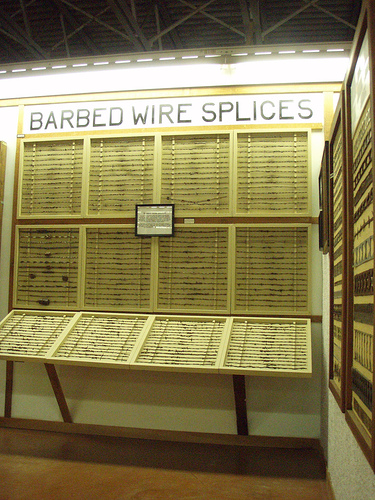 The commitment to the chronicling of the Devil's Rope was quite staggering. I donated a good ten bucks and thought a lot about Satan's String as I hit Amarillo.
The sun was a going down when I got into town, but I wanted to make one stop at magic hour.
The justly famous Cadillac Ranch, just west of Amarillo.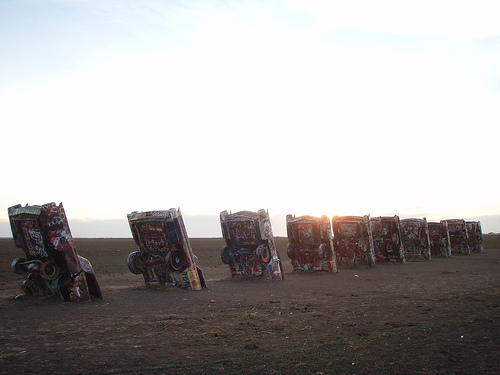 So yeah. Right in the middle of a field at the side of the highway was this amazing sight. Stanley Marsh III planted 10 Cadillacs, ranging from 1948 to 1963 models in the earth.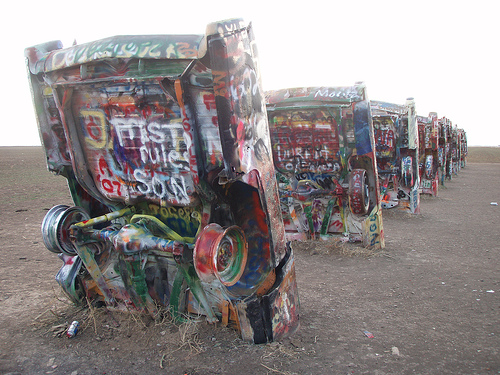 Ain't that something? (American twang intentional)
And suddenly it was night and Amarillo revealed itself to be a long strip of hotel signs. When the billboards announce that the town has 4000 hotel rooms, they're not wrong.
The E-40 and W-40 is an enormous endless strip of motels for weary travellers. There was some big cattle conference going on, so I was stuck out on E-40 in a pretty reasonable place inbetween a Cracker Barrell and a strip club called Playgirls.
I didn't get up to much and frankly again felt like I hadn't really given Amarillo my full attention. I was pretty beat
I skipped the Big Texan (two steak dinners in a row, bad idea and headed for some Mexican at Tacos Garcia.
After an aborted drink at the Golden Light Cafe, (the barlady was beyond perplexed by my UK drivers licence and refused to serve me) I was ready for the sack.
So the next day beckon more hammer down antics in New Mexico.
Okay, Amarillo in the PM on a windy Tuesday night wasn't really a jumping joint, but having been to Dallas, Houston and Austin a whole bunch of times, I know that this following is not correct.
Tunes for this portion…
Little Eyes - Yo La Tengo
Walking Spanish - Tom Waits
Drive Back - Neil Young
45:33 - LCD Soundsystem
Animal Waves - CAN
New York, I Love You But You're Bringing Me Down - LCD Soundsystem
I Know What I Like (In Your Wardrobe) - Genesis
Positively 4th Street Bob Dylan
Good Ol' Boys (Theme from "The Dukes of Hazzard") - Waylon Jennings
Untrue - Burial
P.S. Please note that you cannot give me sightseeing suggestions for a past road trip. Unless you happen to work for Skynet.