Hello there, I wanted to rescue some of my old MySpace blogs and archive them here on my own site. Over the next few weeks I will retroactively chronicle a particularly colourful period exactly two years ago. This was originally posted on December 2nd, 2007.
So. Another sunrise start. Another awesome desert plain. Another desolate photo of yellow lines down the middle of an empty road.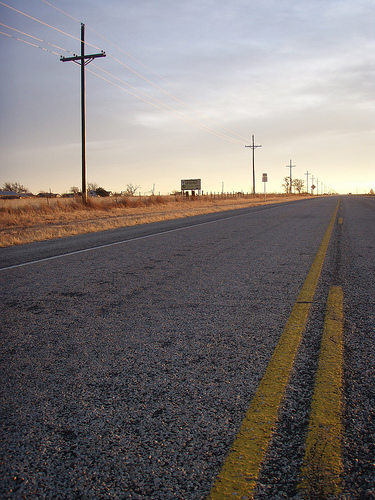 After downing a good two double espressos at Roaster's Coffee at Wolfin Village (not run by any Premier League footballers, thank god*). I headed south on the I-27 to Palo Duro Canyon as the sun came up and promptly did the scenic drive around the deserted-at-this-hour-canyon.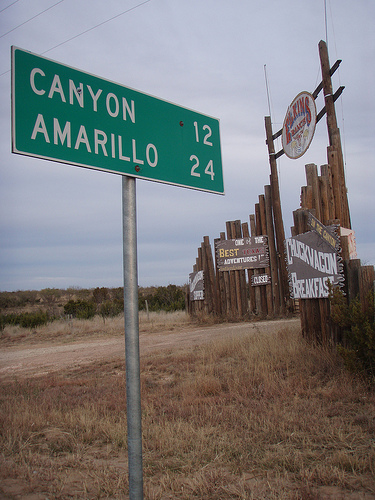 The 16 mile scenic drive had an recommended duration of 45 minutes. I did it in 20 and took the time to start working my way through The Band's Greatest Hits.
My crush on Robbie Robertson continues unabated. Yes, that's right, I was honestly thinking of switching sides in good Ol' Texas.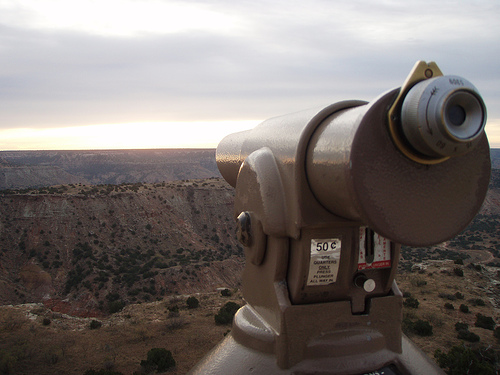 I then cruised over to Canyon, Texas to fill up and stop at Hasting Music & DVD to get some more road tunes.
You simply cannot go wrong with a Driving Rock compilation. I picked up a whole bunch of stuff for the next 287 miles or so.
I needed more tunes, even though my trip could not be more full of music cliches. "Is This The Way To Amarillo?" - Yes, I just left there. I was getting my kicks on Route 66, heading past Viva Las Vegas (the New Mexico one) and onto Alberquerque, home of hotdogs and jumping frogs.
Whilst buying a stack of CDs, I enquired to the clerk if he had the HOT FUZZ Collector's Edition in stock. He didn't but replied "Awesome movie". Then as he saw my debit card, the elements came together. "Holy Shit, you're Edgar Wright. Excuse the language".
The very lovely clerk Jason was surprised to a) find me without Simon and Nick b) find that I was in Canyon, Texas.
I signed a bit of receipt and sped off the sounds of Boston and Kansas, among many other non State related FM bands.
Through Wilmerado, I stopped off in the tiny town of Vega on the ironically titled Business Route.
There I paid a visit to Dot's Mini Museum, a celebration of bric-a-brac in two adjacent trailers. Dot was nowhere to be seen and there didn't even seem to be a donation tin, so I took these photos as evidence - and got outta there.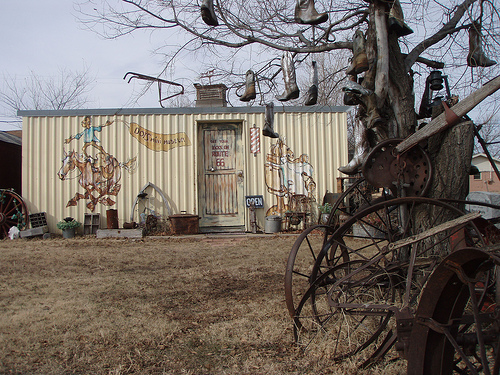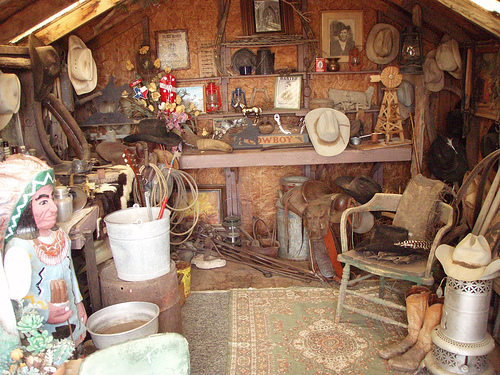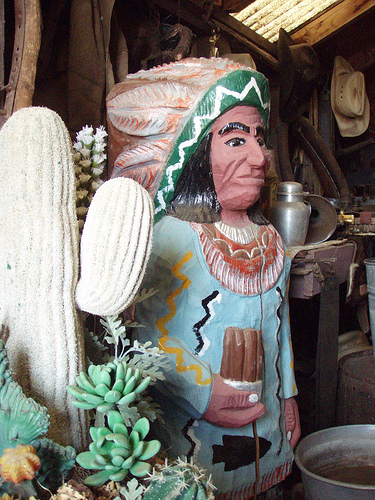 Next up was Adrian, where the famous Midpoint Cafe resided. The town's slogan is "When you're here, you're halfway there".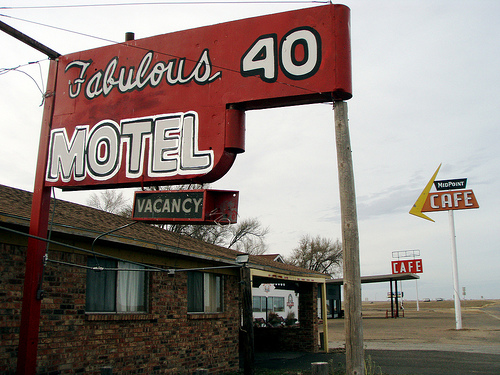 Sadly, there was no one there when I pulled up. This trip was starting to feel like 28 Miles Later.
64 miles of Explosions In The Sky later, I rocked up in Tucumcari, grabbed a coffee and took these snaps of the again-famous, but again-closed-for-winter, Blue Swallow Motel.
I'm not sure what a Blue Swallow entails, but it may be similar to a Jelly Doughnut or Arabian Goggles. Google it, but be aware it may well be NSFW. Or even NSFHE (Not safe for home, either)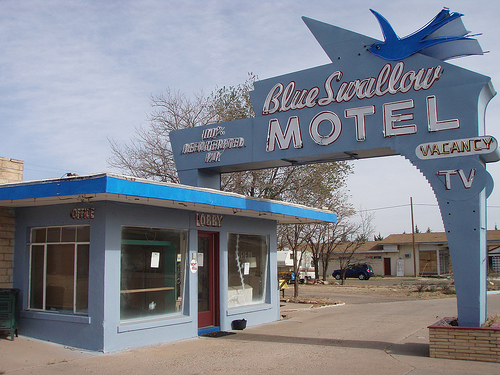 52 miles of Magical Mystery Tour later brought Santa Rosa, this thrilling photo op at Joseph's Cafe and the awesome derelict cars outside the Route 66 Restaurant.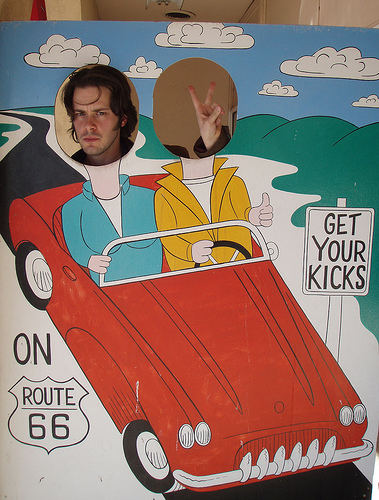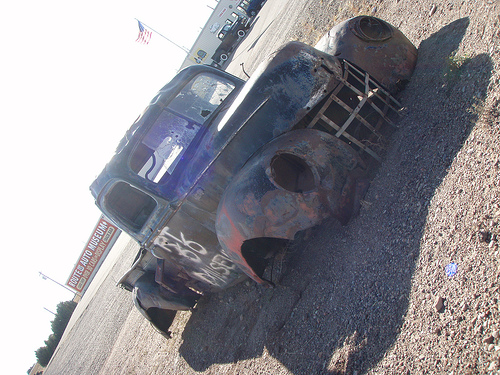 Then a big detour of 58 miles on the original Route 66 brought me to the other Las Vegas, the smaller, cuter one in New Mexico.
I took this snap of the famous-but-closed-for-winter Estelle's, stocked up on more coffee at the awesomely named Charlie's Spic And Span Bakery And Cafe and saw this great marquee for the New Mexico premiere of No Country For Old Men.
I'm guessing Joel and Ethan weren't in town for this prem. (Variety slang)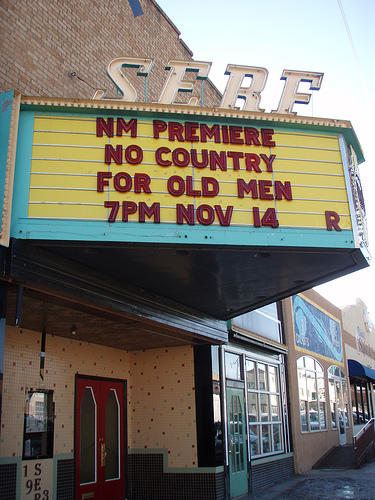 Then it was go-go-go, trying to hit Alberquerque by sundown. I missed out on Santa Fe almost entirely. Oh well.
I was also getting the coffee shakes pretty bad. Maybe Kowalski had the better idea by popping amphetimines. Luckily Eagles Of Death Metal kicked in as the sun went down providing up tempo desert driving rock.
It was dark by the time I got to Alberquerque, but I quickly scoped it out. Sadly the Rattlesnake Musuem had long closed in Old Town, so I headed to student hangout Nob Hill.
Here I stocked up on - yes - more coffee at the Satellite Cafe and stocked up on - yes - more music at the great record shop Natural Sound on Central.
I was too tired and not in too adventurous to go out partying so I did a quick bit of people watching at the rightly famous and very open Frontier Cafe, where students can eat burritos 24 hours a day.
Woo hoo. Free Wi Fi too, unlike the Hyatt Regency where I was staying where you had to log on as a T-Mobile Hot Spot customer.
Two words for that. Fuck that.
I liked what I saw of Alberquerque, it seemed like it was the Austin of New Mexico, with a cool crowd. Shame I couldn't stay longer, but tomorrow promised Arizona and some close calls and insanity.
More later.
Tunes For This Part Of The Trip…
The Weight - The Band
You Can Have It All - George McCrae
It's Natural to Be Afraid - Explosions In The Sky
Some Cities - Doves
Love Is An Unfamiliar Name - The Duke Spirit
The Desperados - The Eagles (not the U.S. Eagles)
Your Mother Should Know - The Beatles
Chase The Devil - Eagles Of Death Metal
Seven Seas - Echo & The Bunnymen
Light My Fire - Edmundo Ross
Silent To The Dark The Electric Soft Parade
Citta' violenta - Ennio Morricone
Hold Your Head Up - Argent
Raw Power - Iggy & The Stooges
Black Betty - Ram Jam
(Don't Fear) The Reaper - Blue Öyster Cult
Only Love Can Break Your Heart - Neil Young
(*Can UK talkbackers explain this filth to US talkbackers?)
P.S. Please note that you cannot give me sightseeing suggestions for a past road trip. Unless you happen to be Rachel McAdam's husband.