Hello there, I wanted to rescue some of my old MySpace blogs and archive them here on my own site. Over the next few weeks I will retroactively chronicle a particularly colourful period exactly two years ago. This was originally posted on December 5th, 2007.
White Lines? Don't do it.
Yellow Lines. Do it, do it, do it.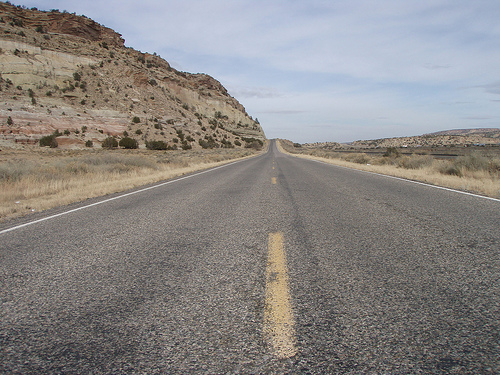 Another day, another day. It was ridiculously early again and I was out of the door. Had a quick breakfast at the Church Cafe in Old Town Alberquerque.
I looked again to see if the Rattlesnake Museum was open, but it was closed due to illness. Illness? At the Rattlesnake Museum?
I pondered for a second if just inside the door there was a pile of bloated museum guides looking all black and blue like Susan George in VENOM.
Perhaps not.
I stocked up on yet more espresso at the Satellite Cafe on Central and then got the hell out of town on Rte 66 with the whole of Entroducing DJ Shadow soundtracking the drive under the grey skies.
Through Acome Pueblo, Grants, Thoreau I eventually got to Gallup. When realising that my camera battery was dead and hadn't charged up properly I make a detour into the darkest country I'd yet encountered.
Wal Mart.
Whilst getting my battery, my eye was caught by the shiny cover of the HOT FUZZ and even though I had freebie copies waiting for me in L.A, I couldn't resist buying one.
I can't believe I bought one in Wal Mart. Ha.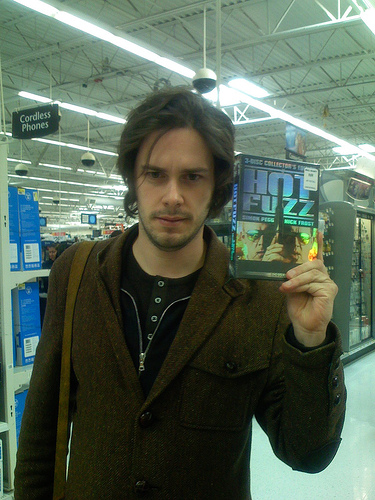 Then charged up by ACDC's Powerage and Dirty Deeds Done Dirt Cheap, I held the hammer down through into Arizona and the towns of Houck, Sanders, Chambers, before taking a spin through the Petrified Forest, 60,000 acres of volcanic ash and colorful sediment.
And what better soundtrack to accompany this detour through psychedeilic mud than a Rhino compilation of disco standards. You haven't lived until you've toodled around a scenic route with Sylvester's "You Make Me Feel Mighty Real" blasting.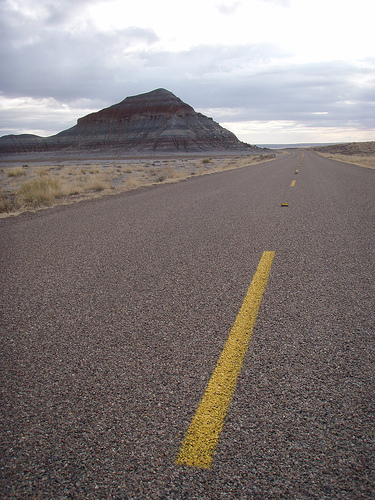 It was at some point while taking this photo that I had a terrible feeling of deja vu. Not because I was essentially taking the same photo of either a) yellow lines or b) me holding the camera and pulling a funny face. But - godammit - I'd been here before.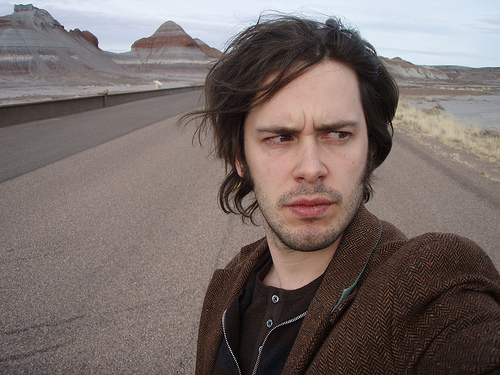 I did a desert drive back in 1998 and had done Flagstaff before - and so it seemed this very National Park. I felt a little sad and stupid for having not realised and quickly hopped back in the car, letting the disco cheer me up.
I then headed to Holbrook, past this brilliant prehistoric typo. Good work.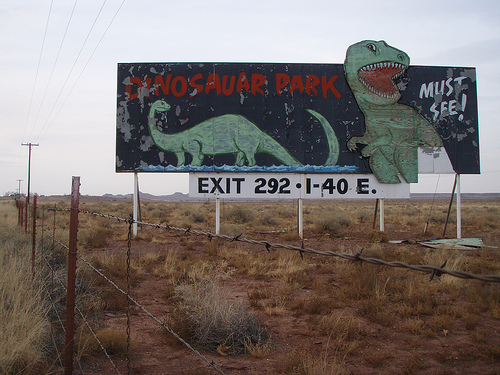 I couldn't help thinking of Hal Holbrook as I drove into this small Arizona tourist trap. Before INTO THE WILD, Holbrook for me had always been the quintessential bad apple in so many films, MAGNUM FORCE and CAPRICORN ONE to name two. His superior villain status should have tipped me off that something bad was going to happen…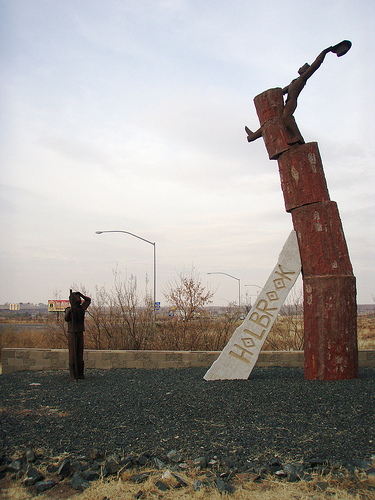 So I'm rolling down Navajo Boulevard, sun is going down and I'm trying to get to the Winslow Meteor Crater before sundown.
But then on my poncy GPS, a cross street sails through the frame.
'Bucket Of Blood Street'
What the?
I stopped by a rock gift shop with a bunch of plastic dinosaurs, performed a quick U-turn and headed back to get perhaps the greatest photo of the whole damn trip. A snap of Bucket Of Blood Street.
And there at the intersection with Navajo was this incredible sign. I was in a rush, so I left the engine running, disco still blasting and jumped out to take a snap.
Click. And promptly locked myself out.
Oh.
My phone is inside, the engine is running, headlights on, disco still blasting.
Oh.
All I had on me was my digital camera. And a rather shocked expression.
Oops.
The area I was in didn't look too great either. Everything was closed. And the sun was going down.
I tried to flag down a passing cop car. Didn't stop. Not a big FUZZ fan. Prefers RENO 911: MIAMI clearly.
So I head to the Rainbow Rock Shop - the nearest place open. There's two dudes behind the counter taking it very easy.
"Can I use your phone"
"What's up bro?"
"Erm. Car trouble"
"What up?"
"I just locked myself out"
"Do you want a locksmith?"
"I was going call Hertz Roadside Assistance. Or the police I guess"
"Nah, get a locksmith. I know a guy. What kind of car is it?"
"A Ford Escape"
"No problem. I know a guy"
"Erm"
He starts calling.
"Al? What up bro? Hey, there's a dude here who's locked out of his car. Ford Escape. Where's he at?"
"Erm. Corner of Navajo and Bucket Of Blood"
The Rock Shop guy hangs up, tells me "Al will be here in 15 minutes. He's a punk but he'll get you car open. Cost you about 60 bucks maybe. He drives a red Durango".
Oh-kay. Much as I'm not entirely sure about Al the Punk's credentials, Hertz must be over 150 miles away and that cop didn't even stop. Fuck it.
I slip this guy 20 bucks for helping out.
What to do for 15 minutes? Well, for starters, I get the guy from the rock shop to take a picture of me with his big dino out front.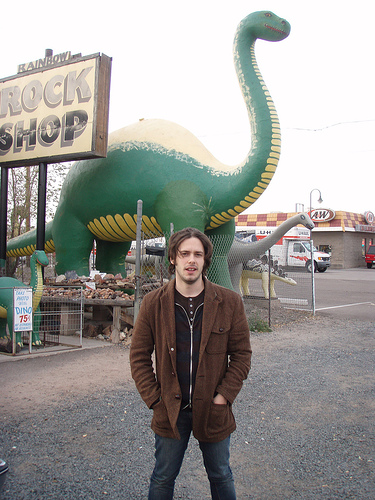 Then I get a coffee and head back to the car.
The sun is dipping completely and I want nothing more than to speed away from Navajo and Bucket Of Blood. Especially since there are some reasonably suspicious looking types around and - good god - I'm a stranded English fop wearing a history teacher's jacket standing outside a car that is still booming Chic, the Andrea True Connection and Gloria Gaynor. The gayest music in my collection.
Oh god. I'm going to die. So I get the picture I was trying to earlier. At least I'll have that. And then Al shows up.
Al looks like less of a punk than the guys in the shop - he's fortyish and his wife sits in the car. With barely a hello, he wedges the windows and gets a jimmy to open the door, fishing around inside with a wire.
Funkytown by Lips Inc is now booming from inside. Al smiles.
"I like your music. My wife says no-one listens to this kind of music no more. I guess she's wrong, huh?"
"Yeah. I like a little disco on occasion."
"Maybe I should get her out here, have us a party"
"Maybe"
Al fishes around for a good ten minutes and three songs, regaling me with his disco years.
"I used to have a boombox, walk around playing this, I had a fro. The whole deal".
Al still can't get in however.
"Your car doesn't want to let me in. Maybe it likes the music too".
Then just as Heart Of Glass kicks in. Click.
We're in.
"That will be 40 bucks".
"Here's 80"
Al the Punk. What a lifesaver.
I jumped back in and stopped briefly by the Rainbow Rock Shop to tell the guys; "You deserve the fucking gold medal."
And I was off. A narrow squeak indeed.
Was the photo worth it?
Yeah it was…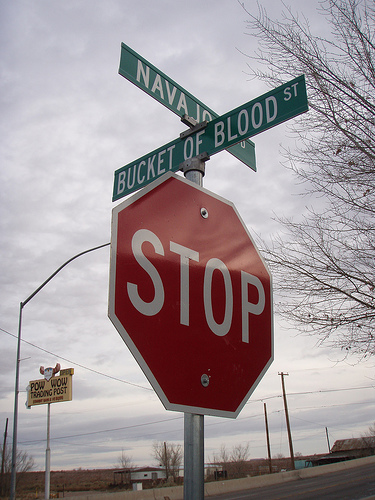 After that I made a brief coffee stop at Joe & Aggies before trying to see this crater before sundown.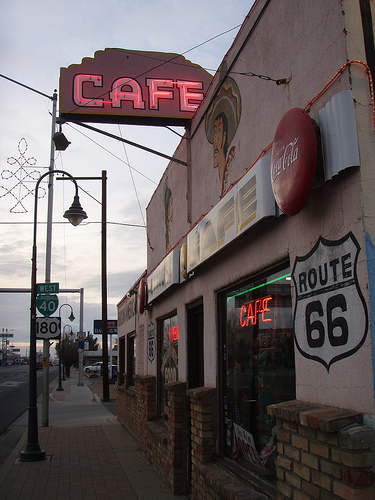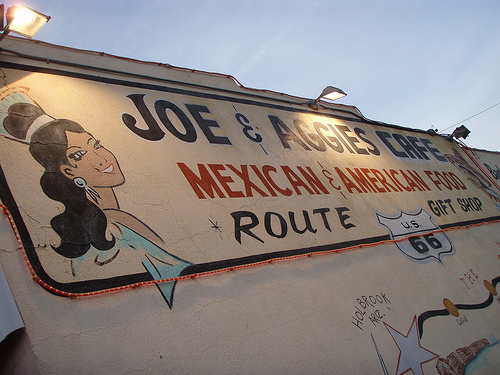 I roared back onto the road, past Joseph City (although tragically with no time to see the plastic rabbit) and towards the meteor crater. But too late. It was closed for the day. And I had to make do with another desolate shot of yellow lines.
Although this one is a little bit like the old Bruckheimer / Simpson logo, it must be said.
Then it was onto Flagstaff, which I'd been to before. It's a cool little college town up high in the mountains, with pine trees and springs and shit. I like it.
My hotel was actually on Route 66 and after some dinner at Josephine's I wound down with the most barking entertainment possible.
At the Applesauce Teahouse was a music and comedy night, featuring a two man band called Tentacle Craft. Who only sang songs about Cthulhu. All featuring lyrics about parallel dimensions and tentacles.
They did a song in binary, they sang songs in squid masks, they instructed the audience to rolll an oversized twelve sided die.
They were playing to 20 people max and I quickly became their most vocal supporter.
One guys looked like a baby faced version of Captain Beefheart, the other the spitting image of Jimmy Duval.
They lost half there audience during a long Cthulhu ballad mid set. I stuck it out and clapped loud. Clearly Flagstaff did not deserve there mad brilliance. This blurry I Phone photo is all I could get.
I can't believe I actually managed to randomly see them.
And that was my last night on the trip, only one more day of driving. All the way to California! Woo and most crucially hoo.
The last installment - next.
Tunes for this part of the trip.
The Number Song - DJ Shadow
Manha Manha - Cake
Never, Never Gonna Give You Up - Cake
Rock 'N' Roll Damnation - AC DC
Up To My Neck In You - AC DC
Rocker - AC DC
Fuck Christmas - Eric Idle
Duelling Banjos - Eric Weissberg & Steve Mandell
Mini Skirt Esquivel - Fa Fa Fa
Vamos A Matar Companeros - Ennio Morricone
Stay With Me - Faces
You Make Me Feel (Mighty Real) - Sylvester
I Want Your Love - Chic
Ring My Bell - Anita Ward
I Will Survive - Gloria Gaynor
Heart Of Glass - Blondie
Forget Me Nots - Patrice Rushen
Up On Cripple Creek - The Band
Sailor's Life - Fairport Convention
Paper Sun - Traffic
Wynder K Frog - Harpsichord Shuffle
Rainbow Chaser - Nirvana (UK)
P.S. Please note that you cannot give me sightseeing suggestions for a past road trip. Unless you happen to know a working Time Tunnel.