Hello there, I wanted to rescue some of my old MySpace blogs and archive them here on my own site. Over the next few weeks I will retroactively chronicle a particularly colourful period exactly two years ago. This was originally posted on December 10th, 2007.
So, here it was, my last day of my road trip.
And sure enough it was all about the road today. Flagstaff to Los Angeles was about 466 miles. I got out of my hotel around 6 AM, intending to get to L.A. just after lunch.
That didn't quite work out, but boy, did I do some driving.
First up, I took a little sunrise detour through the Sunset Crater Volcano Monument park, where I took this incredibly poncy photo.
Look at those wild eyes and haggard bumfluff. I'm a king of the road, godammit.
So I did the 32 mile scenic route in a flash and then zipped back to Flagstaff for something very important.
Coffee.
If this trip has been about anything it's been about the tunes, the landscape and the endless consumption of coffee, both good and bad.
Late For The Train thankfully made a damn fine coffee. And then I was off.
The most amazing thing about my last day was the surreal and sudden changes in terrain and weather all day.
The Sunset Crater had seen glimmers of sunshine, then rain on the way back to Flagstaff.
Suddenly now I was on Rte 66 on my way to Parks in dense fog, with only ten feet visible in front of me. Spooky.
I kept the hammer down past Williams and the Grand Canyon (done that) until I hit the mecca for Route 66 enthusiasts, Seligman.
Truth is, it was grey and raining and a little ghost town-ish, but since I'd done this part of the Route before, it was fine to plough onwards.
I was in Kowalski mode today, I had no time to stop, was going to keep driving on through.
I couldn't resist these snaps though.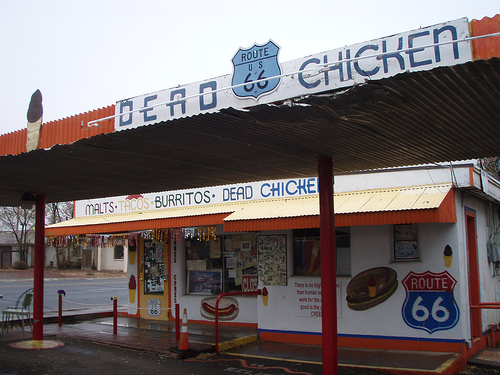 Then was a glorious strip of desert road and parallel train tracks taking me through Peach Springs, Hackberry, Kingman and then onto an amazing stretch before the town of Oatman.
Just before hitting California, there is a crazy stretch of craggy peaks and valleys, with a winding mountain route straight out of Wages Of Fear. It was amazing to be here, hours after leaving Flagstaff.
Easily the most remote and dangerous looking (15mph) part of the trip. And my trusty Ford Escape navigating the switchbacks and curves. Intense. Not to be attempting with coffee shakes.
This part of the journey takes about ten times as long as the I-40, but by god it was worth it.
I was so overwhelmed at being the only traveller on this mountain range, I was inspired to take this crazy eyed photo. This is what ten days on the road will do for you.
As you come out of the mountain range, you hit on the town of Oatman, which was quite a trip.
I know I may have sailed close to (and way past) the speed limit a few times, but I had started to think I was back in 1885.
The old mining town looked pretty amazing set againsts the mountains. The rain, gloom and mud only added to the Django vibe.
I stopped in Olive Oatman's Restaurant And Saloon and had a grilled cheese sandwich next to the mannequin of an old barkeep.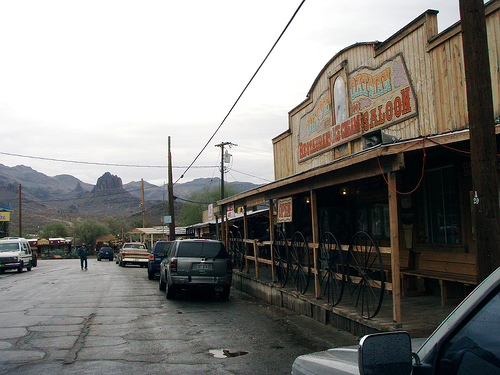 Then it was onwards. Through driving winds and pouring rain. Through Needles onto an intensely lonely stretch to Amboy, through another crater, down a 60 miles desert road with nothing as far as the eye could see.
The rain was really pounding, so the only music that could cut through was Gogol Bordello's Gypsy Punks.
I was driving hard and fast, on a mission to get Back To The Future, or at least to back to Los Angeles…
The last portion of the trip goes hand in hand with most existential 70's trips. It had kind of a downer ending.
I was onto my second tank of gas when I stopped in Barstow and the rain was getting really bad. In California no less.
At this point I decided to get back fast and join the I-40. Immediately I hit the 80 miles of sprawling malls that made up the Inland Empire.
It was a bit of a bummer. Suddenly after 12 days of freedom I was in traffic. It continued all the way home.
I got back to where I was staying and though I felt a great sense of accomplishment, I also could completely empathise with Sal Paradise.
Within 15 minutes of being back, I kind of wanted to hit the road again.
No joke.
I fully intend to do so again. It was a trip in every sense of the word.
And while I didn't have the sexiest car to do it in. I think that my Hertz rental did look a little cooler when absolutely caked in desert mud.
Til next time.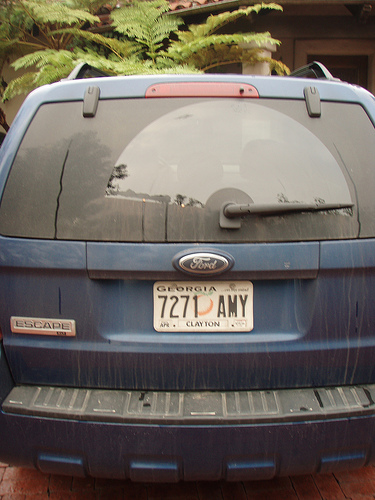 Tunes For This Part Of The Trip
Disco Inferno - The Trammps
The Night They Drove Old Dixie Down - The Band
Baby, Let Me Follow You Down - Bob Dylan & The Band
Mo' Onions - Booker T. & The MG's
Watch Out For Me Ronnie - Yo La Tengo
Hot Rail - Calexico
Harem Scarem - Focus
Theme From Retro - Blur
Rumplestiltskin - Rumplestiltskin
John I'm Only Dancing (Again) - David Bowie
Tossed - Frank Black
Rock and Roll, Pt. 2 - Gary Glitter
Thunderbuck Ram - Mott The Hoople
How Does It Feel To Feel - The Creation
I Feel Free - Cream
Super - NEU!
Radar Love - Golden Earring
Shimmy Shimmy Ya - Ol' Dirty Bastard
In For The Kill - Budgie
Rocket - MUD
Digging Your Scene - The Blow Monkeys
For Pete's Sake - The Monkees
Charmer - Kings of Leon
Moonchild - M83
The Wrath Of Marcie - The Go! Team
Scotch On The Rocks - The Shadows
Darth Vader Theme - osymyso
Pioneer To The Falls - Interpol
How You Sell Soul to a Soulless People Who Sold Their Soul? - Public Enemy
Rock Me Now - Metric
We Used To Vacation - Cold War Kids
Lucio Starts Fires - Joe Lean & The Jing Jang Jong
A Stroll Through Hive Manor Corridors - The Hives
Zeus -Jonny Trunk
End Of The Movie - Cake