Here's some amazing poster art by the very talented Sam Gilbey for my Curzon Soho show on Feb 19th.
Please note that:
1) Bronson is twice as badass in black and white.
2) Osymyso is set to DJ on the night.
You need no further encouragement to come.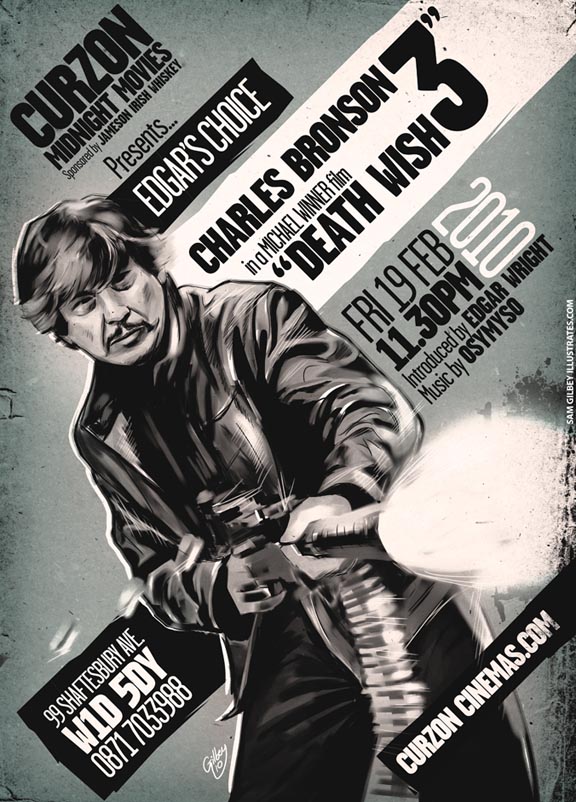 For those jonesing for more Wright Stuff presentations, I offer you a temporary and quite awesome salve.

I haven't been able to schedule anymore double bills at the Prince Charles due to my quite insane schedule and print availability in the UK of some of my favourite cult items, but…

The good folks at Curzon Soho have asked me to do one of their Midnight Movies so I would like to cordially invite you to a Michael Winner classic.

DEATH WISH 3!

Fri 19 Feb 11:30pm | Curzon Soho, 99 Shaftesbury Avenue W1D 5DY 0871 703 3988 More details on their site.
Now, it's easy to rag on Michael Winner, but there's more than a couple of his films that I would applaud. 'The Mechanic' is a great 70's thriller, the original 'Death Wish' is strong stuff and my beloved 'The Sentinel' is just insane.
But 'Death Wish 3' is…is…something else.
Come along on Feb 19th and witness the majesty of this 1985 epic.
It is shot in London doubling for New York…
It features a mail order rocket launcher…
It is the quintessential Cannon Film…
It is DEATH WISH 3. See you there.
Trailer
More about the Curzon's Midnight Movies listings
Midnight Movies
sponsored by Jameson Irish Whiskey

Once a month we bring you the best in cult classics, trash beauties and art house jaw droppers alongside exclusive previews. Saunter down to the Curzon Bar from 10.00pm for live music, visuals and a party atmosphere plus a complimentary Jameson cocktail, before taking your seats for our very special feature.

To be the first to know about forthcoming Midnight Movie events, join our mailing list by sending an email with 'listme' as the subject to [email protected] or be our friend on Facebook or follow us on Twitter.