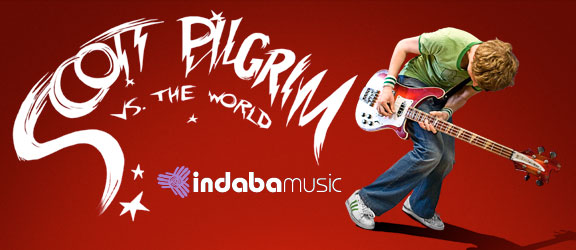 Back in July 2010, Indaba Music ran a competition to remix a score track from 'Scott Pilgrim Vs The World', here's what they said back then.
Scott Pilgrim vs. the World is one of the hottest films of the year and now is your chance to get involved. Scott must battle seven evil exes to win the woman of his dreams. Celebrated producer and composer Nigel Godrich (Radiohead's producer!) has created the original fight score for Scott.

Using as many or as few of the sounds and dialogue audio as you want, remix your own version of the fight theme for Scott. The winners will be selected by the director, Edgar Wright, and will receive an outstanding prize package worth thousands of dollars in gear!
Then this week, I picked from thousands of amazing remixes, the following three winners.
The Judges have spoken:
I am overwhelmed by the remixes for 'FIGHT!' on this site. The mixes by all the finalists were extraordinary. It was very hard to judge I have to say. So I am going to give a gold, silver and bronze to John Faustus, Yasu. Y and Suraj Sreedharan. But I am also going to raise a glass to my honorable mentions- all of you did amazing work.

LEVEL UP to you all. 7,000,000,000,000 PTS.

Edgar Wright
Winners
You can find my ten equally amazing honourable mentions, more remixes and the remixers profiles at Indaba Music's Scott Pilgrim page here.