Okay, the next 48 hours will be my last times I shill the BluRay of 'Scott Pilgrim Vs The World' that hits stores tomorrow (Nov 9th!)
If you don't buy it, I will start crying like a 4 year old who's fallen off his bike and nobody wants to see that.
So check this out. A rough rehearsal video of the first scene of the movie, shot on my LUMIX stills camera with one twist. Because I didn't want to jinx the first day of the movie by already shooting the scene, I asked my actors to do the opening scene in British accents.
Cue some of the wonkiest British accents ever, from Mark Webber's Jason Statham to Michael Cera's Beatle-ish attempt to Johnny Simmon's Dick Van Dyke approximation.
Alison Pill on the other hand has it nailed. Get her an Emily Bronte film pronto.
Enjoy. And listen out for me snickering behind the lens.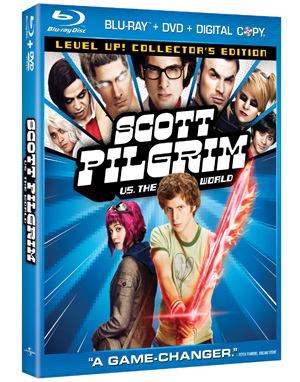 More of this on the upcoming Scott Pilgrim Vs. The World Blu-ray/DVD.
Find more videos at NBC Universal's YouTube channel here.