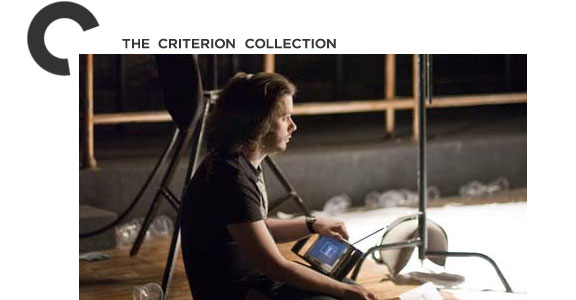 The fine people at Criterion, purveyor of quality DVDs and Blu-rays asked me to do a top ten list from their esteemed catalogue. Of course, I agreed immediately. And then took six months to come up with my list…
Edgar Wright's Top 10


Award-winning British director Edgar Wright is best known in the United States for his feature films Shaun of the Dead, Hot Fuzz, and Scott Pilgrim vs. the World; he also directed the UK hit television series Spaced. For his Criterion Top 10 (plus one), Wright expounds upon his love for De Palma, Buñuel, Gilliam, the Monkees, and more.
The choices were agonising for me.
There are many films I adore in their library, but I stuck hard and fast to the ten films only rule.
Okay, that's a lie. I did give a special place to an eleventh gem that continues to baffle and beguile me.
Click this and check out my Top 10 right here…
Once you've read the list above, take a look at what other favourites of mine didn't actually make the list.
I can't believe there was no room for…
ACE IN THE HOLE
BEASTIE BOYS VIDEO ANTHOLOGY
BILLY LIAR
BLACK NARCISSUS
BOTTLE ROCKET
BRANDED TO KILL
BREATHLESS
BURDEN OF DREAMS
CARNIVAL OF SOULS
CHARADE
CHASING AMY
CRONOS
CUL DE SAC
DAYS OF HEAVEN
DAZED AND CONFUSED
DIABOLIQUE
DO THE RIGHT THING
DOWN BY LAW
EIGHT AND A HALF
THE EXTERMINATING ANGEL
FISH TANK
FIVE EASY PIECES
FRIENDS OF EDDIE COYLE
GOMORRAH
LA HAINE
HARD BOILED
HOUSE
THE HIT
HOMICIDE
HOPSCOTCH
HOUSE OF GAMES
HUNGER
THE ICE STORM
IF…
THE KILLER
THE KILLERS (1946)
THE KILLERS (1964)
THE KILLING
KISS ME DEADLY
THE LAST PICTURE SHOW
THE LONG GOOD FRIDAY
M
M.HULOT'S HOLIDAY
MAN BITES DOG
THE MAN WHO FELL TO EARTH
MONA LISA
MONTY PYTHON'S LIFE OF BRIAN
NAKED
THE NAKED KISS
THE NIGHT OF THE HUNTER
ONIBABA
PATHS OF GLORY
PICNIC AT HANGING ROCK
THE RED SHOES
REPULSION
RIFIFI
ROBOCOP
THE ROYAL TENENBAUMS
SEVEN SAMURAI
SHOCK CORRIDOR
THE SILENCE OF THE LAMBS
SIMON OF THE DESERT
SISTERS
SOMETHING WILD
THE SPIRIT OF THE BEEHIVE
STRAW DOGS
SWEET SMELL OF SUCCESS
THE THIRD MAN
TIME BANDITS
THE VANISHING
VIDEODROME
THE WAGES OF FEAR
WITHNAIL AND I
YOJIMBO
That's quite a list already and there's still more I haven't mentioned. And more still I've yet to see.
Thanks Criterion for keeping film history alive.
I applaud you.