My oh my. A good fellow by the name of Tom Haigh at the ITV archive sprung a surprise by unearthing five clips of me as teenage amateur film-maker on various shows.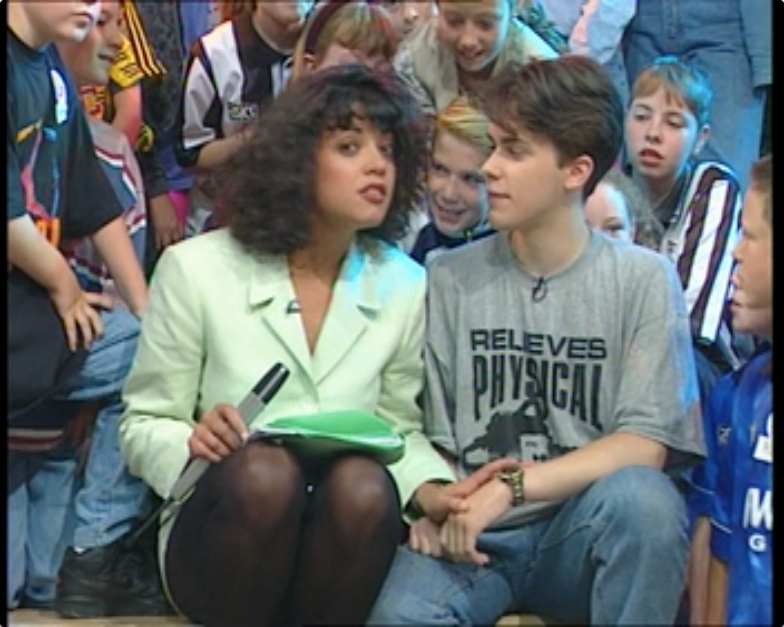 I started making zero budget films on second hand Super 8 camera in 1989. Two years later I won a video camera on 'Going Live!' in a contest revolving around 'Comic Relief'. From there, I started making as many no-budget shorts and featurettes as I could. And some of these landed me on childrens' TV.
Watch and be wowed by: my hair, my skinny frame, my line in waistcoats and my ever changing voice which goes from well spoken middle class schoolboy to would be bloke from Lan-dahn.
First up, here's me with the very fragrant Jenny Powell on Tyne Tee's 'Gimme Five'. I travelled up to Newcastle with my good friend Martin Curtis to show our short 'Help!' which I made at the age of 18. Please note the rainbow lines of VHS crash editing on every single cut and also my outrageously arrogant answer to the question; "So anyone can do it?".
Myself & Martin are playing much too cool for school. We secretly had the raging hots for Jenny.
Edgar Wright on Gimme5 (1992)
The next year I was asked back to Newcastle and this time they showed clips of my short 'Infra Red Fred' which is bit like a proto version of 'Click' and apparently a lot like a Benny Hill sketch I must have subconsciously stolen from. They don't show the whole piece, but it's worth watching for my weird angry face I pull at the end. What was I thinking?
Edgar Wright on Gimme5 (1993)
This in depth profile with a girly voiced young film maker was as a result of entering into the Co-Op Young People's Film Festival a few years in a row. My interviewer was a lady called Georgey Spanswick.
This piece includes clips from the video8 version of 'A Fistful Of Fingers' which I shot with schoolfriends in the summer of 1992. I do like to complain a lot about how long it takes to make movies.
Edgar Wright on The Film and Video Showcase (1994)
After appearing on 'Going Live!' and 'Gimme Five', I was asked to be an 'expert' on Yorkshire TV's 'Brill'. I wanted to talk about amateur film-making but they wanted to focus on home-made special effects and make up. Which as you can see from the show, is not my forte.
Presenter John Eccleston was also a puppeteer for Henson's and I later worked with him on the 'French & Saunders' Titanic special when the Leprechauns from 'Live & Kicking made' an appearance.
On this show we could not say 'vomit' or 'spew', so the odd alternative of 'huey' was used instead. Huey.
Edgar Wright on Brill (1994)
This final and very short clip of me was part of a late night report on the zero budget film scene in mid nineties London. By the year 1996 I had moved to the capital and apparently decided that an orange shirt and goatee was a good look. I do not know what is going on with my voice. I may have had a sore throat or been hungover or maybe I was trying to sound more like my more worldly peers.
This contains a clip of the 16mm version of 'A Fistful Of Fingers'.
Edgar Wright on Hotel Babylon (1996)
Somewhere out there are even more clips. Thanks to Tom again for embarrassing me like this.