*Updated to now include Cardiff & Manchester!
You asked for more Vue trilogy screenings. And lo, here they are. With FREE ice cream to boot.
Due to huge demand and the rallying cries of UK fans, Vue Cinemas have extended the special Cornetto Trilogy screenings to 21 additional cinemas across the UK!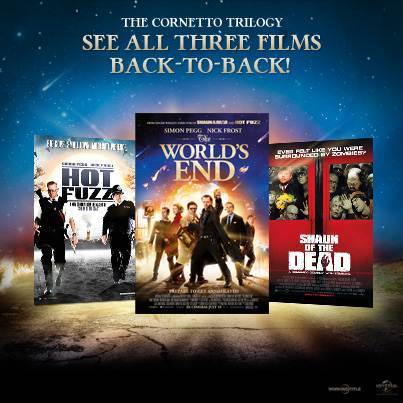 Relive 'Shaun of the Dead' and 'Hot Fuzz' on the big screen and be one of the first in the world to see 'The World's End' in special midnight screenings at selected Vue Cinemas across the UK. Kicking off at 7.30pm on July 18th each film will have an exclusive filmed introduction and you even get a free Cornetto thrown in!
Click here to buy tickets on the Vue Website: http://bit.ly/11FZJQg or call: 08712 240 240
The 21 new cinema locations are:
Aberdeen
Acton
Basingstoke
Blackburn
Bristol Longwell
Bury
Cardiff
Cleveleys
Doncaster
Finchley Road
Finchley North
Hamilton
Hull
Inverness
Leicester
Manchester
Merthyr
Newcastle-Under-Lyme
Northampton
Staines
Stroud
Previously announced cinemas are:
Birmingham
Bolton
Bristol Cribbs
Camberley
Cambridge
Cheshire Oaks
Croydon Grants
Dublin
Edinburgh Omni
Exeter
Islington
Leeds Omni
London West End
London Westfield
Norwich
Oxford
Plymouth
Portsmouth
Reading
Romford
Sheffield
Stratford
Swansea
Watford
Worcester
If you haven't already booked tickets for the previously announced cinemas get booking now as they are selling out fast!