Even more great cinemas in the US are having full trilogy screenings on August the 22nd, the night before 'The World's End' is released in North America.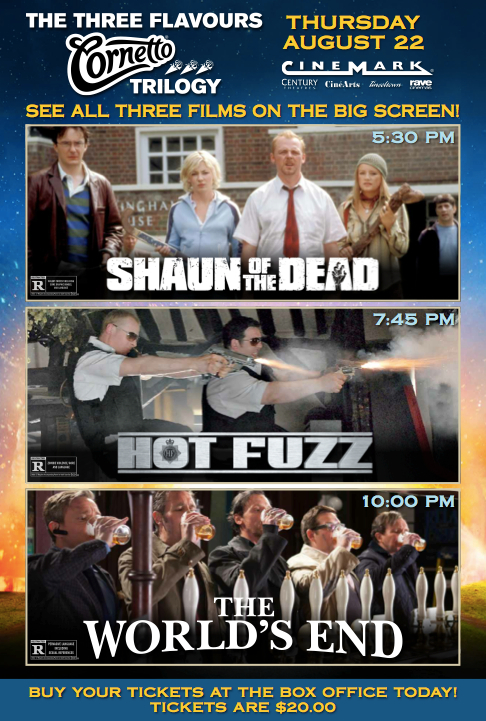 Below are the listings for the Cinemark chain who are playing the trilogy in 13 locations!
If your city is not listed don't despair, other chains have already announced including Regal, AMC, Alamo and ArcLight. Please note that I don't organise these screenings so contact the chains themselves with any queries.
Get tickets now to see 'Shaun Of The Dead' and 'Hot Fuzz' on the big screen again, then see 'The World's End' for the first time!
Participating Cinemas:
California
Los Angeles, Cinemark 18 + IMAX
Redwood City, Redwood Downtown 20 + XD
San Jose, San Jose Oakridge 20 + XD
Colorado
Boulder, Century 16
Illinois
Evanston, Evanston 18 + XD
Maryland
Hanover, Egyptian 24 + XD
New Mexico
Albuquerque, Albuquerque Rio 24 + XD
Ohio
Valley View, Valley View 24 + XD
Texas
Plano, Cinemark West Plano 20 + XD
The Woodlands, Tinseltown 22 + XD
Utah
Salt Lake City, Salt Lake City 16
Virginia
Fairfax, Fairfax Corner 14 + XD
Washington
Bellevue, Lincoln Square Cinema 16 + IMAX