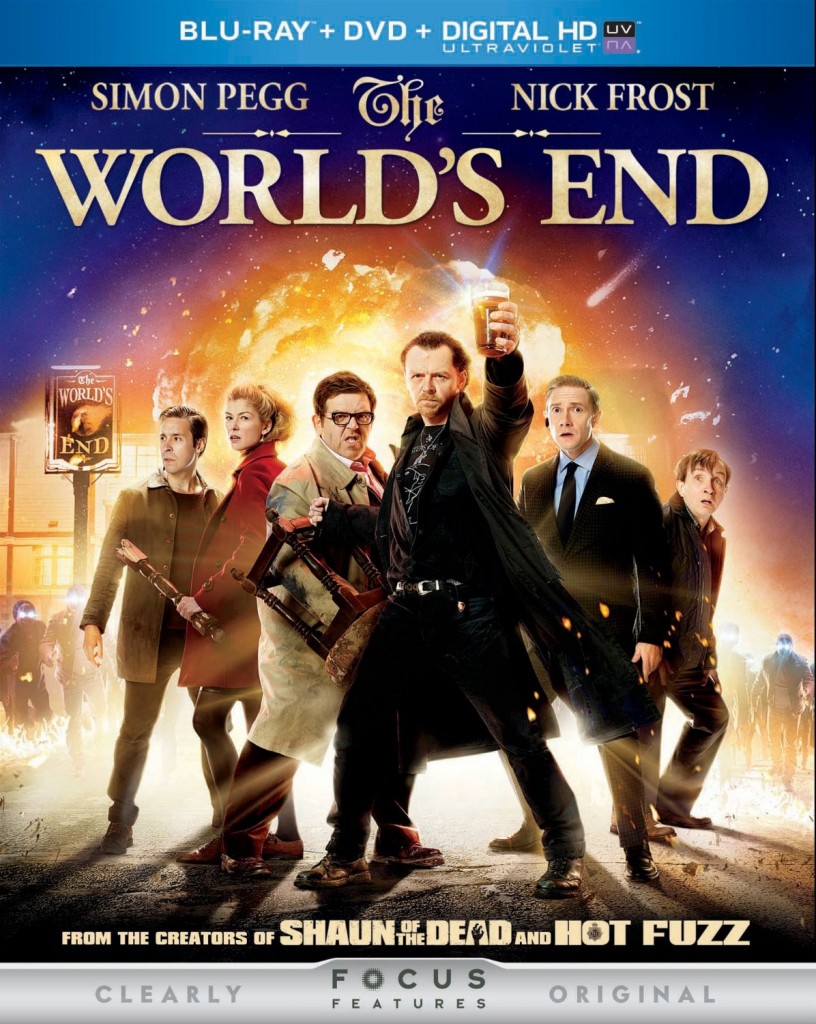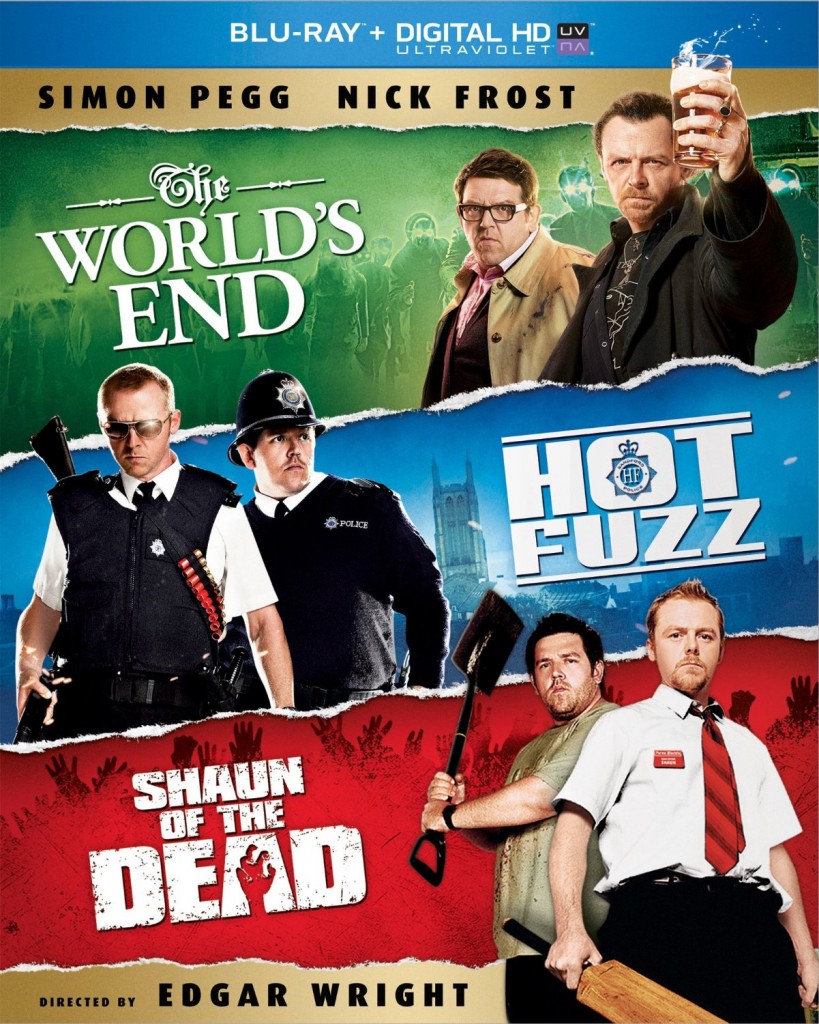 *More artwork from the US and UK releases at the bottom of the post.
Click for UK Steelbook NB. US Steelbook not currently available
ON BLU-RAY™ AND DVD - BOTH WITH ULTRAVIOLET™ - AND DIGITAL DOWNLOAD FROM 25 NOVEMBER, 2013


The World's End's irresistible humor has made it the toast of film reviewers across the nation. Labeled "sheer comic perfection!" by Peter Travers of Rolling Stone and called "Hilarious!" by Entertainment Weekly's Chris Nashawaty.

**** EMPIRE

**** 'Very, very funny - loaded with laughs' TOTAL FILM

**** TIME OUT

"Very ambitious. Great fun, innovative action…If you're not already an Edgar Wright fan get ready to become one." ROBERT DOWNEY JR.

"Fantastic. So funny, so insane." JUDD APATOW

"The World's End is hilarious, exciting and unexpectedly moving." JOSS WHEDON

Prepare for the wildest of all reunions, as the creators of 'Shaun of the Dead' and 'Hot Fuzz' reunite for the epic conclusion to Britain's best loved trilogy. From SIMON PEGG, NICK FROST and director EDGAR WRIGHT comes an explosive thrill ride of action and hilarious comedy in THE WORLD'S END – released on Blu-ray™ and DVD - both with UltraViolet™ - and digital download from 19th November [North America] & 25th November [UK & Eire], 2013. Now fans can truly watch The World's End anywhere, on any device!

The latest instalment in the laugh-out-loud trilogy features the ultimate reunion - one night, five friends, twelve bars and a bid to reach the final 'Worlds End' pub…only the strongest will survive. Joining the all-star cast for their most exciting and adrenaline fuelled experience yet are Martin Freeman (Love Actually, The Hobbit: An Unexpected Journey), Rosamund Pike (Die Another Day, Wrath of the Titans), Paddy Considine (Tyrannosaur, The Bourne Ultimatum), Eddie Marsan (Hancock, Sherlock Holmes) Pierce Bronson (James Bond, Mamma Mia!) and Bill Nighy (Shaun of the Dead, Hot Fuzz).

Having devoted his entire life to partying, Gary King (Pegg) is determined to fulfil his lifelong dream of completing 'the golden mile', a legendary drinking marathon in his home town of Newton Haven. Using dirty tactics, Gary manages to convince his four childhood best friends to take part in the challenge, despite them having grown into successful and mature adults. Meet teetotal lawyer Andy Knightley (Frost), architectural consultant Steven (Considine), high-flying estate agent Oliver O-Man (Freeman) and reserved car dealer Peter (Marsan).

After the first few identical pubs on the 'golden mile', a mysterious atmosphere surrounds Gary and the group and the night soon spirals out of control. In the Cross Hands pub, a slapstick fight soon breaks out in the men's toilets unveiling 'The Blanks' - ass-kicking aliens disguised in human form who are threatening to take over the town, and the rest of the world! The reunion soon becomes much more than a pub crawl and a bigger challenge than ever imagined as they embark on the craziest mission of a lifetime.
Don't miss the final slice of the 'Cornetto' trilogy THE WORLDS END, packed with outrageous humour, explosive action, bizarre brawls and side-splitting one-liners, as it is released on Blu-ray™ and DVD - both with UltraViolet™ - and digital download from 19th November [North America] & 25th November [UK & Eire], 2013.
Extra Features:

Bonus Features Exclusive to The World's End Blu-ray™:

Cast Commentary with stars Simon Pegg, Nick Frost, and Paddy Considine
Technical Commentary with director Edgar Wright and director of photography Bill Pope
Filling in the Blanks: The Stunts and FX of The World's End – Cast and crew discuss the prowess of 
The World's End stunt and VFX teams. Watch rehearsals of intricate fight scenes choreographed by some of the movies' best stuntmen. Learn how the VFX team enhances the existing footage to perfect the film's look and style.
Hair and Make-Up Tests
Rehearsal Footage
Stunt Tapes – Behind-the-scenes of the bathroom fight, the twinbot fight and the beehive fight
VFX Breakdown – VFX Supervisor Frazer Churchill compares production footage with final shots to take viewers behind the veil of the outrageous visual effects sequences.
There's Only One Gary King - osymyso's Inibri-8 Megamix – A catchy mash-up of Gary King's (Simon Pegg) best moments.
The Man Who Would Be (Gary) King
Signs & Omens – a film clip montage highlighting all the hidden clues and hints throughout the film.
Edgar & Simon's Flip Chart –Writers Edgar Wright & Simon Pegg bring back the trusty flip chart to reveal their step-by-step process of creating the story.
Deleted Scene, Outtakes, Alternate Edits and more!

Bonus Features on The World's End Blu-ray™ and DVD:

Completing the Golden Mile - The Making of The World's End – While on the surface The World's End looks like a movie about a bunch of old friends getting drunk on a pub crawl, it's actually about much more. Look through the eyes of these frequent collaborators at the depth of the themes and the relationships between characters.
Feature Commentary with Screenwriters Edgar Wright & Simon Pegg

Bonus Features Exclusive to The Ultimate Three Flavors Cornetto® Trilogy Blu-ray™:

Interactive Screenplays for The World's End, Hot Fuzz, and Shaun of the Dead