On Friday the 24th of November, filmgoers wrapped up tight and lined the cold streets of Leicester Square to see a new and exciting, Great British action film. It would go on to make 350 million dollars worldwide. But enough about 'Goldeneye'.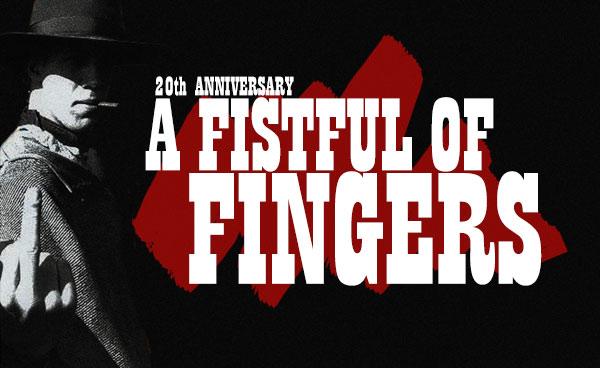 Just around the corner from the Odeon Leicester Square you could have found a 21 year old me nervously introducing my debut feature that very night at the Prince Charles Cinema. My movie, shot on 16mm and 78 minutes in length, was 'A Fistful Of Fingers'. At the time I was pretty broke and could barely afford my travel card to get in. But I want to thank anyone that did choose my silly opus over James Bond that weekend as it truly gave me a break into this industry. The film was warmly received by some (Time Out, The Evening Standard) and savaged by others (Empire, The Guardian), but I owe my career to these zero budget antics in the Somerset countryside.
That night I was so anxious about the opening night response that I decided to pace around the foyer instead of watching the movie. I started chatting up the usher, Donna, and we later went on a date to see the romantic comedy 'Seven'. So imagine my delight when the Prince Charles Cinema contacted me about the idea of creating a 20th anniversary event in honour of me asking out Donna The Usher.
Please get down to the world famous PCC and see my debut feature 'A Fistful Of Fingers' on the big screen again. I truly believe that with your help we could still beat 'Goldeneye's total box office.
TICKETS HERE.
Edgar Wright, 21st September 2015.