George A. Romero (1940 - 2017) by Edgar Wright
It's fair to say that without George A. Romero, I would not have the career I have now. A lot of people owe George a huge debt of gratitude for the inspiration. I am just one of many.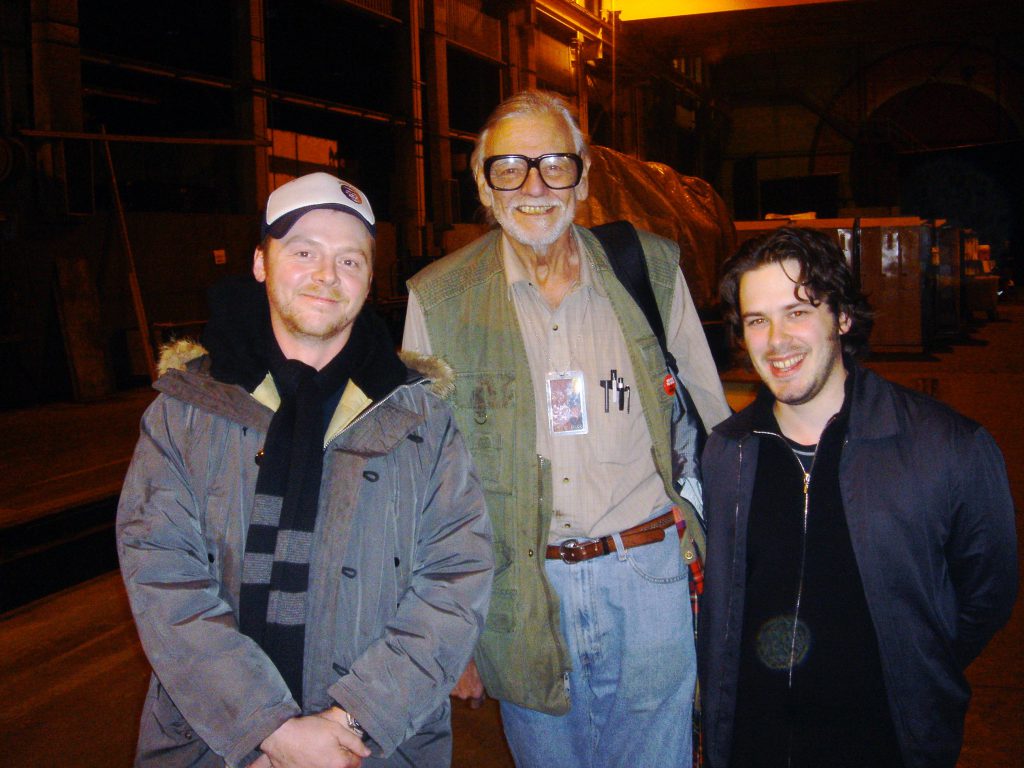 Without George, at the very least, my career would have started very differently. My future in film really started when I became firm friends with Simon Pegg while we were making 'SPACED' and we realised that we were both obsessed with 'Dawn Of The Dead' and George's work.
I had been infatuated about George's work before I saw it, scouring through horror and fantasy magazine for stills, posters and articles way before I was old enough to see his movies. When I finally did watch, on VHS or late night TV, the likes of 'Night Of The Living Dead', 'Martin', 'Dawn Of The Dead', 'Creepshow', 'Day Of The Dead' and others, I was a true devotee to all things Romero.
Later, after making 'Spaced', myself and Pegg had this wild notion of making a film that took place in George's universe, but with a distinctly deadpan North London response to his Pittsburgh zombie epics. The resulting film 'Shaun Of The Dead', would obviously not exist without the master himself and when we completed the movie, we decided that we should try and contact George and screen the film for him. To us, his was the only opinion that mattered.
Universal contacted George and screened the movie for him while he was on vacation in Florida. I remember being bemused that he watched the movie with a studio security guy in the theatre. As if George himself would pirate the movie! Even If he did, he would be more than due some profits from our cinematic valentine to him.
Later that night, George called us in London. I remember standing in my flat in Islington when I got the call from him and he couldn't have been warmer and kinder about the movie. I remember him saying that it was 'an absolute blast'. That indeed became the sole poster quote for the movie in the United States. I frequently think back to this moment of standing in my house as the moment my life truly changed and the world got smaller.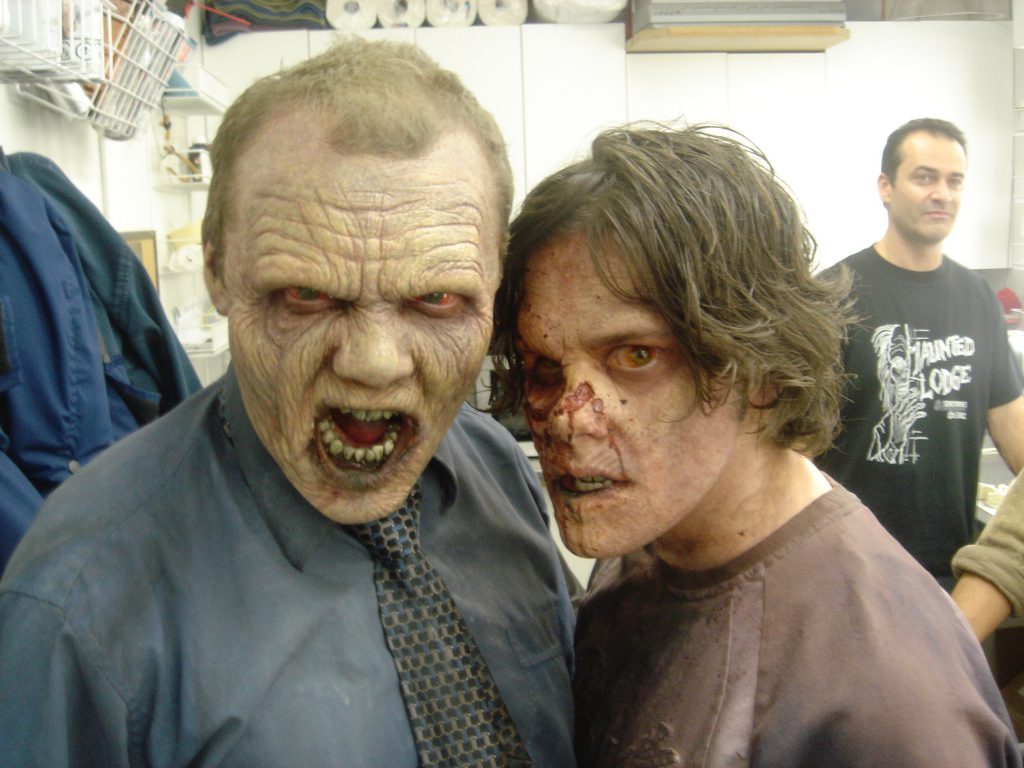 Over a year later George asked us to come to Toronto and appear in his new movie 'Land Of The Dead'. We had our make up done by KNB FX in LA and then flew out to the chilly night shoot set to meet the man himself. We had sent George a 'Foree Electric' name tag as a token of our gratitude for his poster quote on our movie and he was wearing it when we met. Meeting the man himself was just amazing, as anyone who knew him will attest how funny, smart and genial he was.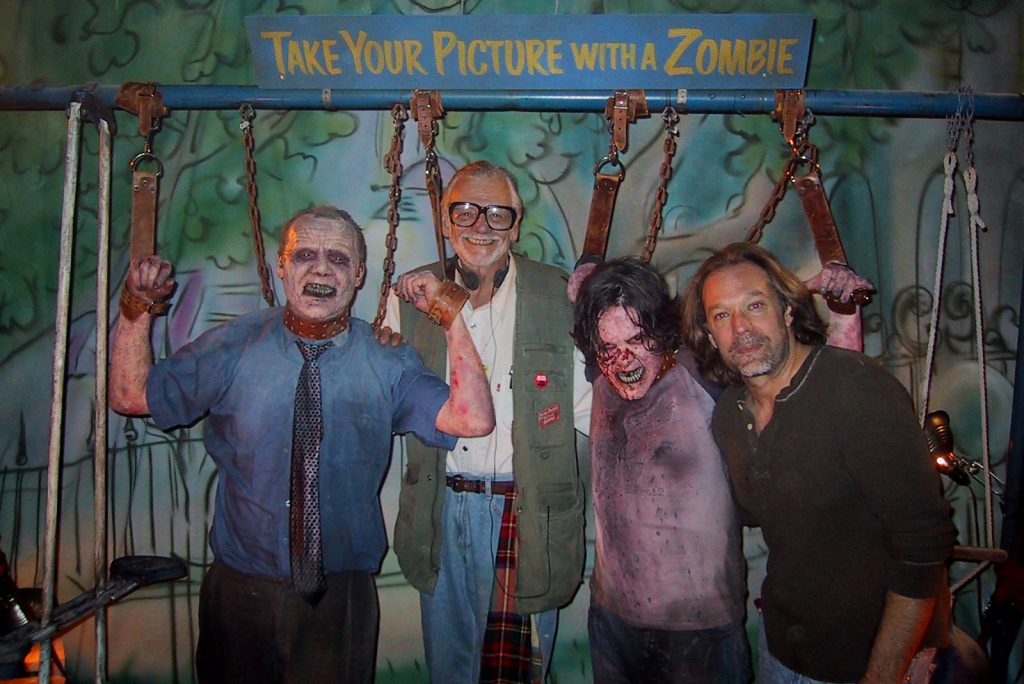 When we shot our brief cameo as 'Photo Booth Zombies', it was such a trip being directed by the 'King Of The Zombies' himself. We couldn't believe we were being told what to do as zombies by the man himself. He actually had no notes and said 'You guys know what you are doing'. Later we would both actually feature on the one sheet for the movie in our make up, which blew my inner horror geek's mind.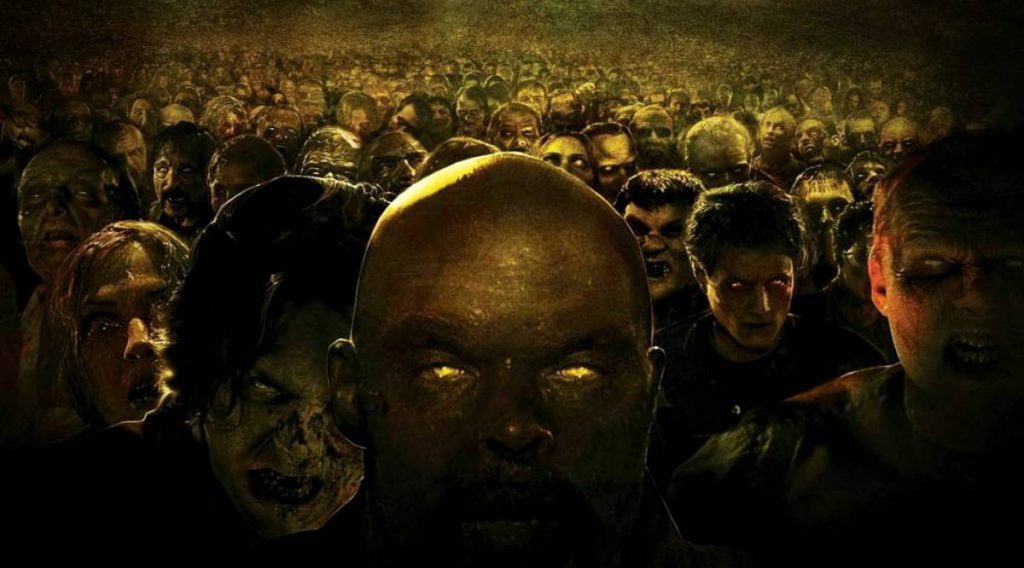 The day after we shot our cameo, I do remember something else that George said. We had coffee in a Toronto hotel with him and he asked me and Simon what we were doing next. I replied that we were making a police action comedy. 'Oh, not a horror, then?' he replied, 'So you're getting out.'
This was a telling statement, as there was always the sense that George had interests in film that stretched beyond the realm of horror. But even if he was pigeonholed somewhat in the genre realm, one of the reasons that his work resonates still is because of fierce intelligence and humour behind it. His zombie films alone are the work of a major satirist, being highly vivid socio-political metaphors and sometimes better records of the years in which they were made than countless serious dramas.
While genre films are often dismissed when people are talking about classic cinema, there is absolutely no denying the seismic impact his movies have had and continue to have in the world of film, TV, comics, video games and literature.
The last time I was in contact with him, was last year when it was announced on the internet that he was to have star in his honour on the Hollywood Walk Of Fame. I e-mailed him to ask when the ceremony was, as I would like to go and here is just part of his very droll and typically modest response.
From: George Romero
Subject: Re: Hey George.
Date: August 31, 2022 at 9:01:53 PM EDT
So nice to hear from you. You are the first person of note to have responded to the announcement of my "Star" on the "Hollywood Walk of Fame". If I had been given a date for the "ceremony", I would certainly have passed it on to all who might have been amused. As of now there is no definite date. Once a date is determined I will alert you and my children who, at this point, seem to be the only amused parties…I fully appreciate that some day in the future one of my kids might be walking along Zambeezie Street in L.A. and wonder why his or her father has his name embedded beneath the dog shit. Thousands of people, stepping over that same dog shit, if they can decipher the time-crusted lettering, will ask, "Who the fuck is George Romero?" Only you and my children will know.
Thank you for knowing.
Love,
George
This was the last e-mail I received from George. He is, as ever, being way too hard on himself. For just his very surname, 'Romero', immediately conjures more images and themes than 99 percent of writer/directors out there. I look forward to whenever they do lay down the star in his honour, but he is already is a bright shining beacon in the film universe.
R.I.P. to the lovely George. Knowing your movies, I have a feeling you will be back.
Edgar