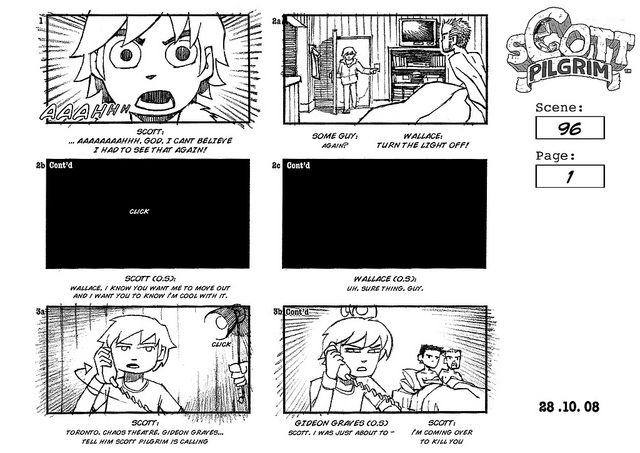 Here's a deleted scene from Scott Pilgrim that screenwriters and budding scribes may get a kick out of.
Myself and Michael Bacall were struggling to make this moment in the movie work where Scott comes back to life. Originally after the dream desert, we saw Scott return to Wallace's apartment and run through his phone call with Gideon again; but this time in a much more heroic fashion; determined to right his wrongs.
Then long after shooting, we came up with the idea of adding in a speech in the dark, literally adding black to the scene and recording a whole new monologue in the ADR studio with Michael Cera and Kieran Culkin.
(I actually did the same trick in 'A Fistful Of Fingers', adding a whole scene in the dark to pad out the scant running time).
Here though, the joke was to address the character arc of Scott Pilgrim with a monologue that explicitly riffs on Joseph Campbell's monomyth; the hero's journey. This is the basic pattern found in narratives around the world since folklore began.
Campbell posed the theory that numerous myths share fundamental structures and stages, which he detailed in his tome 'The Hero with a Thousand Faces'.
"A hero ventures forth from the world of common day into a region of supernatural wonder: fabulous forces are there encountered and a decisive victory is won: the hero comes back from this mysterious adventure with the power to bestow boons on his fellow man. "
So in the spirit of Campbell's monomyth theory, we gave Scott Pilgrim a barnstorming end-of-act-2 speech to show his path to enlightenment.
As it turned out, it was a bit too 'in' and didn't get enough laughs to survive past the next test screening. But it did make JJ Abrams laugh when I showed it to him. So it was worth it for that at least.
Here's the speech Michael Bacall me cooked up, with full credit to the assistance of Joseph Campbell and Christopher Vogler who wrote 'The Writer's Journey: Mythic Structure For Writers', a book that makes the claim that all successful films innately adhere to the principles of 'The Hero with a Thousand Faces'.
It bemused us how closely our story followed Vogler's translation of Joseph Campbell, down to the absurdly literal "seizing of the sword".
This originally came in right after the dream desert scene when Scott gains an extra life.
[scrippet]
INT. WALLACE'S APARTMENT - NIGHT
We FAST FORWARD all the way to Wallace's apartment, as Scott enters. He flicks the light on.
SCOTT
…AAAAAAAAAHHH! I CAN'T BELIEVE I HAD TO SEE THAT AGAIN!
SOME GUY (O.S.)
Again?
WALLACE (O.S.)
Turn off the light!
Scott flicks the light off. On PITCH BLACK…
SCOTT
Wallace, when my journey began, I was living in an ordinary world. Ramona skated through my dreams and it was like a call to adventure, a call I considered refusing. But my Mentor, that's you, told me if I want something bad enough I have to fight for it. So I did. There were tests, allies, enemies. I approached a deep cave and went through a crazy ordeal, during which I totally seized the sword. Sadly, I died. Then I resurrected! Now I realize what I should have been fighting for all along. But before I do that, I need to ask one final favor of you.
WALLACE (O.S.)
Uh, sure thing, guy.
SCOTT
Could you put a robe on and hand me the phone?
[/scrippet]
And there you go, you can see the actual deleted scene on the DVD / Blu-Ray.
That was a plug.
Go buy it.