Two things.
1) It's CONFIRMED that I will be appearing at this triple bill at San Francisco's Castro Theatre on the 26th of August. So get your tix.
2) The amazing Alex Pardee has designed this extraordinary poster for the event.
It's literally mindblowing as you will see below.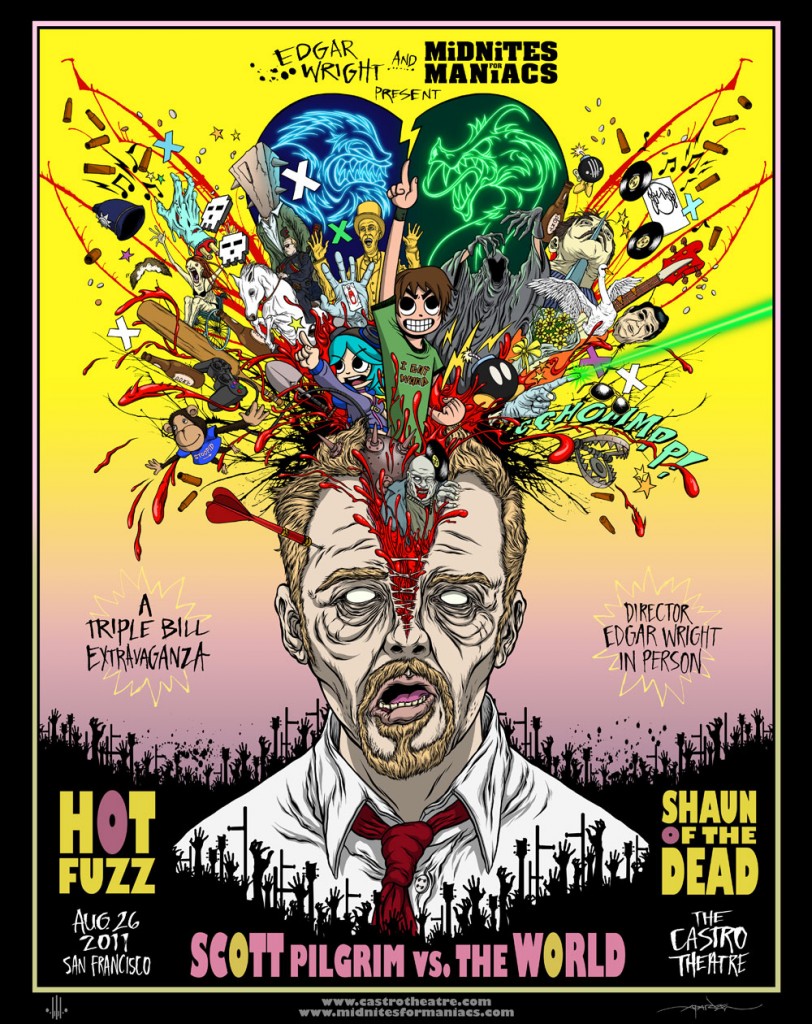 Details of the event are below. Also limited edition fine art prints of the above Alex Pardee poster image will be available to purchase at the Castro on the night of the event. If there are any available after the event they will be sold online at his webstorel Zerofriends .
Writer/Director Edgar Wright, who will be here in San Francisco at the historic Castro Movie Palace iN PERSON (schedule permitting), will be showcasing his three feature films as well as numerous odds and ends from his oeuvre (the Grindhouse trailer DON'T!) as well as introducing each film and holding a Q&A on stage with host Jesse Hawthorne Ficks! This extraordinary event costs ONLY $15 so buy your tickets early! This is gonna be one helluva nite!

7:00pm - SCOTT PiLGRiM VS. THE WORLD (2010)
Based on the graphic novel by Brian Lee O'Malley
Containing: Michael Cera, Mary Elizabeth Winstead, Kieran Culkin, Johnny Simmons, Jason Schwartzman, Aubrey Plaza, Alison Pill

People all around the country are madly obsessed with this brilliantly intelligent, coming-of age extravaganza! On par with films such as RUSHMORE and ELECTiON, it's chock full of progressive poignancy, 8-bit nostalgia, really-relatable side characters (with Kieran Culkin giving one of the greatest performances ever!) and a unique, unstoppable creativity that proves that Mr. Edgar Wright is a modern force to be reckoned with. Not only is this the movie you would have snuck into ten times to see when you were a teenager, it reminds you that you can still do that sort of thing… RiGHT NOW! 35mm print courtesy of Universal. 112min.

NOTE: There will be a Q&A on stage with Edgar Wright and Jesse Hawthorne Ficks immediately following SCOTT PiLGRiM.

Watch the trailer:


plays with

9:45pm - HOT FUZZ (2007)
Written by Simon Pegg & Edgar Wright
Containing: Simon Pegg, Nick Frost, Martin Freeman

Capturing the "buddy cop" genre has been attempted before and after this brilliant little ditty (see Kevin Smith's COP OUT and Adam McKay's THE OTHER GUYS), but what makes HOT FUZZ such a contemporary classic is that it actually achieves it's own place alongside the films it's in love with: POiNT BREAK and BAD BOYS 2. This genuine British Bro-mance between real-life BFFs, Simon Pegg & Nick Frost will completely sneak up on you, as they strive for purpose through their small town shenanigans. Widescreen 35mm print courtesy of Focus. 121min.

Watch the trailer:


plays with

11:59pm - SHAUN OF THE DEAD (2004)
Written by Simon Pegg & Nick Frost
Containing: Simon Pegg, Nick Frost, Kate Ashfield & Lucy Davis

Riding high off their decade defining TV series SPACED (1999), this gang of Brits translated their genius to the big screen and gave the world one of the all time great Zombie parodies while at the same time (like HOT FUZZ) carving out it's own top-spot within the genre it loves! What would a couple of modern day stoners do if the world were overrun with flesh eating corpses? Edgar Wright and company deliver a bloody great romp that only gets better and better with multiple viewings! This must be seen at the greatest movie theatre in the United States with the director IN PERSON introducing it to a whole new generation preceded by a RARE 35mm print of Wright's Grindhouse trailer DON'T! Widescreen 35mm print courtesy of Focus. 99min.

Watch the trailer:


Again, BUY YOUR ADVANCE TiX NOW!

People are flying from across the country for this special event!

ONLY $15 for one or all three films!
Notes written and event curated by Jesse Hawthorne Ficks
email him at [email protected]