UPDATE: 'SCOTT PILGRIM', 'SHAUN' & 'FUZZ' are already sold out! But there are some tickets left for the opening feast. See you there!
Those good people at Alamo Drafthouse Cinema have kindly asked me to come an open their new church of cinema. I said yes.
I have always had a great time in Austin and with any Alamo screening I've done; be it 'Shaun', 'Fuzz', 'Spaced', 'Scott Pilgrim' and 'Attack The Block'.

So join me for an epic triple bill at the new Alamo on Slaughter Lane. See you very soon, TX.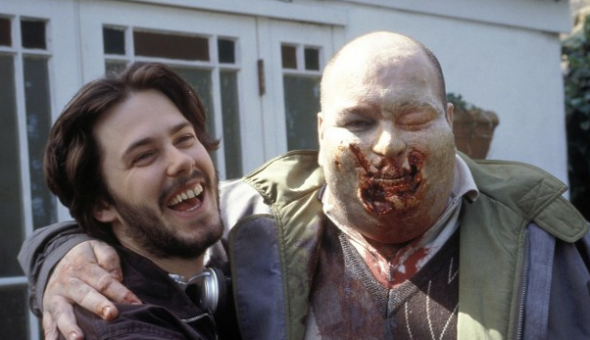 Who is the man behind the world's first and best rom-zom-com? Who is the man who made a movie with a plotline centered around 1991's Point Break? Who is the man who made the best movie adaptation of a Canadian graphic novel ever? Why, the charmingly English Edgar Wright of course!

We've been working with Edgar on the best possible programming to showcase his dynamic filmography and we've come up with fantastical weekend of movies to honor the grand opening of our brand new Slaughter Lane location. Wright has been to all of the other Austin Alamo locations over the years for special events and just to hang out and enjoy a local brew and pizza pie along with a flick. So he wanted to come down and help us break in the new digs with style over our opening weekend!

Wright sets the bar and sets it high for witty dialogue, hilarious pop culture references and above all entertainment. Every frame of every thing Wright's touched is filled to the brim with great joy and even greater fun. The man is as much of a manic film fan as we are here at the Alamo and we are so thrilled to welcome him back to the Lone Star state to show off our new killer-plant themed location in South Austin!

Edgar Wright will be appearing LIVE at the following special events at our newest Alamo Drafthouse location:

Friday March 23rd- SCOTT PILGRIM VS. THE WORLD Dinner Party with Edgar Wright
SOLD OUT! Friday March 23rd- SCOTT PILGRIM VS. THE WORLD with Edgar Wright


SOLD OUT! Saturday, March 24th- SHAUN OF THE DEAD Quote-along with Edgar Wright
SOLD OUT! Saturday, March 24th- HOT FUZZ with Edgar Wright


Tickets for all these events will go on sale tomorrow, March 15th.