About that Spaced Marathon at The Bloor, IT'S FREE!
For Immediate Release:March 12, 2009

Edgar Wright presents FREE Marathon of his TV series Spaced at the Bloor Cinema Monkees, Busby Berkeley musicals also part of "The Wright Stuff"

Before Shaun of the Dead and Hot Fuzz, there was Spaced. Originally broadcast from 1999 to 2001 on the UK's Channel 4, director Edgar Wright will be marking the series' 10th anniversary with a marathon screening of all 14 episodes at Toronto's Bloor Cinema - FREE for Bloor members and "The Wright Stuff" series passholders! (Six-month Bloor memberships will be sold for $3 at the door.)

Wright will be in attendance for an introduction and Q&A.

The marathon kicks off at 5:00 p.m on Sunday, March 22, and will include two intermissions.

Episodes are 24 minutes each.

Visit http://www.bloorcinema.com and EdgarWrightHere for more details.

Bar services will be provided by Mill Street Brewery.
Sunday, March 22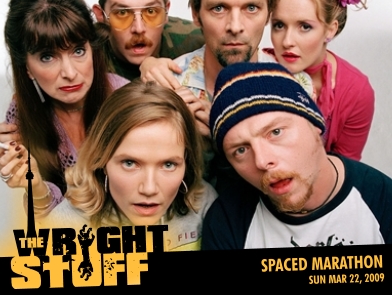 5:00 Spaced Marathon (Edgar Wright, 1999-2001)
Wright, Simon Pegg and Jessica Hynes' breakneck, surreal, pop-culture-drenched TV series.
Edgar Says: "Spaced" is ten years old this year. Come and watch the whole darn thing in one sitting. It's like my life flashing before my eyes in 25 minute chunks. Do not attempt a drinking game where you take a shot whenever there is a whip pan. You will die.