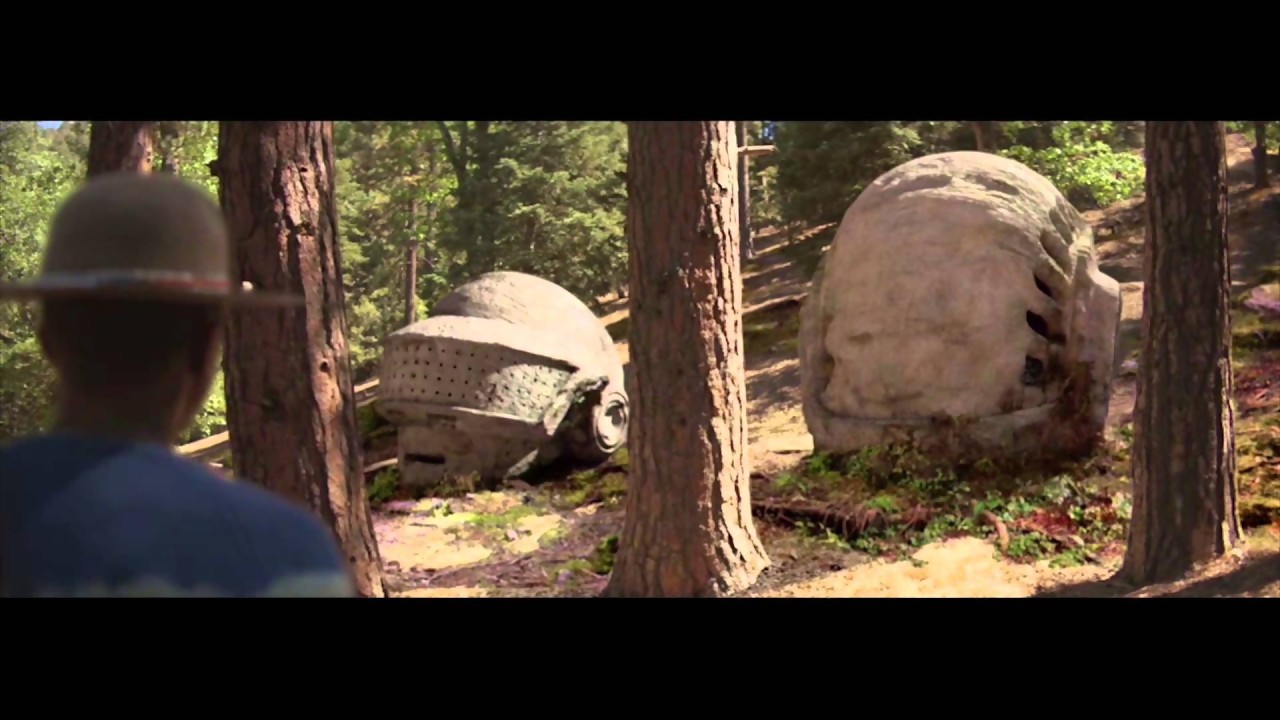 I have to thank Mr Williams, Thomas Bangalter, Guy-Manuel de Homem-Christo & Bryan Younce for getting me onboard for this video. Read more
I directed a few music videos between 'A Fistful Of Fingers' in 1995 and 'Spaced' in 1999. There were three for a band called 'Ruth' that I can't seem to find online. And another one for The High Llamas for 'Nomads' that I directed when I was 22 and didn't really know what the hell I was doing.
After 'Spaced' was finished in 2001, I directed a few more music videos while writing and developing 'Shaun Of The Dead'. It was a funny period for music videos as the budgets were plummeting because of file sharing. Interestingly each of these videos had a lower budget than the last. That meant a lot of favours pulled in every department. Still, the best thing about doing them is to try out new techniques.
Here they are…
After Hours ~ The Bluetones – dir. Edgar Wright (2002)
This was my second video for The Bluetones (the first being 'Keep The Home Fires Burning') and is still one of my favourite things I've done. The Bugsy Malone homage came about because I remarked how Mark Morriss' song had a Paul Williams flavour. The video is comprised (mostly) of a single Steadicam shot, of which we did 9 takes.
Choreography was by Litza Bixler, who also did the Don't Stop Me Now sequence in Shaun Of The Dead. Where are the kids now?
Psychosis Safari ~ The Eighties Matchbox B-Line Disaster – dir. Edgar Wright (2003)
This is a very low budget video I did for EMBLD for a single off their incredible debut album, HORSE OF THE DOG. The animation is by my big brother, Oscar Wright, Matt Piper and John Yeo. Am still proud of this video and still love the song. If you have never heard that album, it's still fearsome.
Blue Song ~ Mint Royale – dir. Edgar Wright (2003)
Back in 2003, I remember Mint Royale's label questioning my casting of Noel Fielding and Julian Barratt in this video. They wanted someone bigger, despite our low budget and the fact that both actors would work for free to help me out. I told the label that they would soon be huge. Cut to a few years later and they are now cult superstars all over the planet. See the young Boosh boys along with Michael Smiley and Nick Frost in my getaway driver musical number.
Summer ~ Charlotte Hatherley – dir. Edgar Wright (2004)
Here's a video I did after 'Shaun' for the talented Miss Hatherley from her 'Grey Will Fade' album. The video contains an enormous amount of animation, flashcuts and subliminal frames (by the likes of Oscar Wright, among many others). It took an age to edit and failed the television standards epilepsy test 57 times before we got it passed.
Bastardo ~ Charlotte Hatherley – dir. Edgar Wright (2005)
Here's the last video I directed in this period. Again it comes from the 'Grey Will Fade' album and it features a cast of David Walliams, Simon Pegg, Lucy Davis, Lauren Laverne, Alice Lowe and Julia Davis. This video cost 6K and was the result of a lot of hard work and pulled favours. It took so long to edit that it still exhausts me to watch. Ultimately it put me off doing music videos for a long while as you could only ask for favours so many times. But there is a lot of artwork and photography in this rapid fire clip and I'm staggered at what we all managed to achieve.
That was the last video I did. Well, until this…
Modesty prevents me from labelling this post with the same title that Gabriel Fasano gave it, but I am deeply flattered by the amount of work that's gone into this. Technically it's missing 'Fistful Of Fingers' clips, but I am more than cool with that.
This is a great mashup and it made me misty eyed. And if you haven't seen everything yet: SPOILERS.
Find more mash ups and remixes posted to the blog over the last few years by clicking here.
Here's another great 'World's End' mash up this time from Sweden's Chetreo .
DO NOT WATCH if you haven't seen the movie yet, but otherwise enjoy!

And if you liked that then enjoy some other masterful and equally spoiler filled mash ups by the audio visual wizards Joel Walden, Kees van Dijkhuizen Jr, Osymyso and Mike Relm.
Joel Walden and Kees van Dijkhuizen Jr / Three Flavours Cornetto Trilogy
Osymyso / Inibri 8 Megamix
MIKE RELM: THE CORNETTO MEGAMIX
This appeared on the /SLASHFILM site last week and I'm still very flattered by it.
Credit goes to Bryan Lee O'Malley for the incredible source material of course, an amazing crew and the legions of art department, graphic and visual effects wizards who helped me pull the film off.
Enjoy.
Tim Chipping was one of the hero zombies in 'Shaun Of The Dead'. Not only does he feature heavily in the Winchester climax and get his own neck squib, but he was on the poster for the movie. He made a killer zombie.
So what a treat that ten years later, Tim got to interview me in his full zombie make up. This interview for Holy Moly was a bloody highlight of the DVD press. Enjoy.
Spoiler Alert / DO NOT WATCH IF YOU HAVEN'T SEEN THE MOVIES!
If for some reason you haven't seen 'Shaun Of The Dead', 'Hot Fuzz' or 'The Worlds End' DO NOT watch the following clip. But if you have then please enjoy Joel Walden and Kees van Dijkhuizen Jr's megamix of the Cornetto trilogy.
Again, MASSIVE MASSIVE SPOILERS!
And if you liked that then enjoy some masterful and slightly less spoiler filled mash up by the audio visual wizards Osymyso and Mike Relm.
Osymyso / Inibri 8 Megamix
MIKE RELM: THE CORNETTO MEGAMIX
Three years after the 'Scott Pilgrim' movie, it very heartening to still see music videos that are inspired by it. This video for Avicii riffs on the fight between Pilgrim & Patel at The Rockit, which ironically enough was also the scene that we did a test shoot for back in 2008! Check it out.
Check out the other Pilgrim inspired videos by The Vines, T-Pain & Chris Brown, and Swound!
And if that's not enough Scott Pilgrim for you, then here's SP's Director of Photography Bill Pope's music video for Toronto native Drake - starring SP alumni Johnny 'Young Neil' Simmons. It's fantastic.
Drake ~ Hold On We're Going Home
Drake ~ Hold On We're Going Home from OctobersVeryOwn on Vimeo.
When I am an old man and someone asks me what my finest hour was, I will say these 13 minutes. The closest I ever came to being in the Sex Pistols…
It's a special British Trilogy/World Ending edition of All Star Celebrity Bowling as the UK comedy genre-bending maestros of Team Cornetto Trilogy (Simon Pegg, Nick Frost, Edgar Wright and the Sex Pistols' Steve Jones) take on Team Nerdist (Jonah Ray, Matt Mira, Chloe Dykstra and Chris Hardwick). Will the World's End boys' bloody frozen lactose fixation prove victorious? Watch and see!
The World's End ab 12 September Im Kino.
12 Kneipen pflasterten ihren Weg – zumindest hatten sich das fünf Jugendfreunde vorgenommen, als sie vor 20 Jahren eine legendäre Sauftour starteten. Nun will der damalige Rädelsführer Gary King (Simon Pegg), der auch nach seinem 40. Geburtstag ein großes Kind geblieben ist, diese Tour endlich wiederholen: Unerbittlich treibt er seine Kumpel zurück in ihren Heimatort, um sich dort Runde für Runde bis zum berühmten Pub "The World's End" durchzubechern und damit den Kreis aus Vergangenheit und Gegenwart endlich zu schließen. Bald stellen sie jedoch fest, dass es viel eher um die Zukunft geht: nicht nur um die eigene, sondern um die der gesamten Menschheit. Eine unbekannte Bedrohung aus einer anderen Galaxie hat ein Auge auf ihr Städtchen geworfen und die Kneipe auf der Zielgeraden ist dabei ihr geringstes Problem…
This was a very special night. Am still overwhelmed by it all.
The show is still open. Get down there before Sep 7th.
ANATOMY OF A SCENE - Directors offer behind-the-scenes narration on their films. A running feature from The New York Times.
The director Edgar Wright has teamed up again with the actors Simon Pegg and Nick Frost to make his latest comedy, "The World's End." In this video, he narrates a segment from the film's opening sequence, a prologue set in 1990. He discusses using 16-millimeter film to shoot the sequence and using prosthetics on some of his young actors.
Originally posted here: http://artsbeat.blogs.nytimes.com/2013/08/21/anatomy-of-a-scene-video-the-worlds-end/
Thank you Mike Relm for what might be my favourite re-edit of any of my work.
It makes me so proud watching this.
Please enjoy The Cornetto Megamix!
To see Mike Relm's Scott Pilgrim mash up - click here.
See The World's End in the USA & Canada from August 23rd
For information on The Three Flavours Cornetto Trilogy screenings happening on August 22nd Click Here.
To find out where you can see The World's End from August 23rd (with some previews at 10pm and midnight on August 22nd) Click Here.
On August 23rd 'The World's End' arrives in US & Canadian theatres…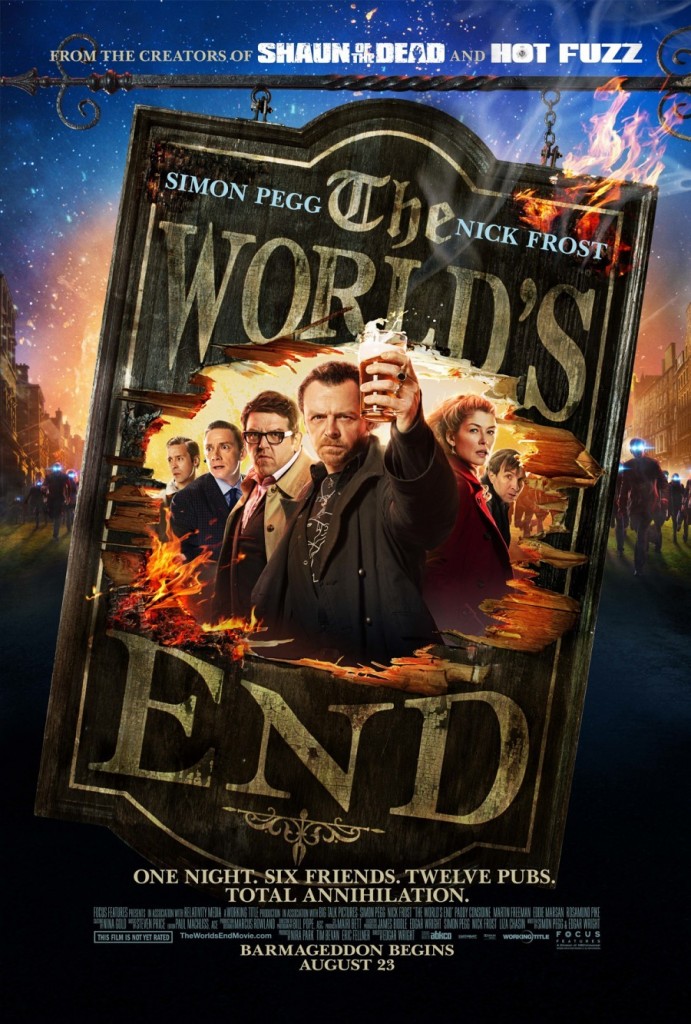 And remeber there are approximately 161 screenings of the full Three Flavours Cornetto Trilogy culminating in early previews of 'The World's End' on August 22nd. Check out this post and Focus Features' page for all the cities covered.