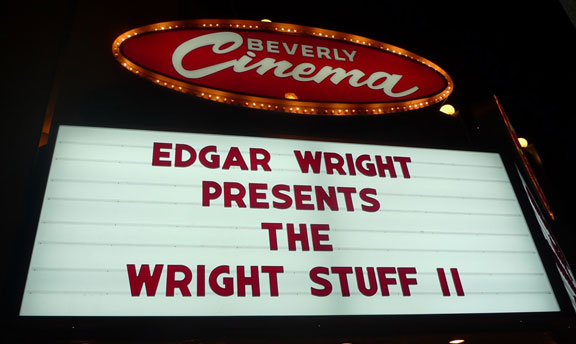 The Wright Stuff Wrap-Up
And so my second season at the New Beverly is over.
I cannot say how much fun I had curating it, talking with all my guests and, most importantly, watching all the movies on 35mm with a full house.
As I said every night, my second season of programming double bills was a purely selfish exercise. Even though I know those who attended had a blast, it was much for me as it was for you.
Watching great movies as they were intended to be seen, with a great crowd is any film geeks dream.
And I may have set the bar too high for myself to ever do such a season again, because the guest list alone was the stuff the dreams are made of. So let's say thanks to all these fine people who either worked on the movies I screened or shared my geekish enthusiasm for them.
So let's say thanks to my guests for The Wright Stuff II. In order of appearance…
My Guests
Joe Dante, Simon Pegg, Lucy Davis, Anna Kendrick, Mae Whitman, Mark Webber, Brie Larson, Brandon Routh, Johnny Simmons, Michael Bacall, Doug Benson, Richard Kelly, Quentin Tarantino, David Selby, Lorenzo Semple Jr., John Landis, George Folsey Jnr, Bill Krohn, Keith Gordon, Walter Hill, Bruce Dern, Frank Marshall, Ronee Blakley, Steve Golin, Laura Dern, David Lynch, James Remar, Larry Gordon, Joel Weiss, Josh Olson, Patton Oswalt, Geoffrey Lewis, June Fairchild, Ed Saxon and D.V. Devincentis.
With written contributions from:
Nick Frost, Terry Gilliam, Tom Tykwer, David Patrick Kelly, Michael Chapman & Steven Spielberg.

That is quite the roll call. And all in just over two weeks. I can't even believe it myself.
Magic Moments
Here's some of my favourite random moments from my season.
Getting Simon Pegg down to LA and into the screening without anyone knowing, then freaking out the audience by pretending to call him in Vancouver and his phone ringing in the auditorium.
Terry Gilliam's amazing e-mail to introduce the screening of 'Brazil'.
Sitting front row with Quentin Tarantino watching a perfect print of 'Dirty Harry.
David Selby & Lorenzo Semple Jnr watching 'The Super Cops' for the first time since 1974.
Admitted stealing a line from Semple Jnr for 'Hot Fuzz' and him being flattered by the theft.
John Landis being so blown away by 'American Graffiti' in his first viewing in 38 years, that he admitted to feeling bad for parodying the ending in his own 'Animal House'.
The scenes with Alec McCowen & Vivien Merchant bringing the house down in 'Frenzy'.
Getting Keith Gordon to talk about being an 18 year aspiring director on the set of 'Dressed To Kill'.
Walter Hill commenting that the sold out screening of 'The Driver' was the largest American audience to have ever watched the movie.
Witnessing the 200 mph raconteur that is the legendary Bruce Dern.
Reading out an e-mail from Steven Spielberg explaining how he made 'Duel' in 11 days.
Laura Dern making an 11th hour appearance at 'Wild At Heart' and surprising me by bringing David Lynch with her. Cue crowd going wild.
Hearing Walter Hill imitate David Patrick Kelly's "Come out to pla-ay" line.
Hill admitted to regretted that Ajax never makes it home in 'The Warriors' and James Remar replying, "Walter, tonight Ajax is home".
Frank Marshall & Larry Gordon telling amazing production ancedotes about 'The Warriors' while they both munched popcorn onstage.
Patton Oswalt helping me introduce 'Thunderbolt & Lightfoot' by admitting to actually never having seen 'Thunderbolt & Lightfoot'.
Watching Geoffrey Lewis' face during 'Thunderbolt & Lightfoot' as his scenes got huge laughs.
Seeing 'Miami Blues' for the first time with other people and it playing like gangbusters.
And that's all just off the top of my head. There are countless more. If you attended any events, please share your favourite moments in the comments.
Very Special Thanks
I could have never begun to put this together without some key people. So thanks to the fine fellow who is Greg Longstreet and, of course, to the amazing staff of the New Beverly.
New Beverly Staff:
Michael Torgan
Julia Marchese
Phil Blankenship
Adam Trash
Matt Dinan
Marion Kerr
Brandon Riker
And these fine people for all the prints.
Film Booking:
Paul Ginsburg – Universal
Emily Horn – Paramount
Michael Piaker – Sony Pictures Classics
Chris Chouinard – MGM Repertory
Chris Ustaszewski – Focus Features
Marilee Womack – Warner Brothers
Jane Giles, George Watson & Stuart Brown at the BFI
Laurence Berbon & Catherine Lacroix – Tamasa Distribution
Caitlin Robertson – 20th Century Fox
Brian Block – Criterion Pictures USA
And also these equally fine people for the contacts, the photos, the connections, the rare trailers etc.
Marc Edward Heuck
Dennis Cozzalio
Jeff Nowicki
Melanie Doyle
Jules McLean
Antonio E. Pedreira
Jackson Arcade
Michael Moses
Jeff Pirtle
Nira Park
Matthew Justice
Brian Siberell
Leo Thompson
Lee Thomas
Pilar Savone
Larry Karaszewski
Bob Weide
Liza Chasin
Kara Poydenis
Justin Theroux
Miguel Artera
Michael Cera
Nathan Goldman & Dan Kuhlken for DKNG Studios
Natalie Richardson
Sam Becker
Kristie Macosko
Hildy Gottlieb
Lightfield Lewis and The Lewis Family
And finally, for those that couldn't make, here's a little taste of what you missed. I haven't included any fan videos as I don't generally like them and am a big believer of the informal, you-had-to-be-there fun.
Thanks as ever to the New Beverly, Phil Blankenship & Quentin Tarantino for all the vintage 35mm trailers, which are as fun to put together as the double bills.



The Marquees
The Full Wright Stuff II Listings
Jan. 14th & 15th - Shaun of the Dead / Hot Fuzz / Scott Pilgrim Vs. The World
With guests; Simon Pegg, Lucy Davis, Anna Kendrick, Mae Whitman, Mark Webber, Brie Larson, Brandon Routh, Johnny Simmons, Michael Bacall & Doug Benson.
Trailer Playlist: Picked by Quentin Tarantino
Shaun Of The Dead – Carrie / Modern Problems / Groundhog Day / Man With Two Brains / Paul
Hot Fuzz - 48 Hours / Fuzz / Newman's Law / Nighthawks / The Super Cops / Kill Point
Scott Pilgrim Versus The World - Zabriskie Point / A Clockwork Orange / Candy / Shogun Assassin / After Hours / Fight Club / Blues Brothers
Jan. 16th - Brazil / Delicatessen
With guest; Richard Kelly and an amazing e-mail from Terry Gilliam.
"Brazil was made by a bunch of young people who didn't know any better.
They are older and wiser now but, it seems America isn't.
It's a pity that George W and Dick Cheney aren't still running the
show. I was tempted to sue them for the illegal and unauthorised remake of
Brazil. Just think… More people are living my movie than ever went to see it.

-TG"
Trailer Playlist: Picked by Edgar Wright
Brazil – Time Bandits / Zardoz / Slaughterhouse 5 / Blade Runner / Buckaroo Banzai / Strange Days
Delicatessen – The Cars That Ate People / The Cook The Thief His Wife & Her Lover / Hudsucker Proxy / Being John Malkovich
Jan. 18th & 19th - Dirty Harry / The Super Cops
With guests; Quentin Tarantino, David Selby & Lorenzo Semple Jr.
Trailer Playlist: Picked by Quentin Tarantino
Dirty Harry – Confessions Of A Police Captain / Freebie & The Bean / Sharkey's Machine / Newman's Law / Murphy's Law / An Eye For An Eye
The Super Cops – Cops And Robbers / The New Centurions / Elektra Glide In Blue / Choir Boys
Jan. 20th & 21st - Amercian Graffiti / Animal House
With guests; John Landis and George Folsey Jnr.
I had to miss American Graffiti on the first night due to the VFX bake off for the Academy Awards. So John Landis read out this letter in my absence.
Dear New Beverly,

I am sorry I cannot be with you for the first feature. Indeed I likely will be back tomorrow to watch 'American Grafitti' as this season is as much for me to selfishly watch my favourite films on the big screen.

Mr Landis (that's me) has graciously offered to introduce the first film in my absence and explain that a) I am a cocksucker for not being here and b) why I cannot be here.

(explain bake off?)

Here's my theory on why American Grafitti & Animal House make a perfect combo.

Both groundbreaking comedies.

Both enormous commercial hits (both for Universal)

Both deemed culturally significant enough to be selected for preservation in the National Film Registry.

Both featuring many actors who would go onto even bigger successes. Richard Dreyfuss, Harrison Ford, Ron Howard, Cindy Williams in Grafitti. Tom Hulce, Karen Allen & Kevin Bacon in Animal House.

Both set in 1962.

Both featuring highly influential soundtracks featuring wall to wall classic pop hits. They are classic jukebox movies that went on to

And one ends with film ends with an aspiring writer leaving for college, the other opens with an aspiring writer joining college.

Mr Landis, feel free to agree or disagree.

So please enjoy American Grafitti, the last non Star Wars film that George Lucas directed, shot 39 years ago. Still the greatest all in one night movie for me. It's beautifully simple, funny and unaffected look at a more innocent time. And given his later career being so VFX heavy, it's fascinating to see this loose, improv heavy, documentary feel.

I think it really holds up. Although I'll have to come back tomorrow to make sure that's correct.

In a related note, when I was very young and saw both Happy Days and American Graffiti on TV, I did not realise that they were set in the past and assumed that the diners, cars and fashions were just what American culture was all about. I am still not convinced this isn't the case.

See you later. John doesn't believe I'll be back.

Edgar
I did make it back, by the way.
Trailer Playlist: Picked by Edgar Wright
American Graffiti – The Wanderers / Diner / Stand By Me / Dazed And Confused
Animal House – Caddyshack / Porkys / Bachelor Party / Up The Creek / The Sure Thing
Jan. 22nd. - Run Lola Run
Before the midnight show I read out this e-mail from Run Lola Run director, Tom Tykwer.
Dearest midnight animals at the new beverly,

i am deeply frustrated that I cannot be with you tonight at my favourite theater showing my good old red hot riding hood baby. That is in particular as i am going to be in town just a few days from now. But i'll see you at some of the other screening of Mr. Wright's great choices later this week. Definitely not going to miss The Warriors and Thunderbolt and lightfoot. both Walter Hill and Michael Cimino have been heroes of my youth and it's not difficult to find their traces in the movie you're about to watch. And speaking of Mr. Brian De Palma who Edgar also salutes in this series with his super classic Dressed To Kill. Any split screen or slow motion use you're gonna encounter in the next 80 minutesL thank you Brian, master of the universe of playfully dark sexy stylish and terrifying motion pictures.

Meanwhile - enjoy the other thing i hate to miss tonight: master of ceremony edgar wright's introduction into: run lola run!

yours, tt
Jan. 22nd & 23rd - Frenzy / Dressed To Kill
With guests; Bill Krohn, author of the book 'Hitchcock at Work' & Keith Gordon.
Trailer Playlist: Picked by Edgar Wright
Frenzy – Psycho (1960)
Dressed To Kill – Carrie / Blow Out / Body Double / Raising Cain
Jan. 24th & 25th - The Driver / Duel
With guests; Walter Hill, Bruce Dern, Ronee Blakely & Frank Marshall.
Plus an amazing e-mail from Steven Spielberg.
DUEL was 50% planning and 50% panic. The network only gave me 11 days to shoot a 74-minute movie. Fortunately, the actor I cast, Dennis Weaver, had his game face on the entire time we filmed and he sprinted, along with the rest of us, from one setup to the next. As did Jack Marta, my DP and a skeleton crew who had never made a movie before while on the run. Literally running.

I shot much of this with five cameras that included a camera mounted inside the picture car, as well as mounted cameras on the blind side of the red car and the truck. If four of my cameras were filming run bys from right to left, on the opposite side of the vehicle we mounted cameras that were capturing useful footage to be used later in the show when the vehicles would be traveling left to right. This was where planning was invaluable.

But I had one more ally on my side during the making of DUEL and that was luck. Pure luck…and a great story and script by Richard Matheson. To this day, I feel blessed that this opportunity landed in my life.
Trailer Playlist: Picked by Edgar Wright
The Driver – The Warriors / Extreme Prejudice / Johnny Handsome / Wild Bill
Duel – The Car / Christine / Maximum Overdrive / The Ambulance
Jan. 26th & 27th - Wild At Heart / True Romance
With guests; Steve Golin, Laura Dern and David Lynch.
Trailer Playlist: Picked by Edgar Wright
Wild At Heart - Blue Velvet / Lost Highway / Twins Peaks Fire Walk With Me / Mulholland Drive
True Romance - Bonnie & Clyde / Pretty Poison/ Badlands / Into The Night / Something Wild
Jan. 28th & 29th - The Wanderers / The Warriors
With guests for the Warriors; Walter Hill, Larry Gordon, Frank Marshall, James Remar & Joel Weiss.
With a message from David Patrick Kelly.
"Hello Edgar ,

Really wish I could be there with you all. Thanks for inviting me. I'm opening a new play about Death Row inmates and as you sit there I'm onstage in Times Square.

…a few free associations about The Warriors…

They say 'Never judge your character'…I broke that rule…Luther was evil and I wanted to make him so…Walter told me to think of Richard III…I based him on a particular alleged gangster from my old neighborhood and several people connected with the rock and roll business from my club days

…Some favorite things…Joel Weiss as Cropsey who looked like a cross between a Bowery Boy and a Ramone…the late great Paul Greco as leader of the Orphans

…Things I was reading and watching and listening to…Anabasis by Xenophon…Last Exit To Brooklyn by Hubert Selby…Hells Angels by Hunter Thompson…Down These Mean Streets by Piri Thomas…videos by Martine Barrat ( she had a show at the Whitney at the time called "You Do The Crime You Do The Time", a great photographer)…the band Television's Marquee Moon

…I read an interview with Walter once where he said that most of his films are Westerns so I like that Luther ended up having an Apache headband AND a Sheriff's star.…thanks to Walter for directing me, like the post-modern John Ford he is , in all my favorite film roles…thanks to Remar for being a great art comrade all these years…thanks to Marshall for getting Luther's costume to me…I wore the boots til they fell apart but I still have everything else.…and great thanks to all the Warriors fans…somebody wrote at the time that it somehow represented the dispossessed…I like that.

Peace,
David Patrick Kelly
And for The Wanderers: Josh Olson and an e-mail from cinematographer Michael Chapman.
Sorry I won't be able to be there tonight but hope I can count on you to speak up for Phil Kaufman. The fact that I shot most of his films of the seventies, White Dawn, Invasion of the Body Snatchers and The Wanderers, makes me clearly prejudiced in his favor, but I hope I can see past myself to recognize what a fine film maker he was, and is. He had a kind of kindness towards his characters that's missing from most of the irony laden movies of that era, including some that I shot and am proud of. And I suspect that it is that kindness which made him be not taken as seriously as he should have been.

Anyway, speak up for one of the good guys.
Trailer Playlist: Picked by Edgar Wright
The Warriors – A Clockwork Orange / Assault On Precinct 13 (1976) / Escape From New York / Judgement Night / Streets Of Fire
The Wanderers – Quadrophenia / Rumble Fish / Small Faces / West Side Story
Jan. 30th & 31st - Thunderbolt And Lightfoot / Miami Blues
With guests: Stars Geoffrey Lewis & June Fairchild, producer Ed Saxon and writer D.V. DeVincentis.
Trailer Playlist: Picked by Edgar Wright
Thunderbolt And Lightfoot - Midnight Run / Simple Men / Bottle Rocket / The Big Lebowski
Miami Blues - Point Blank / Thief / Heathers / Fargo / Freeway
And that's all folks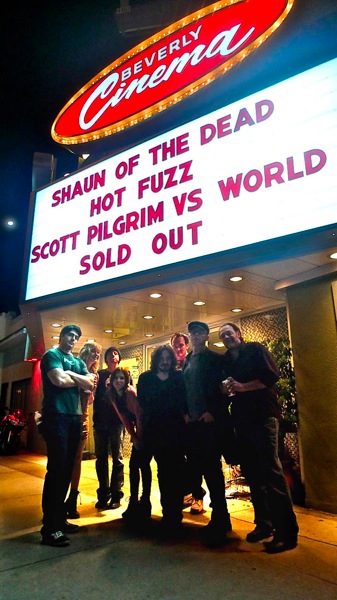 My final thank you is to the always audiences at the New Beverly. If this is about anything, it's supporting your local rep house. See classic movies on the big screen with an audience whenever you can.
It's what cinema is all about.
Also, it's worth noting that I do not take any fee for hosting these screenings. However I did get two parking tickets during my residency. It's a small price to pay.
Further reading: