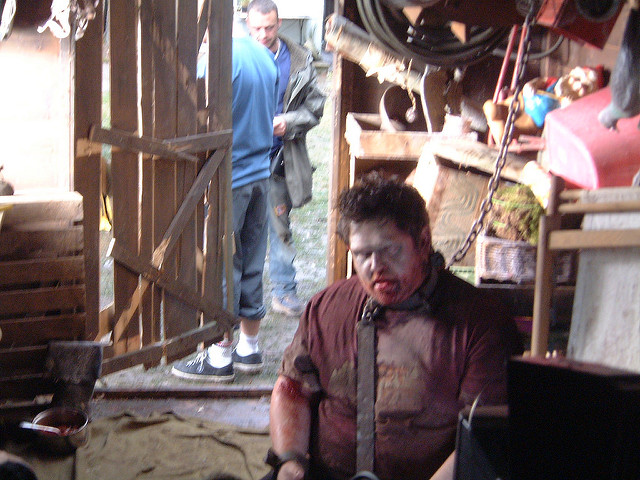 Um… Spoiler alert. This is the last scene of 'Shaun Of The Dead'. It's very strange shooting the coda in the middle of another scene, but that's exactly what we did here.
Ideally it would be nice to shoot the final shot last but that rarely happens. Usually you have double up on locations on a low budget film.
These photos make me sad for some reason. Needs to have 'You're My Best Friend' playing over it for the full effect.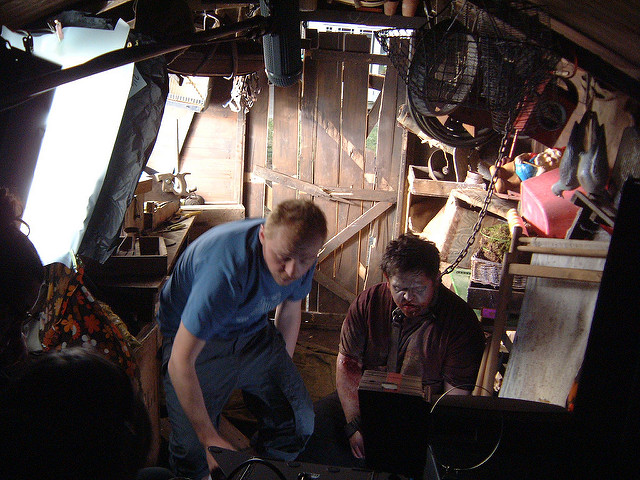 By the way, the reason 'You're My Best Friend' ended up as the final song in the movie is because it is track listed after 'Don't Stop Me Now' on 'Queen's Greatest Hits'. So we would keep hearing that intro whenever we listened to the CD (remember them?).
That opening line, 'Oooh, you make-a me live' sealed it. We had to use it.

Back into the garden for another day at Fairfield Road. And now with Mark Donovan as number 27 on the call sheet; 'Hulking Man'. The great make up is by the very talented Stuart Conran.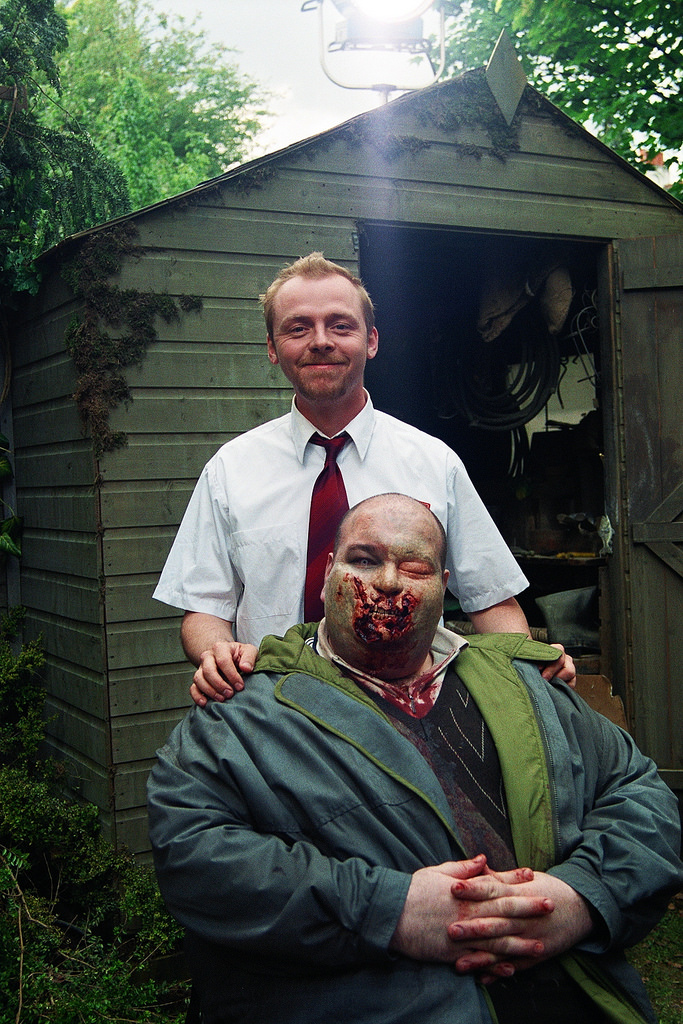 What a great family snapshot. They are on a step by the way. I am not quite that short.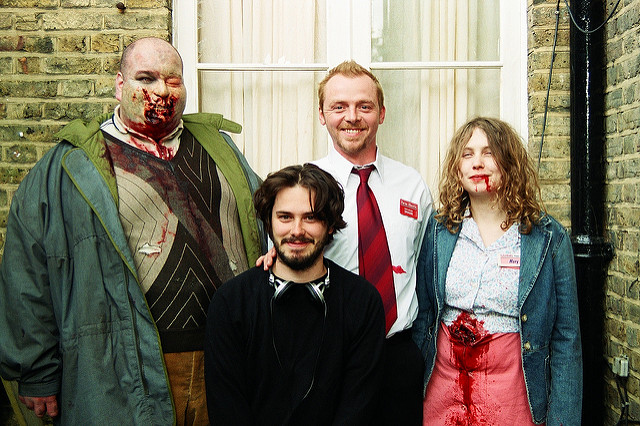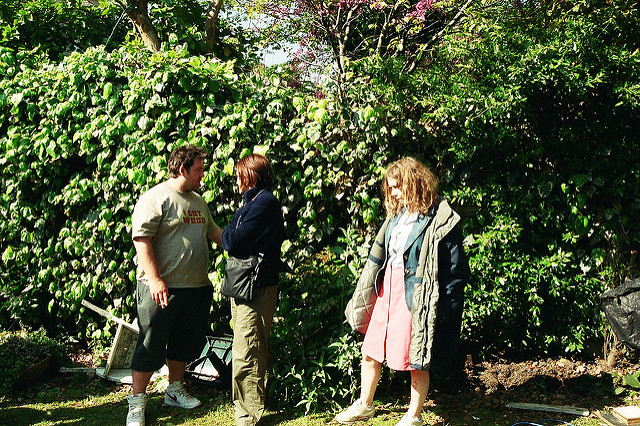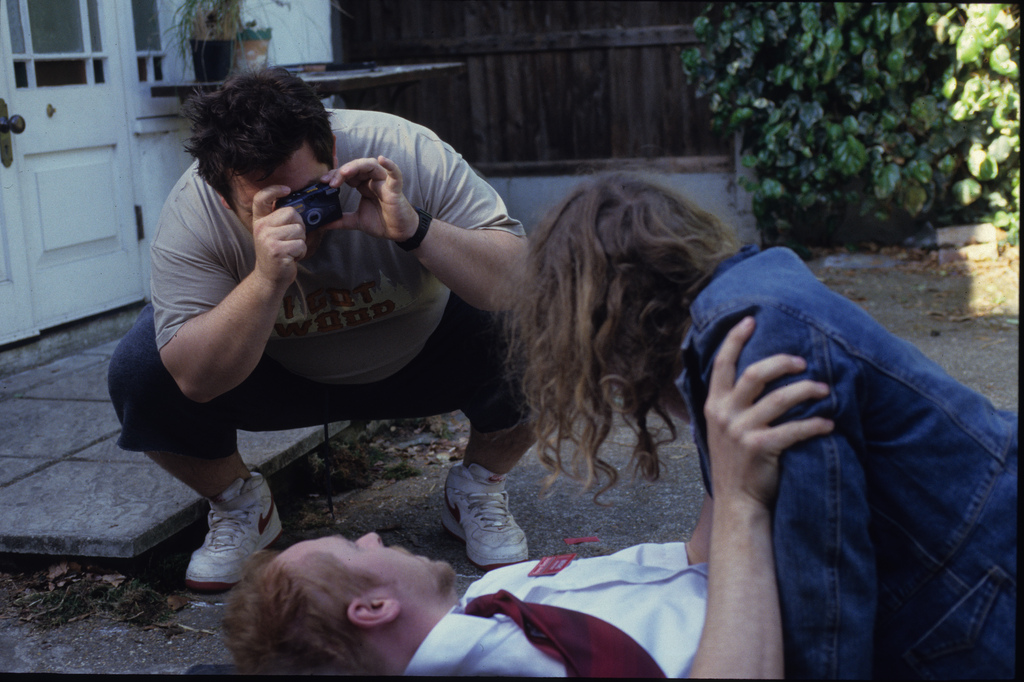 So Day 4 of the shoot brought the first of the zombie set pieces. Fairfield Road was a great but difficult location. The garden was east-west facing meaning that matching the daylight during the shoot day was especially difficult and drove our DP David Dunlap to frustration.
Here also is a look at Nicola Cunningham playing the unfortunate Bloody Mary. Nicola did an absolutely amazing audition where she out zombied all the other contenders by attacking me and the casting director. She's incredible. I'm happy to report she makes a little cameo in 'The World's End'. We love her.
Trivia fact: At the time of the shoot, the house neighbouring this garden was owned by Andy Serkis. He was not at home during our production, but said it freaked him out when he saw the film as he recognised it immediately as 'Gail's house'.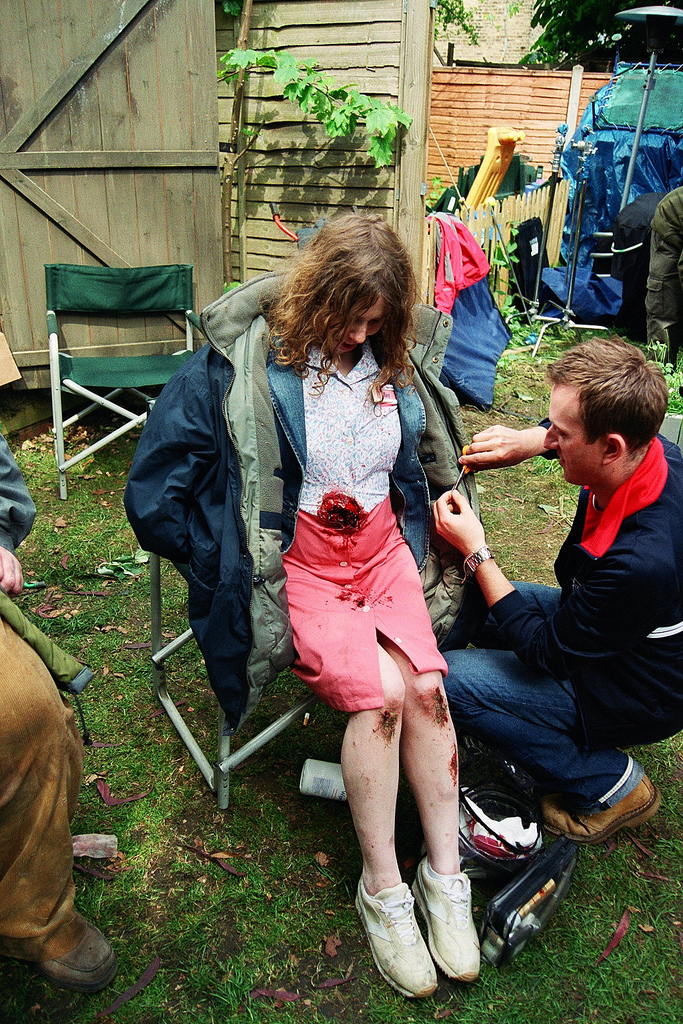 I realise I look quite vexed at the monitor. I always look like this.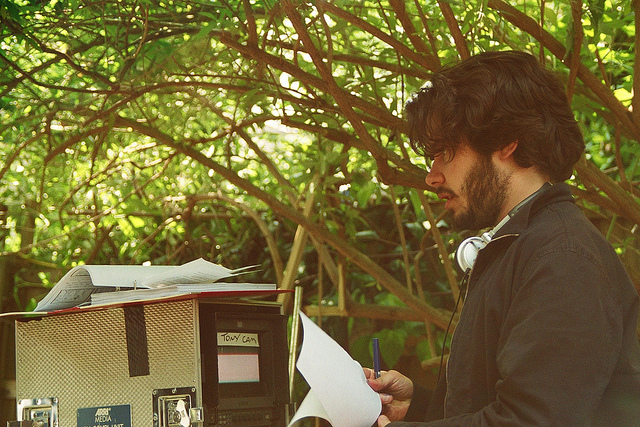 It's also worth pointing out that the weather was way better ten years ago. I miss the summer.
Ten years ago, we began principal photography on 'Shaun Of The Dead' in London. To celebrate we've decided to take you through every single day of production over the next month or two. Team Big Talk have gone through personal photos, stills, rushes and continuity photos to give you an unique day by day account of our shoot.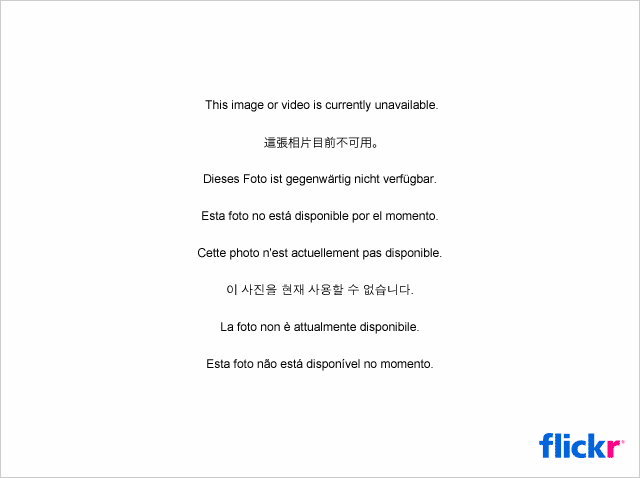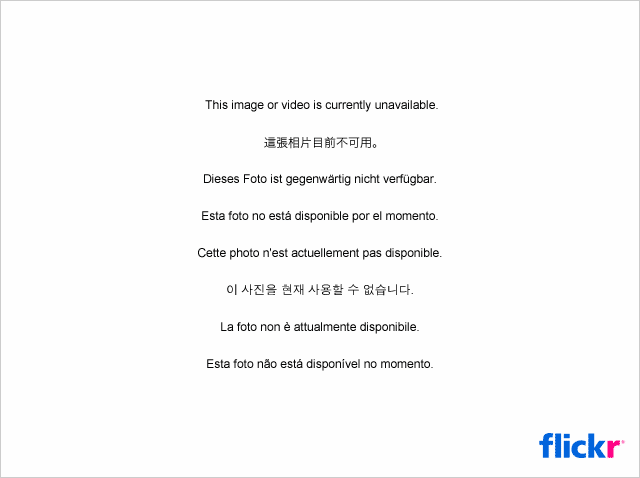 This was a tough day as I remember as the picturesque Mountview Road was not a great route for a low loader, the trailer where you shoot car footage from. So my memory of this day involves the sound of our car rig having to slowly back up instead of being able to loop around the neighbourhood. There were many minutes lost to the endless beeps of a rig reversing.
But we got some good shots. The ambulance with the twitching body bag and also the scene with the double amputee zombie who has been hit by Pete's car.
And Mountview Road is still a lovely view in North London, with or without zombies.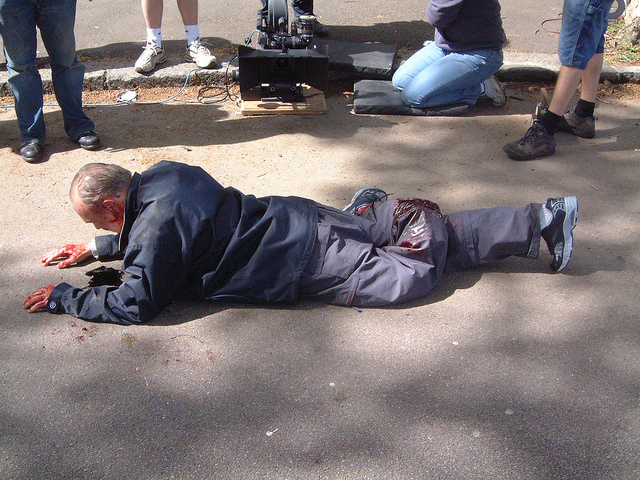 Ten years ago, we began principal photography on 'Shaun Of The Dead' in London. To celebrate we've decided to take you through every single day of production over the next month or two. Team Big Talk have gone through personal photos, stills, rushes and continuity photos to give you an unique day by day account of our shoot.

Day 2. I have a vague recollection of it being a children's birthday party on Nelson Road when we were shooting zombies with amputations and gory make up in the street outside.
If you were at that party and traumatised by it, I apologise.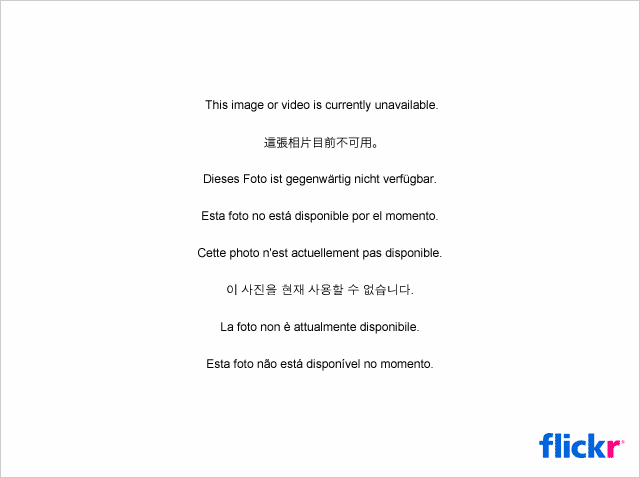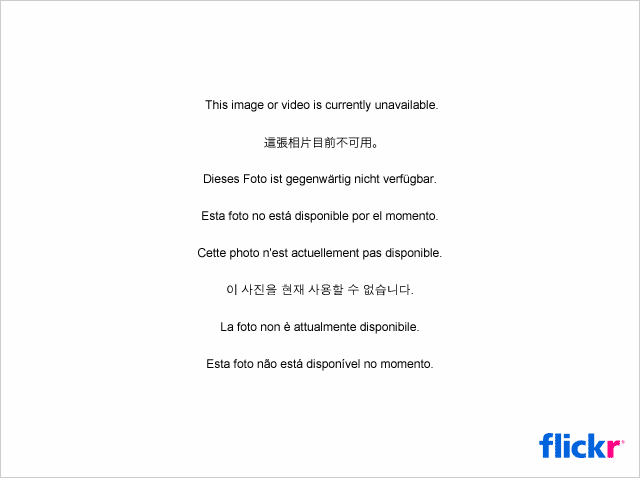 Come back tomorrow for Day 3 of our decade old North London adventures. So on this very day, ten years ago, we began principal photography on 'Shaun Of The Dead' in London. To celebrate this we've decided to take you through every single day of production over the next month or two. Team Big Talk have gone through personal photos, stills, rushes and continuity photos to give you an unique day by day account of our shoot.
It brings back many many memories and I hope you get a kick out of it too.
Let's start with what we did on Day 1 of the shoot. Well how about the longest, most complicated steadicam shot of the film?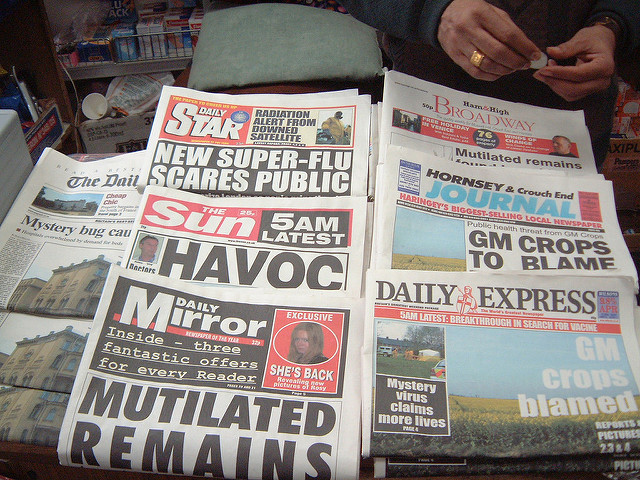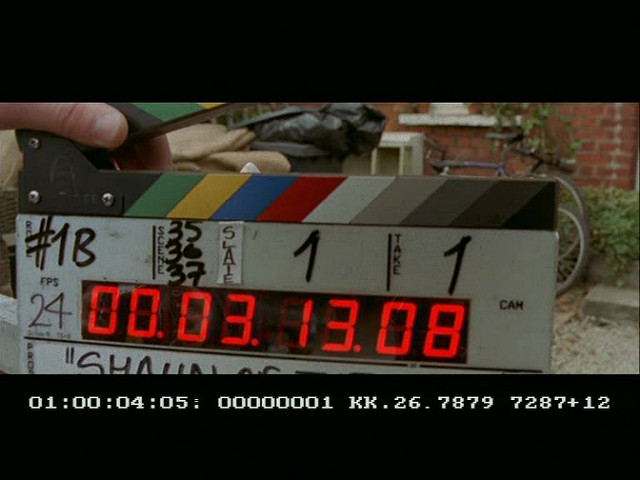 Check back in tomorrow to see what we did on Day 2.
Hello there, I wanted to rescue some of my old MySpace blogs and archive them here on my own site. Over the next few weeks I will retroactively chronicle a particularly colourful period exactly two years ago. This was originally posted on December 10th, 2007.
So, here it was, my last day of my road trip.
And sure enough it was all about the road today. Flagstaff to Los Angeles was about 466 miles. I got out of my hotel around 6 AM, intending to get to L.A. just after lunch.
That didn't quite work out, but boy, did I do some driving.
First up, I took a little sunrise detour through the Sunset Crater Volcano Monument park, where I took this incredibly poncy photo.
Look at those wild eyes and haggard bumfluff. I'm a king of the road, godammit.
So I did the 32 mile scenic route in a flash and then zipped back to Flagstaff for something very important.
Coffee.
If this trip has been about anything it's been about the tunes, the landscape and the endless consumption of coffee, both good and bad.
Late For The Train thankfully made a damn fine coffee. And then I was off.
The most amazing thing about my last day was the surreal and sudden changes in terrain and weather all day.
The Sunset Crater had seen glimmers of sunshine, then rain on the way back to Flagstaff.
Suddenly now I was on Rte 66 on my way to Parks in dense fog, with only ten feet visible in front of me. Spooky.
I kept the hammer down past Williams and the Grand Canyon (done that) until I hit the mecca for Route 66 enthusiasts, Seligman.
Truth is, it was grey and raining and a little ghost town-ish, but since I'd done this part of the Route before, it was fine to plough onwards.
I was in Kowalski mode today, I had no time to stop, was going to keep driving on through.
I couldn't resist these snaps though.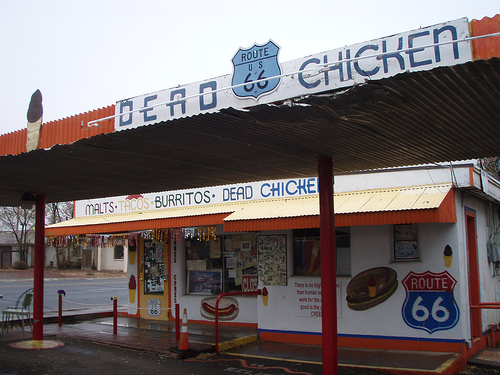 Then was a glorious strip of desert road and parallel train tracks taking me through Peach Springs, Hackberry, Kingman and then onto an amazing stretch before the town of Oatman.
Just before hitting California, there is a crazy stretch of craggy peaks and valleys, with a winding mountain route straight out of Wages Of Fear. It was amazing to be here, hours after leaving Flagstaff.
Easily the most remote and dangerous looking (15mph) part of the trip. And my trusty Ford Escape navigating the switchbacks and curves. Intense. Not to be attempting with coffee shakes.
This part of the journey takes about ten times as long as the I-40, but by god it was worth it.
I was so overwhelmed at being the only traveller on this mountain range, I was inspired to take this crazy eyed photo. This is what ten days on the road will do for you.
As you come out of the mountain range, you hit on the town of Oatman, which was quite a trip.
I know I may have sailed close to (and way past) the speed limit a few times, but I had started to think I was back in 1885.
The old mining town looked pretty amazing set againsts the mountains. The rain, gloom and mud only added to the Django vibe.
I stopped in Olive Oatman's Restaurant And Saloon and had a grilled cheese sandwich next to the mannequin of an old barkeep.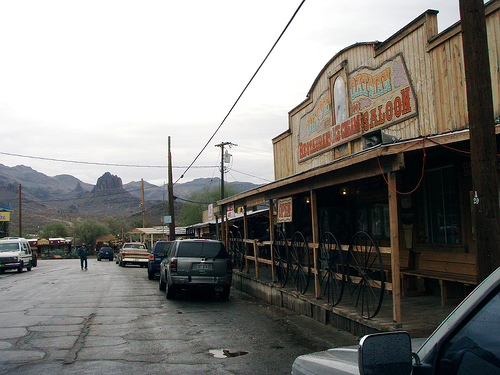 Then it was onwards. Through driving winds and pouring rain. Through Needles onto an intensely lonely stretch to Amboy, through another crater, down a 60 miles desert road with nothing as far as the eye could see.
The rain was really pounding, so the only music that could cut through was Gogol Bordello's Gypsy Punks.
I was driving hard and fast, on a mission to get Back To The Future, or at least to back to Los Angeles…
The last portion of the trip goes hand in hand with most existential 70's trips. It had kind of a downer ending.
I was onto my second tank of gas when I stopped in Barstow and the rain was getting really bad. In California no less.
At this point I decided to get back fast and join the I-40. Immediately I hit the 80 miles of sprawling malls that made up the Inland Empire.
It was a bit of a bummer. Suddenly after 12 days of freedom I was in traffic. It continued all the way home.
I got back to where I was staying and though I felt a great sense of accomplishment, I also could completely empathise with Sal Paradise.
Within 15 minutes of being back, I kind of wanted to hit the road again.
No joke.
I fully intend to do so again. It was a trip in every sense of the word.
And while I didn't have the sexiest car to do it in. I think that my Hertz rental did look a little cooler when absolutely caked in desert mud.
Til next time.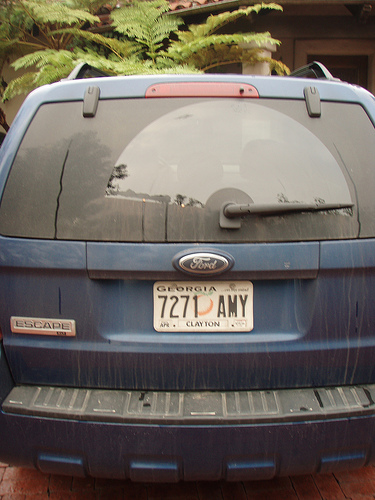 Tunes For This Part Of The Trip
Disco Inferno - The Trammps
The Night They Drove Old Dixie Down - The Band
Baby, Let Me Follow You Down - Bob Dylan & The Band
Mo' Onions - Booker T. & The MG's
Watch Out For Me Ronnie - Yo La Tengo
Hot Rail - Calexico
Harem Scarem - Focus
Theme From Retro - Blur
Rumplestiltskin - Rumplestiltskin
John I'm Only Dancing (Again) - David Bowie
Tossed - Frank Black
Rock and Roll, Pt. 2 - Gary Glitter
Thunderbuck Ram - Mott The Hoople
How Does It Feel To Feel - The Creation
I Feel Free - Cream
Super - NEU!
Radar Love - Golden Earring
Shimmy Shimmy Ya - Ol' Dirty Bastard
In For The Kill - Budgie
Rocket - MUD
Digging Your Scene - The Blow Monkeys
For Pete's Sake - The Monkees
Charmer - Kings of Leon
Moonchild - M83
The Wrath Of Marcie - The Go! Team
Scotch On The Rocks - The Shadows
Darth Vader Theme - osymyso
Pioneer To The Falls - Interpol
How You Sell Soul to a Soulless People Who Sold Their Soul? - Public Enemy
Rock Me Now - Metric
We Used To Vacation - Cold War Kids
Lucio Starts Fires - Joe Lean & The Jing Jang Jong
A Stroll Through Hive Manor Corridors - The Hives
Zeus -Jonny Trunk
End Of The Movie - Cake
Hello there, I wanted to rescue some of my old MySpace blogs and archive them here on my own site. Over the next few weeks I will retroactively chronicle a particularly colourful period exactly two years ago. This was originally posted on December 5th, 2007.
White Lines? Don't do it.
Yellow Lines. Do it, do it, do it.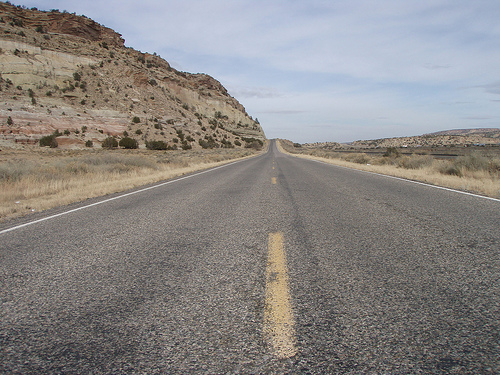 Another day, another day. It was ridiculously early again and I was out of the door. Had a quick breakfast at the Church Cafe in Old Town Alberquerque.
I looked again to see if the Rattlesnake Museum was open, but it was closed due to illness. Illness? At the Rattlesnake Museum?
I pondered for a second if just inside the door there was a pile of bloated museum guides looking all black and blue like Susan George in VENOM.
Perhaps not.
I stocked up on yet more espresso at the Satellite Cafe on Central and then got the hell out of town on Rte 66 with the whole of Entroducing DJ Shadow soundtracking the drive under the grey skies.
Through Acome Pueblo, Grants, Thoreau I eventually got to Gallup. When realising that my camera battery was dead and hadn't charged up properly I make a detour into the darkest country I'd yet encountered.
Wal Mart.
Whilst getting my battery, my eye was caught by the shiny cover of the HOT FUZZ and even though I had freebie copies waiting for me in L.A, I couldn't resist buying one.
I can't believe I bought one in Wal Mart. Ha.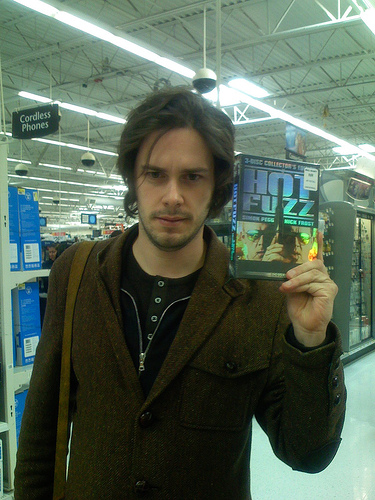 Then charged up by ACDC's Powerage and Dirty Deeds Done Dirt Cheap, I held the hammer down through into Arizona and the towns of Houck, Sanders, Chambers, before taking a spin through the Petrified Forest, 60,000 acres of volcanic ash and colorful sediment.
And what better soundtrack to accompany this detour through psychedeilic mud than a Rhino compilation of disco standards. You haven't lived until you've toodled around a scenic route with Sylvester's "You Make Me Feel Mighty Real" blasting.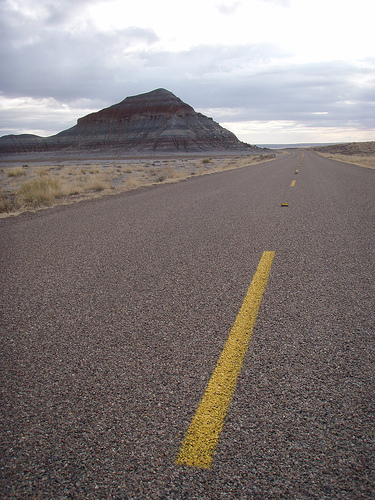 It was at some point while taking this photo that I had a terrible feeling of deja vu. Not because I was essentially taking the same photo of either a) yellow lines or b) me holding the camera and pulling a funny face. But - godammit - I'd been here before.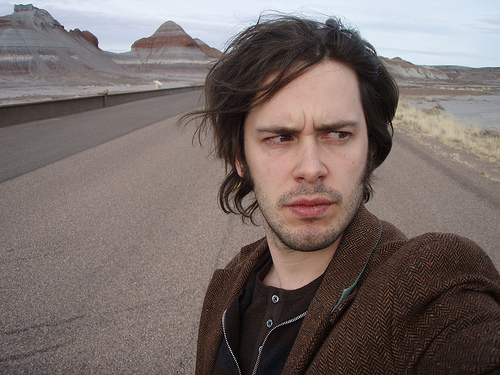 I did a desert drive back in 1998 and had done Flagstaff before - and so it seemed this very National Park. I felt a little sad and stupid for having not realised and quickly hopped back in the car, letting the disco cheer me up.
I then headed to Holbrook, past this brilliant prehistoric typo. Good work.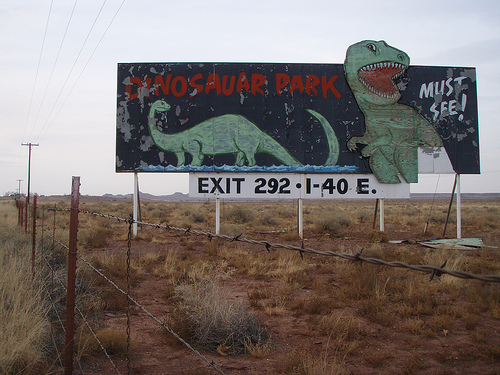 I couldn't help thinking of Hal Holbrook as I drove into this small Arizona tourist trap. Before INTO THE WILD, Holbrook for me had always been the quintessential bad apple in so many films, MAGNUM FORCE and CAPRICORN ONE to name two. His superior villain status should have tipped me off that something bad was going to happen…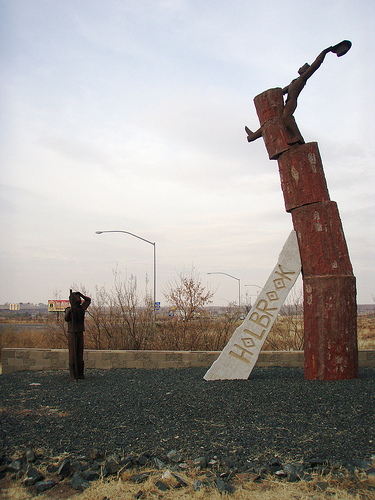 So I'm rolling down Navajo Boulevard, sun is going down and I'm trying to get to the Winslow Meteor Crater before sundown.
But then on my poncy GPS, a cross street sails through the frame.
'Bucket Of Blood Street'
What the?
I stopped by a rock gift shop with a bunch of plastic dinosaurs, performed a quick U-turn and headed back to get perhaps the greatest photo of the whole damn trip. A snap of Bucket Of Blood Street.
And there at the intersection with Navajo was this incredible sign. I was in a rush, so I left the engine running, disco still blasting and jumped out to take a snap.
Click. And promptly locked myself out.
Oh.
My phone is inside, the engine is running, headlights on, disco still blasting.
Oh.
All I had on me was my digital camera. And a rather shocked expression.
Oops.
The area I was in didn't look too great either. Everything was closed. And the sun was going down.
I tried to flag down a passing cop car. Didn't stop. Not a big FUZZ fan. Prefers RENO 911: MIAMI clearly.
So I head to the Rainbow Rock Shop - the nearest place open. There's two dudes behind the counter taking it very easy.
"Can I use your phone"
"What's up bro?"
"Erm. Car trouble"
"What up?"
"I just locked myself out"
"Do you want a locksmith?"
"I was going call Hertz Roadside Assistance. Or the police I guess"
"Nah, get a locksmith. I know a guy. What kind of car is it?"
"A Ford Escape"
"No problem. I know a guy"
"Erm"
He starts calling.
"Al? What up bro? Hey, there's a dude here who's locked out of his car. Ford Escape. Where's he at?"
"Erm. Corner of Navajo and Bucket Of Blood"
The Rock Shop guy hangs up, tells me "Al will be here in 15 minutes. He's a punk but he'll get you car open. Cost you about 60 bucks maybe. He drives a red Durango".
Oh-kay. Much as I'm not entirely sure about Al the Punk's credentials, Hertz must be over 150 miles away and that cop didn't even stop. Fuck it.
I slip this guy 20 bucks for helping out.
What to do for 15 minutes? Well, for starters, I get the guy from the rock shop to take a picture of me with his big dino out front.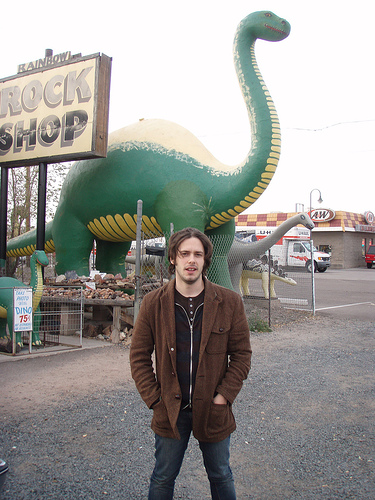 Then I get a coffee and head back to the car.
The sun is dipping completely and I want nothing more than to speed away from Navajo and Bucket Of Blood. Especially since there are some reasonably suspicious looking types around and - good god - I'm a stranded English fop wearing a history teacher's jacket standing outside a car that is still booming Chic, the Andrea True Connection and Gloria Gaynor. The gayest music in my collection.
Oh god. I'm going to die. So I get the picture I was trying to earlier. At least I'll have that. And then Al shows up.
Al looks like less of a punk than the guys in the shop - he's fortyish and his wife sits in the car. With barely a hello, he wedges the windows and gets a jimmy to open the door, fishing around inside with a wire.
Funkytown by Lips Inc is now booming from inside. Al smiles.
"I like your music. My wife says no-one listens to this kind of music no more. I guess she's wrong, huh?"
"Yeah. I like a little disco on occasion."
"Maybe I should get her out here, have us a party"
"Maybe"
Al fishes around for a good ten minutes and three songs, regaling me with his disco years.
"I used to have a boombox, walk around playing this, I had a fro. The whole deal".
Al still can't get in however.
"Your car doesn't want to let me in. Maybe it likes the music too".
Then just as Heart Of Glass kicks in. Click.
We're in.
"That will be 40 bucks".
"Here's 80"
Al the Punk. What a lifesaver.
I jumped back in and stopped briefly by the Rainbow Rock Shop to tell the guys; "You deserve the fucking gold medal."
And I was off. A narrow squeak indeed.
Was the photo worth it?
Yeah it was…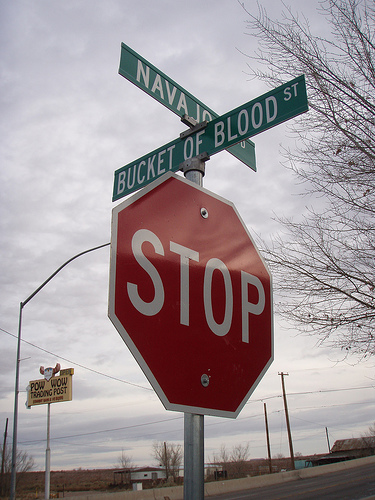 After that I made a brief coffee stop at Joe & Aggies before trying to see this crater before sundown.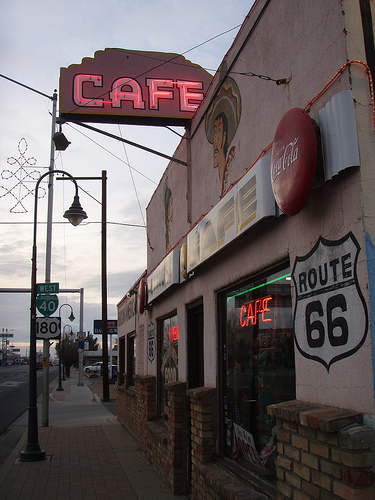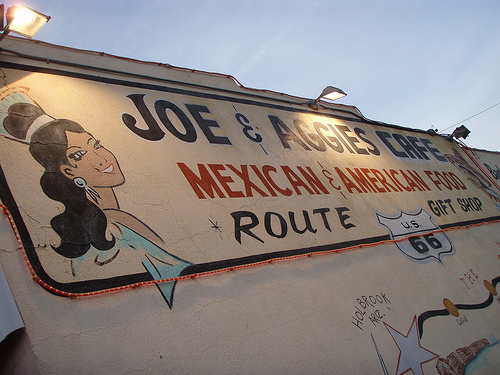 I roared back onto the road, past Joseph City (although tragically with no time to see the plastic rabbit) and towards the meteor crater. But too late. It was closed for the day. And I had to make do with another desolate shot of yellow lines.
Although this one is a little bit like the old Bruckheimer / Simpson logo, it must be said.
Then it was onto Flagstaff, which I'd been to before. It's a cool little college town up high in the mountains, with pine trees and springs and shit. I like it.
My hotel was actually on Route 66 and after some dinner at Josephine's I wound down with the most barking entertainment possible.
At the Applesauce Teahouse was a music and comedy night, featuring a two man band called Tentacle Craft. Who only sang songs about Cthulhu. All featuring lyrics about parallel dimensions and tentacles.
They did a song in binary, they sang songs in squid masks, they instructed the audience to rolll an oversized twelve sided die.
They were playing to 20 people max and I quickly became their most vocal supporter.
One guys looked like a baby faced version of Captain Beefheart, the other the spitting image of Jimmy Duval.
They lost half there audience during a long Cthulhu ballad mid set. I stuck it out and clapped loud. Clearly Flagstaff did not deserve there mad brilliance. This blurry I Phone photo is all I could get.
I can't believe I actually managed to randomly see them.
And that was my last night on the trip, only one more day of driving. All the way to California! Woo and most crucially hoo.
The last installment - next.
Tunes for this part of the trip.
The Number Song - DJ Shadow
Manha Manha - Cake
Never, Never Gonna Give You Up - Cake
Rock 'N' Roll Damnation - AC DC
Up To My Neck In You - AC DC
Rocker - AC DC
Fuck Christmas - Eric Idle
Duelling Banjos - Eric Weissberg & Steve Mandell
Mini Skirt Esquivel - Fa Fa Fa
Vamos A Matar Companeros - Ennio Morricone
Stay With Me - Faces
You Make Me Feel (Mighty Real) - Sylvester
I Want Your Love - Chic
Ring My Bell - Anita Ward
I Will Survive - Gloria Gaynor
Heart Of Glass - Blondie
Forget Me Nots - Patrice Rushen
Up On Cripple Creek - The Band
Sailor's Life - Fairport Convention
Paper Sun - Traffic
Wynder K Frog - Harpsichord Shuffle
Rainbow Chaser - Nirvana (UK)
P.S. Please note that you cannot give me sightseeing suggestions for a past road trip. Unless you happen to know a working Time Tunnel.
Hello there, I wanted to rescue some of my old MySpace blogs and archive them here on my own site. Over the next few weeks I will retroactively chronicle a particularly colourful period exactly two years ago. This was originally posted on December 2nd, 2007.
So. Another sunrise start. Another awesome desert plain. Another desolate photo of yellow lines down the middle of an empty road.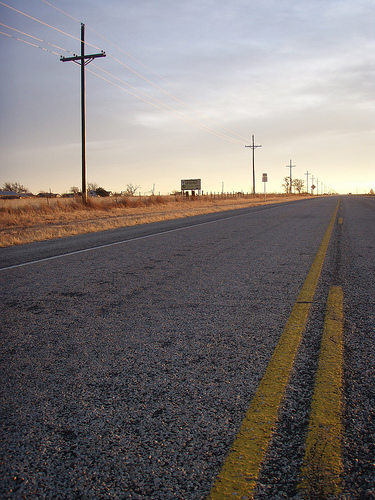 After downing a good two double espressos at Roaster's Coffee at Wolfin Village (not run by any Premier League footballers, thank god*). I headed south on the I-27 to Palo Duro Canyon as the sun came up and promptly did the scenic drive around the deserted-at-this-hour-canyon.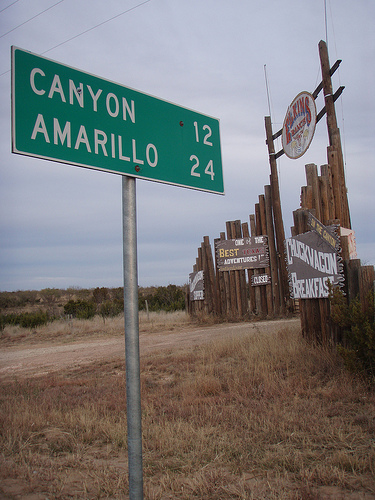 The 16 mile scenic drive had an recommended duration of 45 minutes. I did it in 20 and took the time to start working my way through The Band's Greatest Hits.
My crush on Robbie Robertson continues unabated. Yes, that's right, I was honestly thinking of switching sides in good Ol' Texas.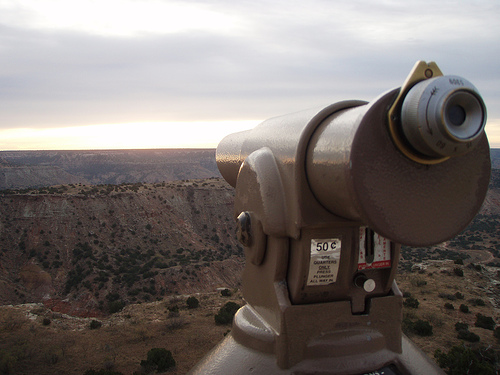 I then cruised over to Canyon, Texas to fill up and stop at Hasting Music & DVD to get some more road tunes.
You simply cannot go wrong with a Driving Rock compilation. I picked up a whole bunch of stuff for the next 287 miles or so.
I needed more tunes, even though my trip could not be more full of music cliches. "Is This The Way To Amarillo?" - Yes, I just left there. I was getting my kicks on Route 66, heading past Viva Las Vegas (the New Mexico one) and onto Alberquerque, home of hotdogs and jumping frogs.
Whilst buying a stack of CDs, I enquired to the clerk if he had the HOT FUZZ Collector's Edition in stock. He didn't but replied "Awesome movie". Then as he saw my debit card, the elements came together. "Holy Shit, you're Edgar Wright. Excuse the language".
The very lovely clerk Jason was surprised to a) find me without Simon and Nick b) find that I was in Canyon, Texas.
I signed a bit of receipt and sped off the sounds of Boston and Kansas, among many other non State related FM bands.
Through Wilmerado, I stopped off in the tiny town of Vega on the ironically titled Business Route.
There I paid a visit to Dot's Mini Museum, a celebration of bric-a-brac in two adjacent trailers. Dot was nowhere to be seen and there didn't even seem to be a donation tin, so I took these photos as evidence - and got outta there.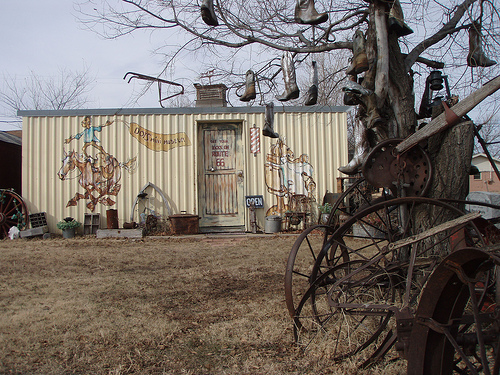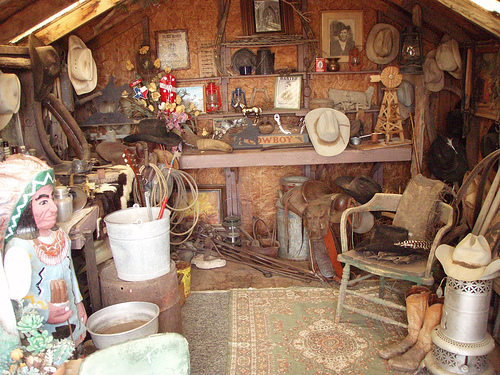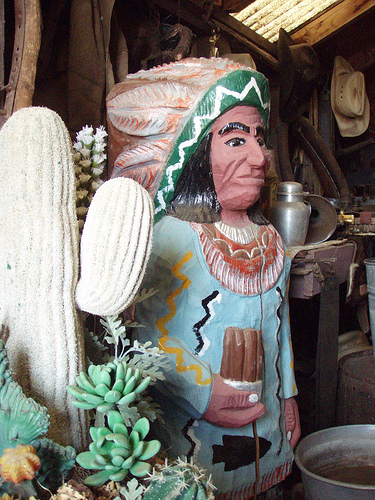 Next up was Adrian, where the famous Midpoint Cafe resided. The town's slogan is "When you're here, you're halfway there".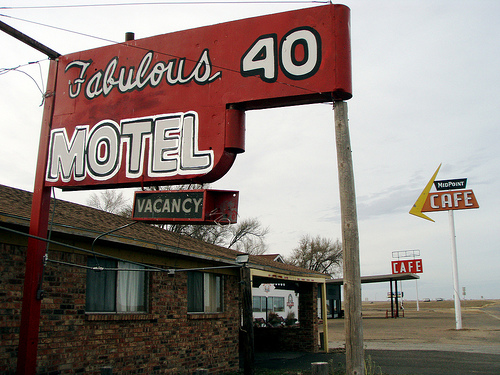 Sadly, there was no one there when I pulled up. This trip was starting to feel like 28 Miles Later.
64 miles of Explosions In The Sky later, I rocked up in Tucumcari, grabbed a coffee and took these snaps of the again-famous, but again-closed-for-winter, Blue Swallow Motel.
I'm not sure what a Blue Swallow entails, but it may be similar to a Jelly Doughnut or Arabian Goggles. Google it, but be aware it may well be NSFW. Or even NSFHE (Not safe for home, either)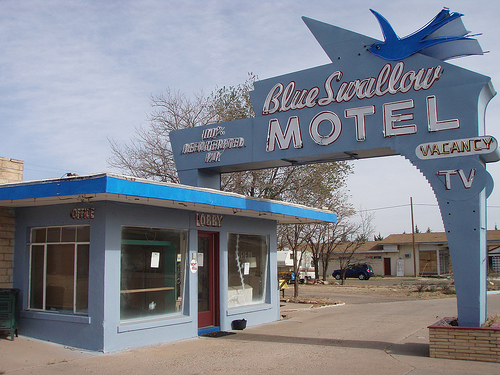 52 miles of Magical Mystery Tour later brought Santa Rosa, this thrilling photo op at Joseph's Cafe and the awesome derelict cars outside the Route 66 Restaurant.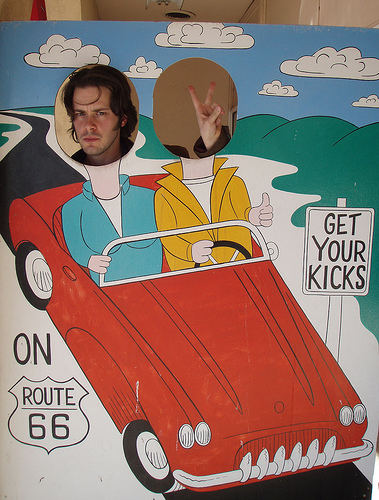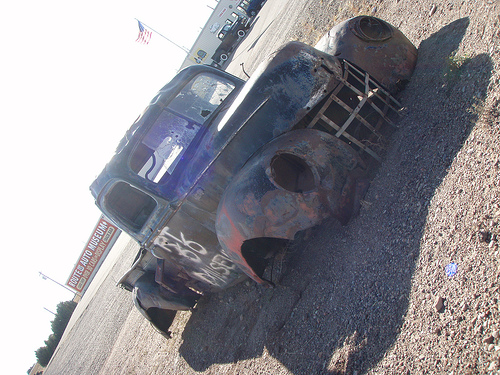 Then a big detour of 58 miles on the original Route 66 brought me to the other Las Vegas, the smaller, cuter one in New Mexico.
I took this snap of the famous-but-closed-for-winter Estelle's, stocked up on more coffee at the awesomely named Charlie's Spic And Span Bakery And Cafe and saw this great marquee for the New Mexico premiere of No Country For Old Men.
I'm guessing Joel and Ethan weren't in town for this prem. (Variety slang)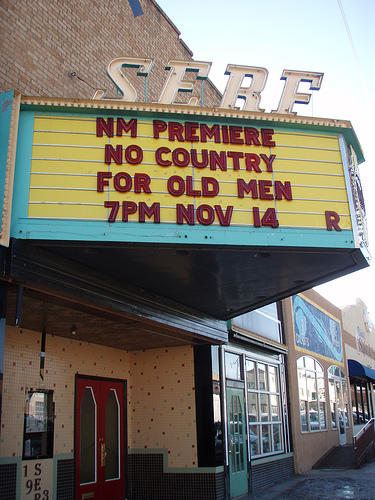 Then it was go-go-go, trying to hit Alberquerque by sundown. I missed out on Santa Fe almost entirely. Oh well.
I was also getting the coffee shakes pretty bad. Maybe Kowalski had the better idea by popping amphetimines. Luckily Eagles Of Death Metal kicked in as the sun went down providing up tempo desert driving rock.
It was dark by the time I got to Alberquerque, but I quickly scoped it out. Sadly the Rattlesnake Musuem had long closed in Old Town, so I headed to student hangout Nob Hill.
Here I stocked up on - yes - more coffee at the Satellite Cafe and stocked up on - yes - more music at the great record shop Natural Sound on Central.
I was too tired and not in too adventurous to go out partying so I did a quick bit of people watching at the rightly famous and very open Frontier Cafe, where students can eat burritos 24 hours a day.
Woo hoo. Free Wi Fi too, unlike the Hyatt Regency where I was staying where you had to log on as a T-Mobile Hot Spot customer.
Two words for that. Fuck that.
I liked what I saw of Alberquerque, it seemed like it was the Austin of New Mexico, with a cool crowd. Shame I couldn't stay longer, but tomorrow promised Arizona and some close calls and insanity.
More later.
Tunes For This Part Of The Trip…
The Weight - The Band
You Can Have It All - George McCrae
It's Natural to Be Afraid - Explosions In The Sky
Some Cities - Doves
Love Is An Unfamiliar Name - The Duke Spirit
The Desperados - The Eagles (not the U.S. Eagles)
Your Mother Should Know - The Beatles
Chase The Devil - Eagles Of Death Metal
Seven Seas - Echo & The Bunnymen
Light My Fire - Edmundo Ross
Silent To The Dark The Electric Soft Parade
Citta' violenta - Ennio Morricone
Hold Your Head Up - Argent
Raw Power - Iggy & The Stooges
Black Betty - Ram Jam
(Don't Fear) The Reaper - Blue Öyster Cult
Only Love Can Break Your Heart - Neil Young
(*Can UK talkbackers explain this filth to US talkbackers?)
P.S. Please note that you cannot give me sightseeing suggestions for a past road trip. Unless you happen to be Rachel McAdam's husband.
Hello there, I wanted to rescue some of my old MySpace blogs and archive them here on my own site. Over the next few weeks I will retroactively chronicle a particularly colourful period exactly two years ago. This was originally posted on December 1st, 2007.
So I hit the road first thing and began to motor west, getting my kicks, Route 66 etc.
You get the idea.
Powered again by espresso and tunes, it was great to be driving down America's great original highway once again. I'd done a stretch of it around Arizona about 9 years ago, but this was a much longer drive West into the California sunshine. (There would be an ironic pay off to this.)
For those who don't know Route 66 runs mostly parallel to the I-40, sometimes veering off to many towns that have dwindled since the building of the interstate. There's still a roaring trade in nostalgia, but it's ironic when you travel down the the W-I-40-Business loop, it's past endless derelict motels and cafes.
I headed out of Oklahoma into Yukon, birthplace of Garth Brooks himself. He has a boulevard named after him. I combated the omnipitence of Mister Brooks by blasting out Yo La Tengo.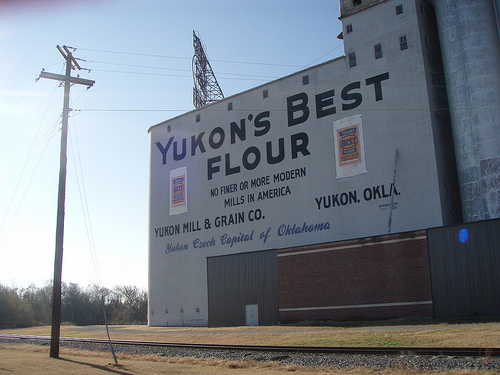 Then I was moving, moving, moving on to El Reno where I made a brief stop at Sid's Diner for another coffee. I have to say most of the coffee served on the trip at such stops wouldn't be in my top 100 of caffeine experiences, but you got to support these non-chain places, especially if you essentially are only using their restroom.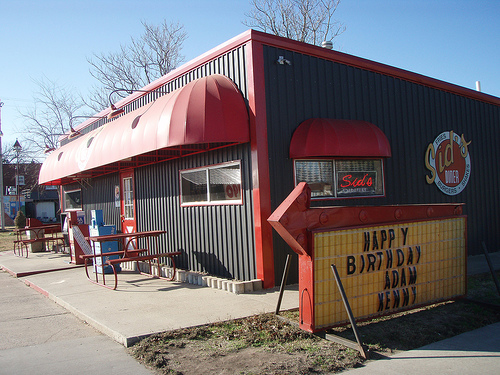 El Reno is famous these days as being a main location for Rain Man. I resisted the temptation to spill toothpicks all over the floor and count them.
Between El Reno and Hinton was an awesome stretch of the original historic Route 66, and this bridge on the South Canadian river made me feeling like Kowalski for the first time. I wasn't speeding. For the record, not speeding. Ahem.
I took a brief toodle around Red Rock Canyon State Park and then swung by one of the touristy Route 66 Museums in Clinton.
Then it was on to another amazing strip of country of my way out of Oklahoma.
Apologies for the glut of freeway line photos, but here's another awesome one.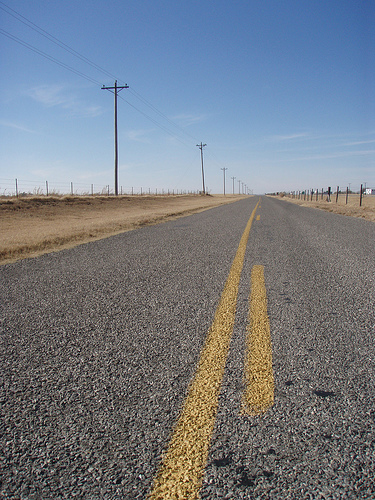 Then just before hitting the Texas border, I hit the ghost town of Texola. This was pretty haunting. There were geniune tumbleweeds.
I don't want to sound like a big puss, but I damn near ran back to my car after taking these rather bleak pictures.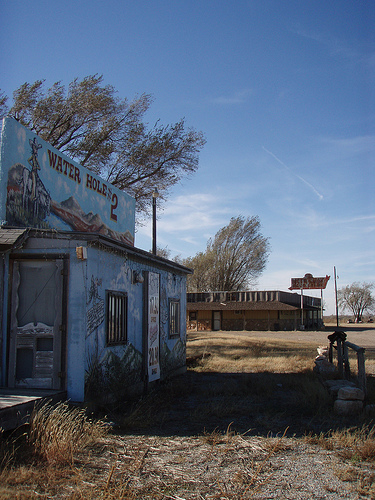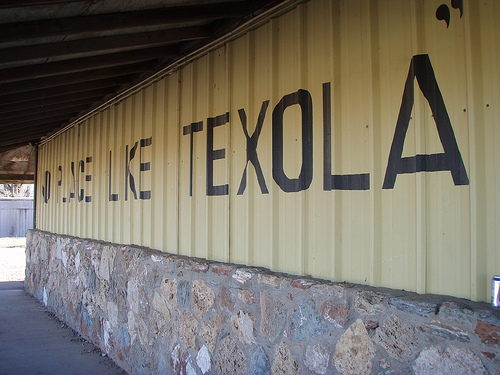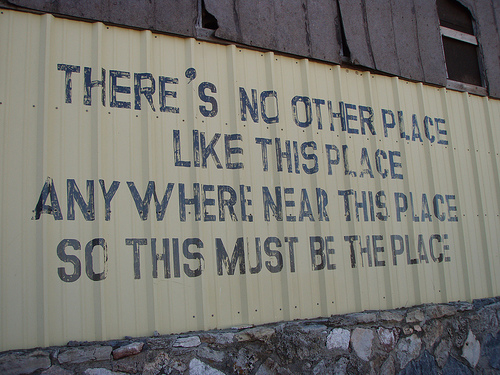 Spooky.
Then I was over the border on the South Service Road and into Shamrock Texas.
I stopped at the Pioneer West Museum, tipped the nice lady in the empty museum and took these pictures, whilst faintly creepy Christmas music played.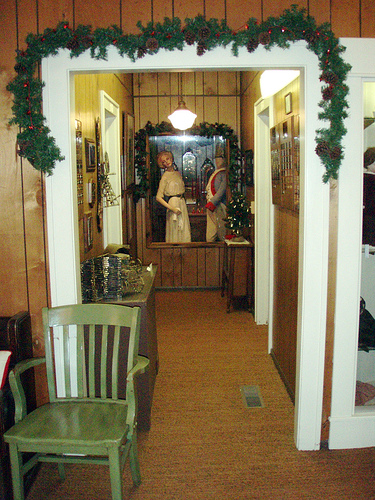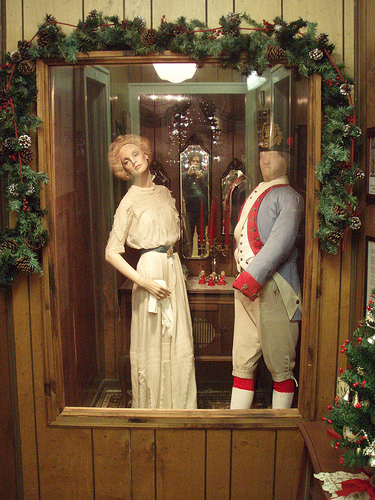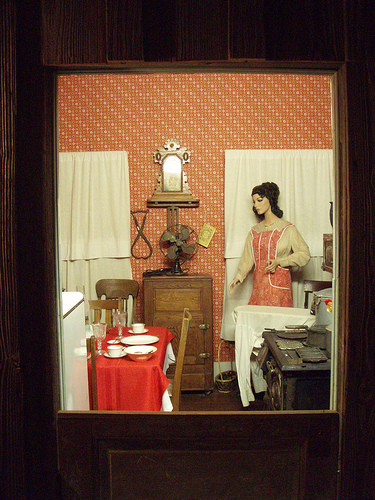 I was in the building for all of 7 minutes. But it was an intense hit of Americana.
Then it was off again, barrelling down Route 66 to McClean and this extraordinary collection…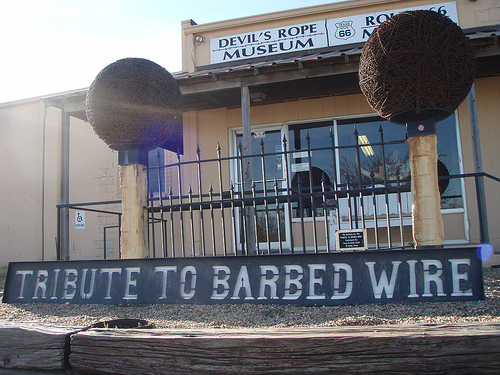 That's right. Man, I didn't even know 'The Devil's Rope' was a euphemism for barbed wire. But here, in McClean, Texas, was the barbed wire Graceland.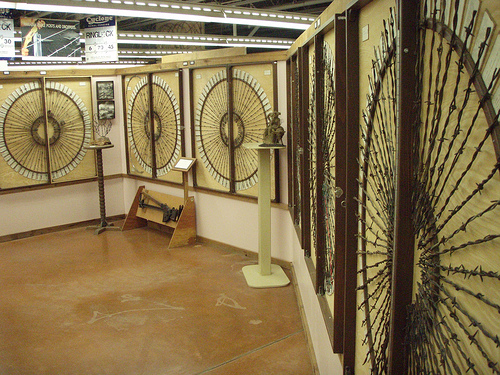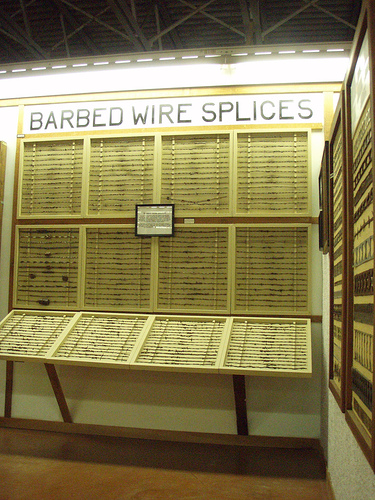 The commitment to the chronicling of the Devil's Rope was quite staggering. I donated a good ten bucks and thought a lot about Satan's String as I hit Amarillo.
The sun was a going down when I got into town, but I wanted to make one stop at magic hour.
The justly famous Cadillac Ranch, just west of Amarillo.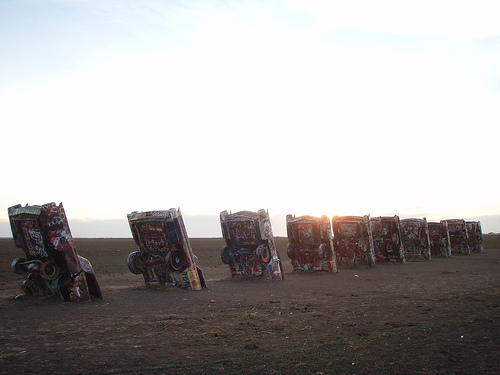 So yeah. Right in the middle of a field at the side of the highway was this amazing sight. Stanley Marsh III planted 10 Cadillacs, ranging from 1948 to 1963 models in the earth.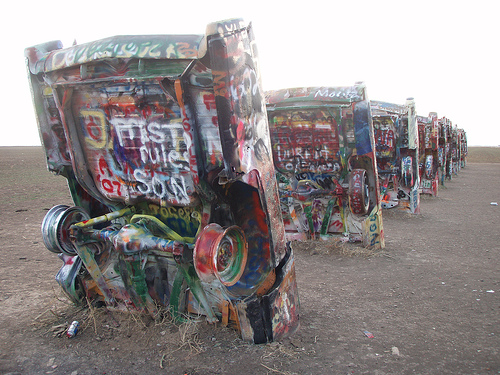 Ain't that something? (American twang intentional)
And suddenly it was night and Amarillo revealed itself to be a long strip of hotel signs. When the billboards announce that the town has 4000 hotel rooms, they're not wrong.
The E-40 and W-40 is an enormous endless strip of motels for weary travellers. There was some big cattle conference going on, so I was stuck out on E-40 in a pretty reasonable place inbetween a Cracker Barrell and a strip club called Playgirls.
I didn't get up to much and frankly again felt like I hadn't really given Amarillo my full attention. I was pretty beat
I skipped the Big Texan (two steak dinners in a row, bad idea and headed for some Mexican at Tacos Garcia.
After an aborted drink at the Golden Light Cafe, (the barlady was beyond perplexed by my UK drivers licence and refused to serve me) I was ready for the sack.
So the next day beckon more hammer down antics in New Mexico.
Okay, Amarillo in the PM on a windy Tuesday night wasn't really a jumping joint, but having been to Dallas, Houston and Austin a whole bunch of times, I know that this following is not correct.
Tunes for this portion…
Little Eyes - Yo La Tengo
Walking Spanish - Tom Waits
Drive Back - Neil Young
45:33 - LCD Soundsystem
Animal Waves - CAN
New York, I Love You But You're Bringing Me Down - LCD Soundsystem
I Know What I Like (In Your Wardrobe) - Genesis
Positively 4th Street Bob Dylan
Good Ol' Boys (Theme from "The Dukes of Hazzard") - Waylon Jennings
Untrue - Burial
P.S. Please note that you cannot give me sightseeing suggestions for a past road trip. Unless you happen to work for Skynet.
Hello there, I wanted to rescue some of my old MySpace blogs and archive them here on my own site. Over the next few weeks I will retroactively chronicle a particularly colourful period exactly two years ago. This was originally posted on November 30th, 2007.
Phew. I just got back to L.A.
More of that later, but here's something I blogged earlier….
It's Monday morning and I'm passing by signs saying "Miller Lite Welcomes Hunters", bars called the Wooden Nickel and spots like Blowout Mountain.
Oh, yes. The drive from Hot Springs to Oklahoma was a long and lonely one.
Maybe I was tired or maybe I picked the wrong stretch to 'get into' country, but I had 327 miles of roadbound introspection. And a lot of Neil Young, Loretta Lynn, Johnny Cash, Flying Burrito Brothers and also Cat Powers' phenomally sad Nashville album, The Greatest.
As I travelled northwest on the 270 past Lake Ouachita and over Mount Ida , I listened to two whole Gram Parsons albums back to back. That's a lot of heartache in one sitting.
One song in particular, 'She', damn near set me off. Sigh.
Little did I know that when I stopped at a convenience store in Pencil Bluff, I was about to experience a very real sense of loss.
Call me a little paranoid, but as a foppish tourist, I like to stow my gadgets away in the little central compartment of the car.
But whilst stuffing in my iPhone, iPod, digital camera and dictaphone (yes, I could combine them into one), I heard an almighty crack.
I broke the front of my iPhone. oFuck.
Worse still I got two splinters of perspex stuck in my hand. One is still in my thumb and will have to be tweezered out. iPain!
With parts of my poncy Apple gadget sticking into my flesh, I felt a Max Renn moment coming on. Maybe I would be able to pull texts out of my stomach in future.
Either way my phone was phucked. It was very, very blue for a long time.
Yes, okay. It's a very shallow sense of loss, but man was I heartbroken.
It was then I truly "got" country.
Sad tunes for this portion included…
She - Gram Parsons
There's A World - Neil Young
The Greatest - Cat Power (so sad!)
Hot Burrito No.1 - The Flying Burrito Brothers
But also…
25 Minutes To Go - Johnny Cash
Fist City - Loretta Lynn
Louisiana Man - Bobbie Gentry
Convoy - CW McCall
I got to Oklahoma under cover of darkness and paid a visit to the Oklahoma City National Memorial, the tribute to the victims of the Federal Building bombing.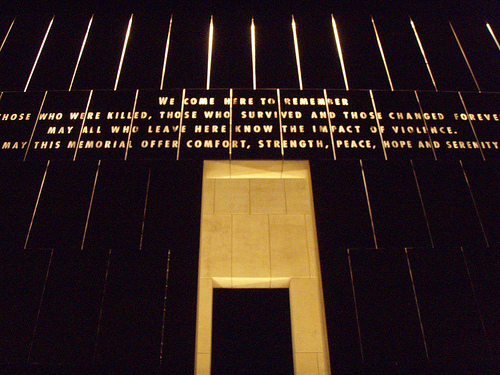 It must be humbling at any time of the day, but a night it was very emotional. The Field Of Empty Chairs was quite, quite haunting.
I checked into my hotel, and went for a bite to eat down in Stockyard City at the Cattlemen's Steakhouse.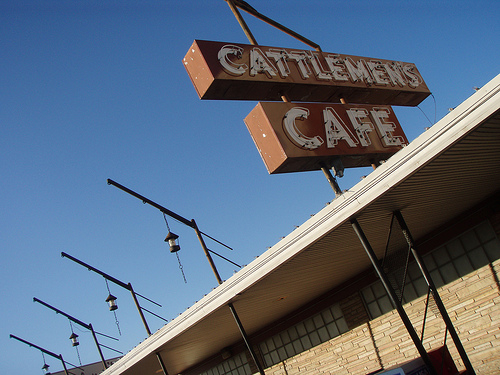 Again I stood out as a English wine drinking fop among the Stetsons of the red meat eaters. But, it was some damn good steak as to be expected.
Sad to say, not much was doing again on a freezing Monday night in November. I had a quick scoot around Bricktown, but decided to hit the hay.
Not literally. My hotel was actually really nice. It had wireless and shit.
As far as fancy lodgings go, OK was a-okay by me.
Although the needlessy ornate coffee maker was called a Java Pod and the coffee sachets were called Coffee pods. That's a step too far, even for a media whoopsie like me.
So then it was an early 7 A.M. start, a double espresso at the great coffeeshop The Red Cup and it was off on the second half of my adventure.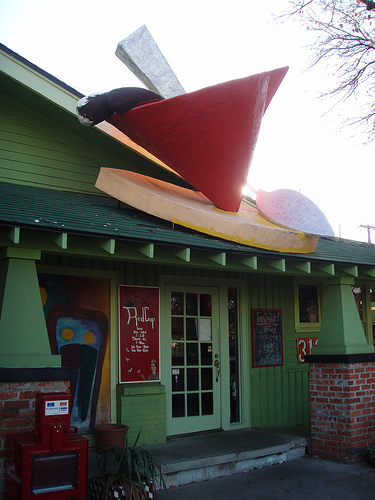 Oklahoma, much like the musical I feel I hardly know thee, but it was westward ho again. My mighty Route 66 adventure begins!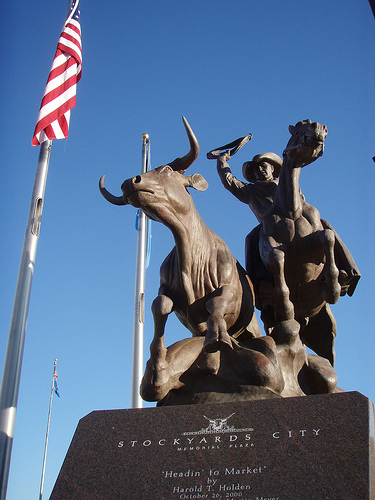 More soon.
I am going to collapse.
E
P.S. Please note that you cannot give me sightseeing suggestions for a past road trip. Unless you happen to know how to hypnotize yourself back in time with only an antique pocket watch and the memory of a young Jane Seymour to help.
Hello there, I wanted to rescue some of my old MySpace blogs and archive them here on my own site. Over the next few weeks I will retroactively chronicle a particularly colourful period exactly two years ago. This was originally posted on November 30th, 2007.
Okay, so I got behind on my blogging. Am sitting in Flagstaff preparing to drive back to L.A. tomorrow.
But that exciting final part is for later, here's some adventures I had earlier.
….flashback to Saturday morning…
After having stayed up very late developing a man crush on Robbie Robertson at the Belcourt, I got precious little sleep before my drive to Memphis.
But, needs must and I hit the road, stopping to try the biscuits at the Loveless Cafe. Biscuits. Good. Again.
Then it was long ass drive through wind and rain through deepest Tenessee, powered along by espresso, Doubleshots and lots of tunes.
Such as…
Old Salty Dog Blues - Flatt & Scruggs
I'm a Man - Bo Diddley
Hurricane - Bob Dylan
Maybelline - Chuck Berry
Back Door Man - Howlin' Wolf
Man of Constant Sorrow - Stanley Brothers
Ode To Billie Joe - Bobbie Gentry
She's Not There - The Zombies
Dark Lady - DJ Food
Alabama Song - The Doors
Know How - Young MC
When I got to the posh Madison in Memphis, I was royally fucked on only three hours sleep and promptly collapsed in a heap.
In a struggle to get out before sundown, I hotfooted it over to Beale Street to have a nose around.
The heartland (tourist trap) of Memphis was a little too Disneyland for me. The proximity of Hooters and Coyote Ugly didn't really make it any better.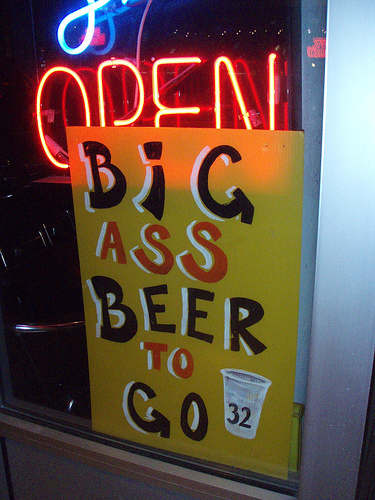 So instead I headed over to Sun Studios to check out the Heart Of Rock And Roll (Huey Lewis reference unintended).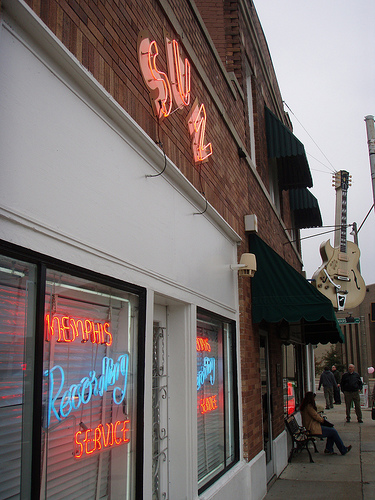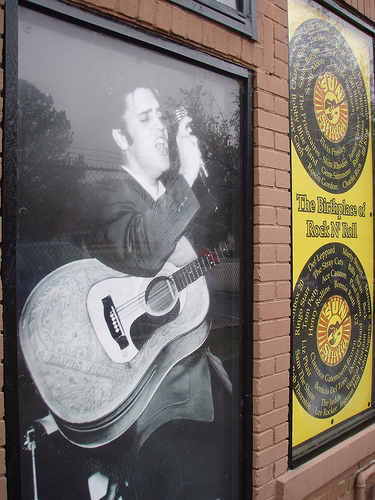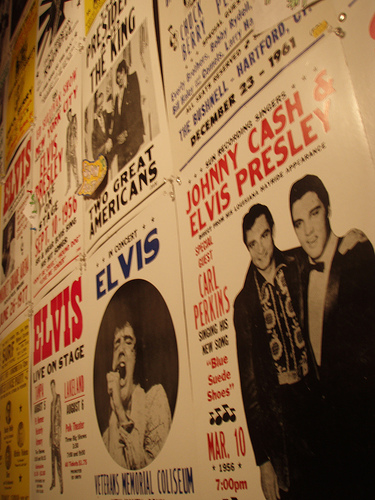 This tour was short and very, very sweet; pretty thrilling to be in the very spot where arguably the very first rock and roll record was cut. ("Rocket 88" by Ike Turner, fact fans.)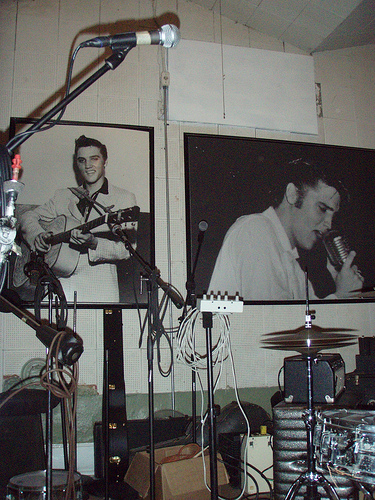 And forget Elvis, I have to say I got a shiver when the very nice guide told me that Jerry Lee Lewis' "Whole Lotta Shakin' Going On'" had been recorded in the very room. In one take. That's pretty incredible.
The tour itself was conducted by David Brookings, a budding singer songwriter himself and the spit of Jack White.
Apparently you can still rent out the studio for 85 dollars an hour. Some people just hire it to sit around with some beers and listen to Johnny Cash.
Then it was on to some Memphis hotspots. First up the ribs at Rendevous came highly recommended by my travel advisor John Landis and Peggster-in-chief Harmony.
I'm no ribs afficionado, nor do I have a doctorat in B-B-Q, but good they were.
Being a bit shattered and acutely aware that nothing was going to top Gypsy Pompe's bluegrass Spiderman, I didn't go crazy in Memphis.
I stuck my head in at Otherlands coffee, Neeleys and some coffee shop with a lady doing flamenco, but that was about it.
I must say that I was liking the fact that live music was playing in pretty much every venue in town - and with appreciative audiences. It's quite something.
My actual exciting highpoint of the night was the discovery that someone had smashed my tail-light and it was busted.
So then I made a 10pm trip to Hertz to swap my rental car over. This low speed cruise to Memphis airport whilst trying to evade the Smokies, was like a very unexciting game of Grand Theft Auto.
Man, how many cops are there in Memphis? Every corner was lurking with the Tenessee Fuzz, lurking like sharks with their headlights off.
Anyway, I made it to Hertz and switched my wheels (cough - a red Ford Escape) for another set of a wheels (cough - a blue Ford Escape).
Yeah, anyway, up yours pigs.
I digress.
Next morning, I got up and out like a proper tourist and had breakfast at the rather amazing looking Arcade Restaurant.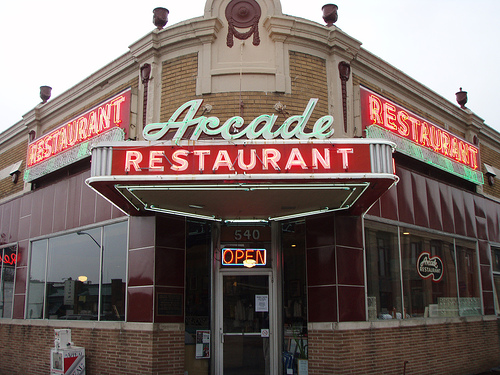 And then it was on to my double whammy, Graceland followed by Stax.
I wouldn't say I was a big Elvis nut, but I couldn't pass up on the 2nd most visited home in the U.S. (1st is the White House).
And it didn't disappoint. Aside from it being as sacred as the Vatican for Elvis fans, it was an amazing snapshot of a house whose furnishings had been lost to the mists of 1977.
Pretty much the house inside was one third Southern mansion…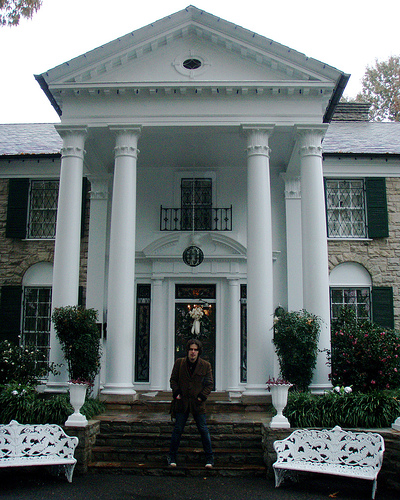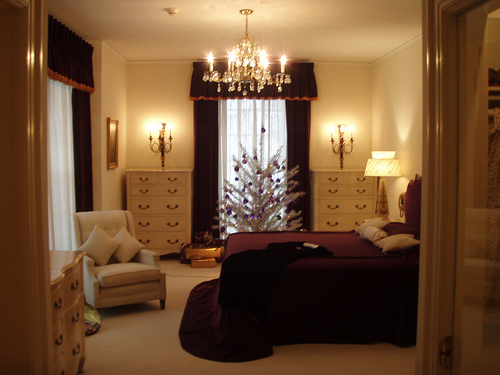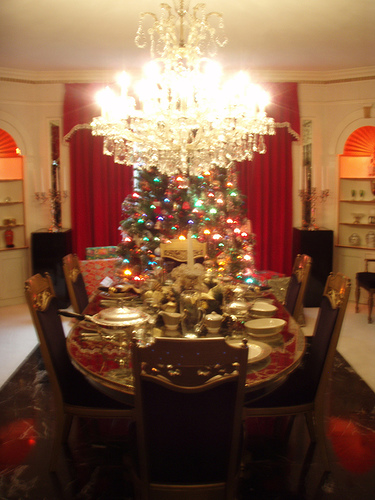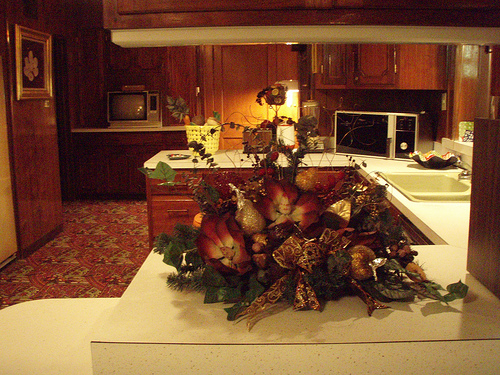 One third Trader Vics decor…(the Jungle Room no less!)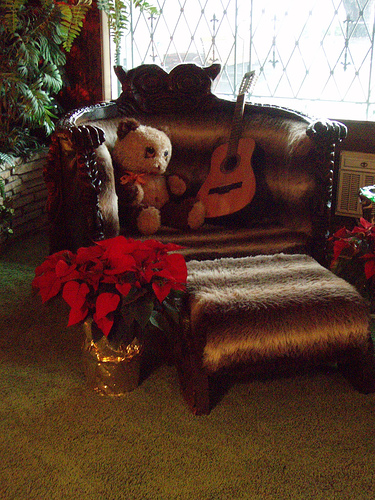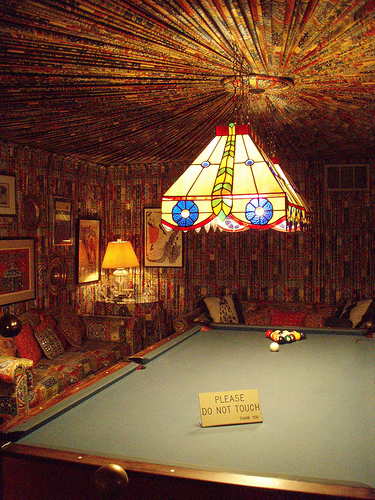 And one amazing third…2001 Space Odyssey. Check out the amazing TV room where the Pelvis would watch all three networks at once.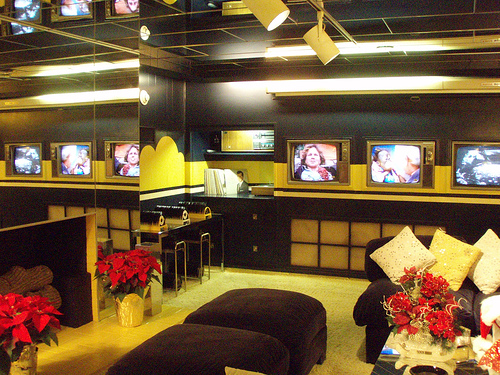 Thank god he wasn't around to today. The room could barely hold all the main networks let alone Cinemax, TBS Superstation and E!
Not even Mike Teevee could cope.
The rest of the tour of office bulidings, squash courts and trophy halls was filled with memorabila and personal items.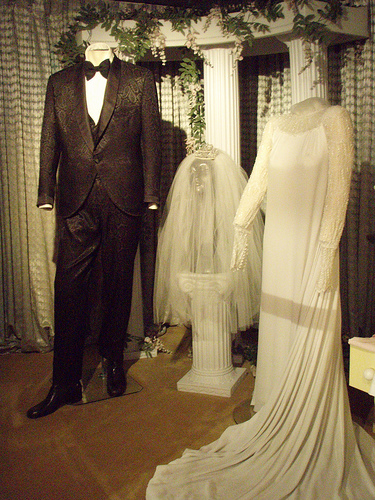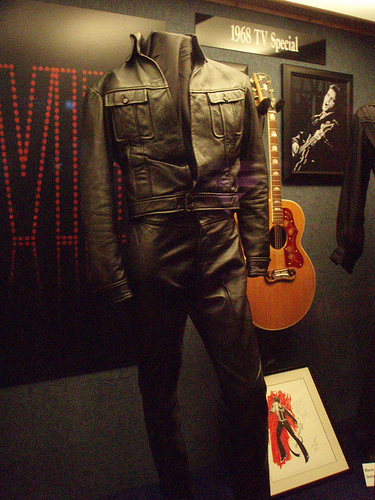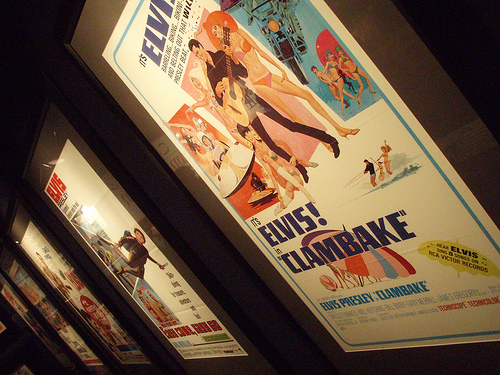 As a result, I must admit I find myself a little unmoved at the final stop of the tour, Elvis' grave, buried next to his parents and with a marker for his infant twin brother.
I don't know why, but as much as I'm sure that's the main attraction, it still felt odd being part of a line to see someone's grave. Maybe they should have let the 'tranquilty garden' remained exactly that and let the Graceland tour be more about white fur beds with in built radios.
I did a quick skip around Elvis' automobile museum and also an exhibit called Elvis: After Dark.
Ostensibly this was supposed to be about the night time antics at Graceland. But rather than tales of Cybil Shepherd, white panties, milk and cookies, it was just a tame series of anecdotes about the King's insomnia.
There was a TV with a genuine bullet hole in it. Which was pretty cool. How do you like them apples Travis Bickle.
Post Graceland, I zipped right over to the corner of McLemore and College, once home of Stax Studios and Stax Records.
Man, what a great tour this was and simply staggering to think how many classic tracks had been recorded there. Green Onions, Walking The Dog, Soul Man, Knock On Wood, Soul Finger, (Sittin' On) The Dock Of The Bay, Theme From Shaft and so many more.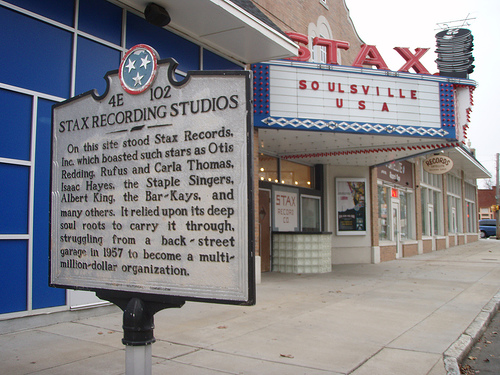 It made me wonder why a similar thing hasn't been done in London. So much rock history has been lost to redevelopment.
I used to always be amazed that there's no recognition of where Trident Studios used to be in St Annes Court, Soho. Bowie recorded Ziggy Stardust there for godsakes. Queen too with…Queen and uh… Queen too.
So with that I left under an almighty thunderstorm and dark clouds above. Fuelling me on my long drive to Hot Springs was a bunch of Stax recordings that I stocked up on…
Pretty much all the tunes mentioned above were blasting out as I made the trip in deepest Arkansas.
I also picked up Isaac Haye's Hot Buttered Soul (Best Album Cover ever) and zoned out listening to the epic intro to Walk On By and his even more extended By The Time I Get To Phoenix.
Sorry to say, but not much was a-hopping in Hot Springs on a wet Sunday November night.
I felt like I could have been in a Deep South version of I AM LEGEND, there were so few people about.
I was the sole diner in a steakhouse on Central Avenue, but the bartender filled me in on its origins as the Native American's "Peace Valley", a concept that was later taken up by warring Mafia clans who would holiday here.
But what was once Switzerland for the Cosa Nostra was now a quaint little tourist spot.
I stayed at the Arlington Hotel which along with the Majestic had once hosted one Al Capone. There are supposedly many tunnels under the hotels so the mobsters could escape the cops.
Not that the hotel has any gangster chic anymore. It has a Starbucks.
In the morning I went for a (!) hike, had a proper old fashioned spa session in the Arlington's 1920's era baths and then went to the Pancake House, where I saw a family say grace before tucking into an obscene stack of syrupy badness.
It was time to leave Arkansas.
Tunes for this part of the trip.
Walking The Dog - Rufus Thomas
Respect - Otis Redding
Hold On I'm Comin' - Sam & Dave
B-A-B-Y - Carla Thomas
Tramp - Otis Redding & Carla Thomas
Soul Finger - The Bar-Kays
Soul Limbo - Booker T. & The MG's
Respect Yourself - The Staples Singers
Never Can Say Goodbye - Isaac Hayes
An Unknown Quantity - Bill Ramsey & The Jay Five
Bad Kids - The Black Lips
Mother Sky - CAN
Slow Cookin' - Bobbie Gentry
Six Days On The Road - The Flying Burrito Brothers
Molotow Cocktail Party - Vivi Bach & Dietmar Schönherr
More later…
P.S. Please note that you cannot give me sightseeing suggestions for a past road trip. Unless you happen to know Dominick Hide, or indeed his flipside.
Hello there, I wanted to rescue some of my old MySpace blogs and archive them here on my own site. Over the next few weeks I will retroactively chronicle a particularly colourful period exactly two years ago. This was originally posted on November 24th, 2007.
It's late, but I feel I should jot this all down before it all becomes a tired blur.
First I was generously invited to stay in Asheville for Thanksgiving by Bryan & Hope. But before the good food and cheer kicked in, a trip to the picture house beckoned.
But what would be our holiday film? Enchanted? Fred Claus? This Christmas?
No. We went to see The Mist. And it was great.
There's nothing like foggy, buggy, doomladen horror on a Thursday afternoon.
It was a perfect choice, the bleak coda making for a perfect warm up to appreciating your full plate of turkey and veg.
I had seen the film in the edit earlier in the year, but it was great to see it finally finished. The creature effects, especially in the latter half are something else.
So, my first Thanksgiving dinner was absolutely lovely, basically like pre Christmas dinner with some extra Southern trimmings in Carolina. (Biscuits. Good).
I was heartened to see Brussel Sprouts making an appearance and to find fellow fans of the much maligned vegetable. I am firmly in the Pro Sprout lobby.
So, still with a full stomach the next morning, I hit the fucking road for Nashville at 6.15 and sailed through the Smokey Mountain Tunnel.
I was briefly tempted by both Flea World (Tenessee's most unique flea market) and the twin charms of Dollywood and…oh, that was it.
But, no. I pressed on.
The only thing that distracted me from my GPS "Shortest Time" route, was the town of Lebanon, Tenessee. AKA Stuntman Mike County.
I only wavered off course briefly, but upon failing to find an Italian Vogue* I zipped over to Nashville toutsuite.
No sooner had I checked in to the Union Hotel, was I already out of the door, trying to find a spot to eat. Unfortunately many uniquely Nashville joints were closed up; Elliston Street Soda Shop, Kijij Coffee, Harpers, Monell's et al.
Eventually I found coffee and chow at Fido's - a cool little place in Hillsboro Village.
I then hightailed it over to - yes - the Country Music Hall Of Fame And Museum.
Now, confession to make. I've never been much of country fan. For a long time, my only concession to listening to a little C&W was the version of "Rawhide" by the Blues Brothers. I was the kind of child who would become deathly bored by the song sections in any Clint & Clyde film or late 70's Burt Reynolds Deep South vehicle.
But I have made more attempts of late and was willing to totally immerse myself on this trip.
My first step was a concentrated blast of Country History at the Hall Of Fame. And pretty good it was too.


I saw Marty Robbins 'Among My Souvenirs' exhibit of his costumes and cover art. Now, I don't know a lot about the guy, but his nudie suits were mighty impressive.


Not to mention his custom made Nascar outfit. Shades of Ricky Bobby.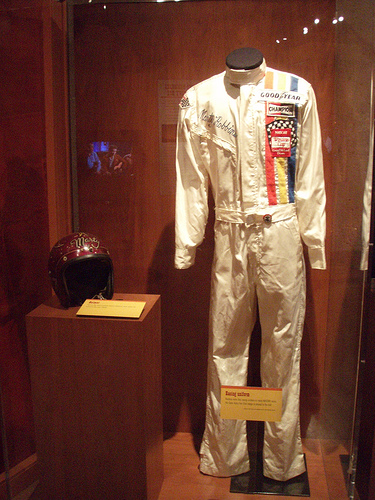 I also saw a whole bunch of gold plated Elvis nonsense; a grand piano, a big ass car with in built 24 carat record player and television. Crazy.
Best of all was a potted history of country with lots of clips from the 60's and 70's variety shows like Johnny Cash's show and Hee Haw, which I'd heard lots about but never seen. It looked like a cross between Rowan & Martin's Laugh In and Deliverance. It was truly terrifying.
Most exciting of all was seeing Gram Parsons mary-jane embroidered nudie suit from the cover of the Flying Burrito Bros. album.


Now, I'm not going to try and pass myself off as being hip enough to actually be Burrito Brothers fan.
Truth be told, I only bought my first Gram Parsons album two days ago.
But it was still pretty exciting. And I bought the album immediately after.
Okay. A hollow triumph of cool, I know.
Then, I made a quick detour to Broadway and did three things. Each more significant than the last.
One - visited Ernest Tubb's record store. Two - bought my own nudie style cowboy shirt. Three - bought a ticket to that night's Grand Ol' Opry at the Ryman Auditorium.
Ironically, John Landis had insisted I do this when he heard I was visiting Nashville.
I then skipped back to Hillsboro and caught the 4.10 of I'M NOT THERE at the cool Belcourt Cinema. Really enjoyed it too. Amazingly Cate Blanchett has never been sexier than when playing Bob Dylan.
It's the damndest thing. It confused my brain/loin connections.
Then as soon as the film was over I zipped over to the Opry; running down at least 30 Hannah Montana fans on the way as they buzzed around the Sommet Centre.
Arrived 15 minutes into the Opry and arrived red wine in hand, never looking more English and foppish. The place was rammed and I was stuck on the end of a row.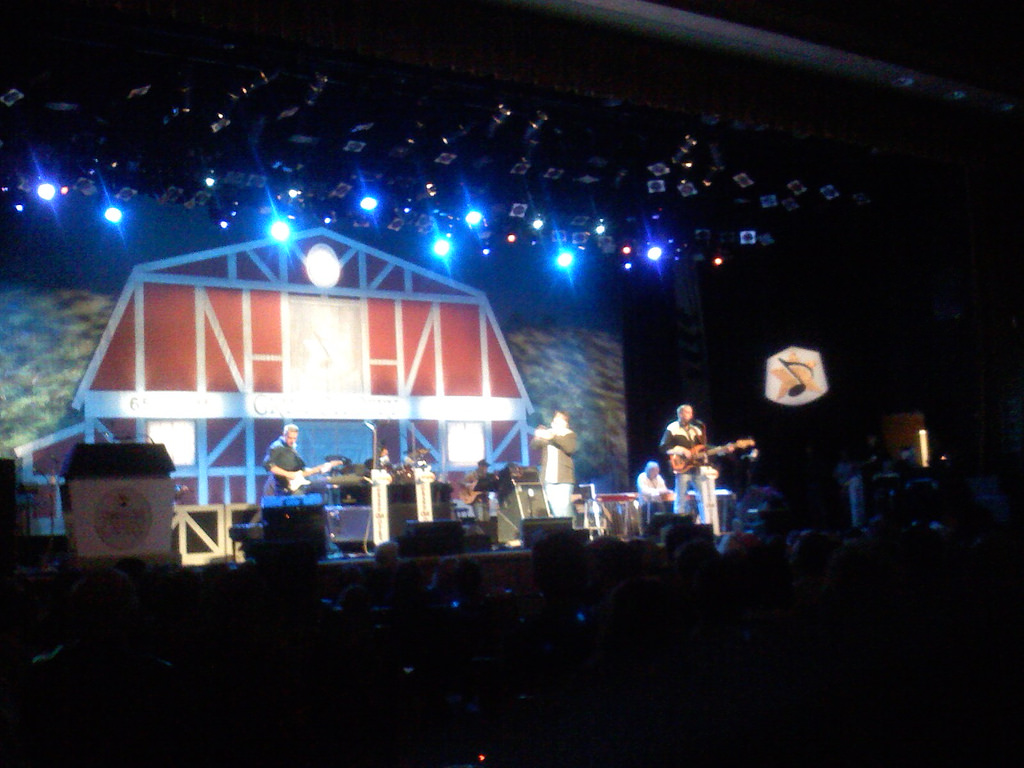 The Grand Ol' Opry was much more entertaining than I had bargained for. The music isn't really my thing, but I could appreciate the showmanship…godammit. And the quite incredible sway it had over the capacity crowd. I even tapped my foot.
The show is oddly structured though. The 2 and a half hour show is split into 5 half hour chunks each sponsored by a different company.
So it was that between the likes of Jeff Bates and John Conlee (who seemingly had a massive hit with Rose Colored Glasses in 1978, when I was too busy coloring in my 2000ADs), that we had to endure endless sponsorship for the Cracker Barrel Old Country Store.
A humorless presenter by the name of Eddie Stubbs basically trotted out the Cracker Barrel party line between every other song.
Imagine the Reading Festival being halted every two tracks so a Carling representative can hawk their weak lager. Double Hell on Earth.
The 2nd half hour was even weirder at the same presenter, Mister Stubbs was now talking up MarthaWhite.com and her Pumpkin Muffin mix.
I never thought I would be aching for the country to start again, but there you have it.
The acts in the second half were goofy and fun; Riders In The Sky (kind of a real life Three Amigos), The Infamous Stringdusters and a band called the Bar D Wranglers, who had a seemingly octogenerian lead singer and a catchy tune called 'No Good Son Of A Gun'.
The 2nd 30 minute segment ended with one of the Riders In The Sky doing a Yoda impression and saying 'Use The Horse". A first.
The 3rd half hour segment (sponsored by U.S. Bank) had barely begun when George Hamilton IV began a Christian holiday themed song.
And I was out of there.
I grabbed some chow, spent all of five seconds in a crowded Tootsies Wild Orchird Lounge and then headed over to the Station Inn - an authentic Bluesgrass joint.
Again it was packed and while very impressive, I lasted one drink and three songs. It all being a little Every Which Way But Loose for me.
So I had an hour to kill, before a midnight screening of Scorcese's THE LAST WALTZ at the Belcourt (which I'd never fully seen).
I stopped off at a 24 hour cafe place called Cafe Coco. Much like every other bar, they had a band playing. And again, it was mighty impressive.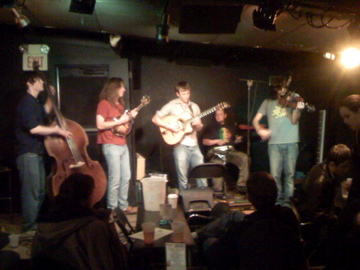 The band at Cafe Coco were called Gypsy Pompe and I can only describe them as the Bluesgrass Artic Monkeys, since they were all about 19, spotty and dressed super casual.
And they played an amazing 10 minute long bluegrass cover of the Spiderman theme tune. They called it Spiderman Or Spiderpig? I called it Spidey Mountain Breakdown.
Either way, it was amazing for a free show in a coffee shop. Some couple were even dancing. Like proper dancing you only see in Grease.
Or that 'Shaking The Rug' scene in Top Secret!
Having made my very own Nashville discovery, I headed over to the Belcourt and watched THE LAST WALTZ until 2AM, smug in the knowledge that I was doing something vaguely hip.
I have now had way too many espressos and may just cat nap before leaving for Memphis baby!
Recommendations welcome.
Tunes for this part…
Shout Bama Lama - The Detroit Cobras
Just Can't Get Enough - Depeche Mode
Cybele's Reverie - Stereolab
Destination Diamonds - Diamond Nights
Thankfully Not Living in Yorkshire it Doesn't Apply - Dexy's Midnight Runners
Little Honda - Yo La Tengo
Clap Hands - Tom Waits
Chateau In Virginia Waters - T.Rex
Rip It Up - Little Richard
Chantilly Lace - Jerry Lee Lewis
Abacab - Genesis
Hippie Hippie - France Gall
Dos Guitarras - Los 4 Planetas
Out.
(*One for the DEATH PROOF extended cut fans)
P.S. Please note that you cannot give me sightseeing suggestions for a past road trip. Unless you happen to know a rakish, Samantha Mumba romancing, time a-travelling Guy Pearce.
Hello there, I wanted to rescue some of my old MySpace blogs and archive them here on my own site. Over the next few weeks I will retroactively chronicle a particularly colourful period exactly two years ago. This was originally posted on November 21st, 2007.
The Blue Ridge Parkway was something else.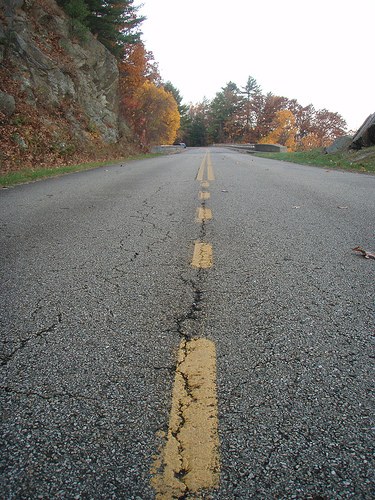 I set off at 7am and given that yesterday was one where 30 million people were travelling, I picked the right day to take the scenic route.
In four hours or so, I saw a maximum of twenty other cars.
That said I did somehow have a close call when overtaking someone. Where did they come from?
I stopped occasionally to soak up the overlooks, but mainly was cruising along the beautiful mountain route.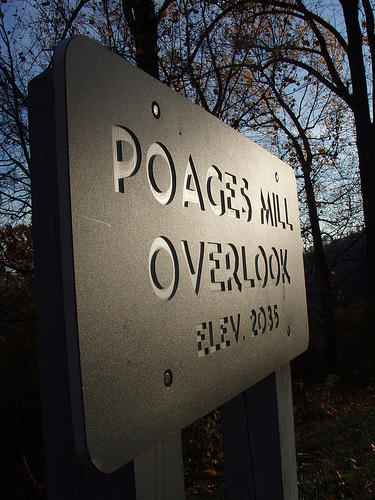 With the first morning light blasting through the red and gold trees and Booka Shade's DJ Kicks album being inappropriately electro for the location, I felt like I was in the original studio imposed ending of Blade Runner. Sadly, there was no Rachel by my side. Or any other pleasure model of skinjob for that matter.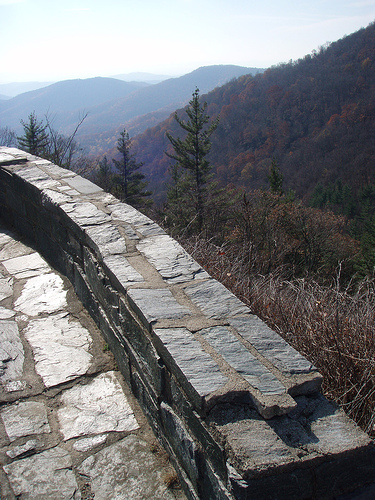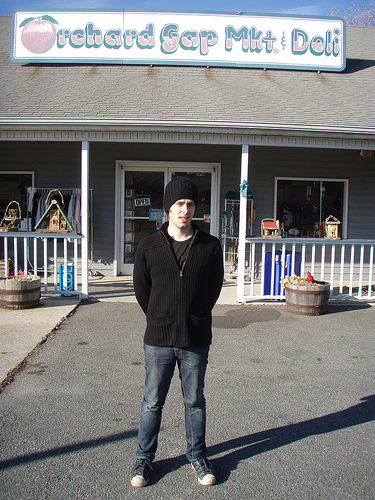 Coming down the mountain into North Carolina, I was tempted to stop for Jumbo Boiled Peanuts at a Mountain Man Trading Post. But I pressed on, hopped up on Starbucks Espresso and got to Asheville.
Stocked up on more tunes in Downtown Asheville with my last two friends on the trip, the two supremely talented NC residents, Bryan Lee O'Malley and Hope Larson.
We then celebrated the eve of Thanksgiving in a very suitable fashion; by playing Dance Dance Revolution Supernova 2. They were expert, I was not.
I need to brush up on my J Pop.
Am here one more day, then off to Nashville Friday, Memphis on Saturday then a mystery stop on the way to Oklahoma. Will it be Fort Smith, Little Rock or Hot Springs?
You can help me decide.
BTW - much kudos to Rev Sean Keller for his Foggy Mountain Breakdown tip. It kicked it at a very dynamic point on the Blue Ridge Parkway.
Tunes for this part of the trip…
Man In Black - Cozy Powell
I Feel Free - Cream
How Does It Feel To Feel -The Creation
Off the Hook - CSS
Food And Pussy - Dan Redder
Alabama Song - David Bowie
Salsation - David Shire
Blood On Our Hands (Justice Remix) - Death From Above 1979
Foggy Mountain Breakdown - Flatt & Scruggs
P.S. Please note that you cannot give me sightseeing suggestions for a past road trip. Unless like you happen to be Scott Bakula.
Hello there, I wanted to rescue some of my old MySpace blogs and archive them here on my own site. Over the next few weeks I will retroactively chronicle a particularly colourful period exactly two years ago. This was originally posted on November 20th, 2007.
So am very sleepy after a supposed 4 hour drive took over 8 hours.
Truth be told I did waver off the GPS quite a few times, freeways get a little samey.
Listened to some 125 songs on my IPOD in the process.
It was quite surreal driving in the dark morning in Pennsylvania listening to Boards Of Canada.
The red and golden autumnal colours in Virginia are quite beautiful. Of course I didn't take any snaps of that.
Just random signs in Delaware and Maryland on the way to Roanoke.
Managed to see the big fucking star on Mill Mountain…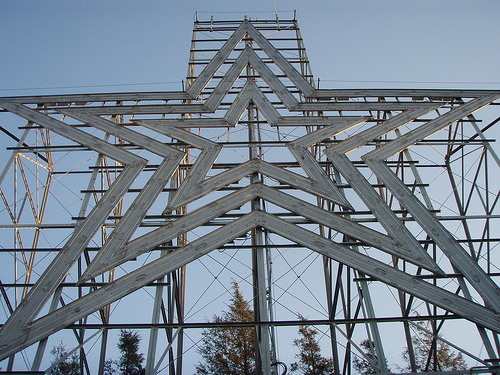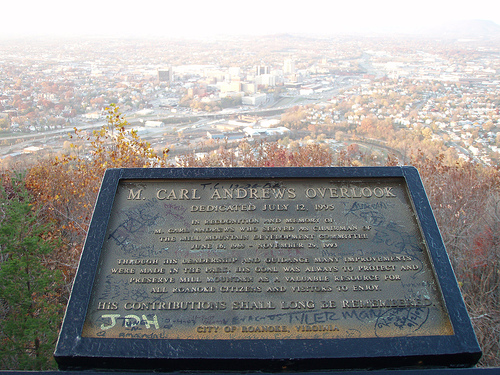 …and also see Miniature Graceland. May not bother with the real one now.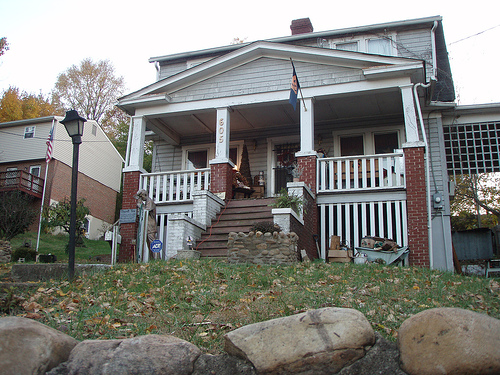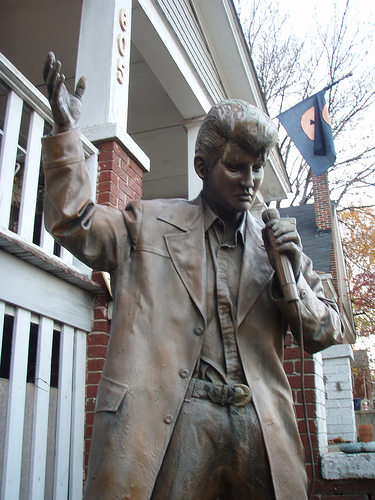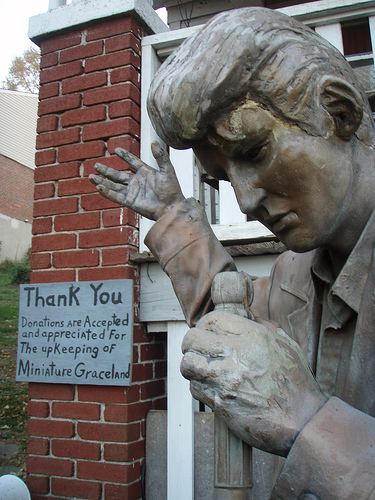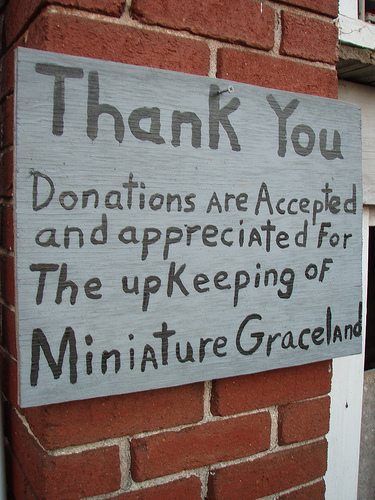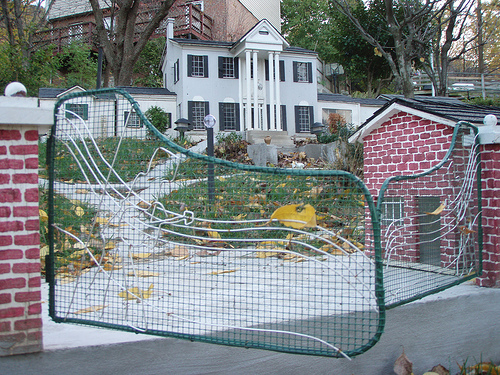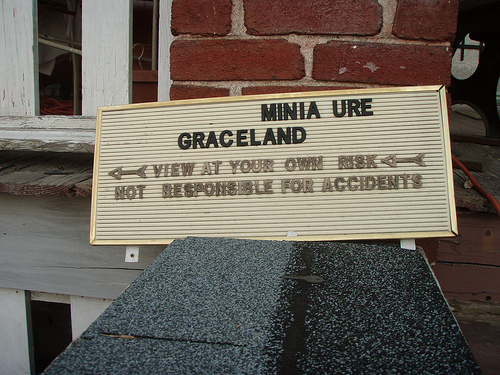 And that was pretty much it, apart from a quick stop in Mill Mountain Coffee and a chatty bartender in Eric's. Plus a lot of bemused looks all day.
Tunes for today…
Harlem Shuffle - Bob & Earl
Lay, Lady Lay - Bob Dylan
Fancy - Bobby Gentry
Jackson - Brakes
You Won't See Me - Bryan Ferry
Bond Street - Burt Bacharach
AF607105 - Charlotte Gainsbourg
Mr. Tough - Yo La Tengo
Marcha A La Turca - La Tia Leonor Y Sus Sobrinos
How Do You Tell A Child That Someone Has Died - The Black Lips
Still some B & C action there…
Onto Asheville, NC tomorrow - by way of Blue Ridge Parkway. Can't wait.
P.S. Please note that you cannot give me sightseeing suggestions for a past road trip. Unless like Steven Wright you believe that you could go back in time if you put instant coffee in a microwave.
Hello there, I wanted to rescue some of my old MySpace blogs and archive them here on my own site. Over the next few weeks I will retroactively chronicle a particularly colourful period exactly two years ago. This was originally posted on November 19th, 2007.
So, am here in Pennsylvania having spent a lovely, if cold day on the set of The Lovely Bones.
Heading for Roanoke, VA tomorrow.
Any suggestions of fun shit to do in Roanoke, be it cool bars, record shops, local eateries or people watching much appreciated.
Can't wait to hit the road again.
My driving tunes for the day…
"My Neighbours Belgian Hardcore House" - The Bluetones
"Crunchy" - Blues Explosion
"Gunslinger" - Bo Diddley
"Standing In The Shadows Of Love" - Barry White.
It was a B day.
P.S. Please note that you cannot give me sightseeing suggestions for a past road trip. Unless you happen to know Rufus and have access to his phonebooth.
Hello there, I wanted to rescue some of my old MySpace blogs and archive them here on my own site. Over the next few weeks I will retroactively chronicle a particularly colourful period exactly two years ago. This was originally posted on November 18th, 2007.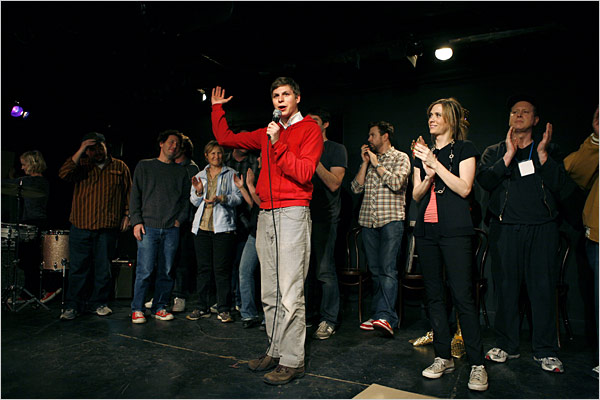 I was one of the lucky bastards who witnessed the live on stage SNL show at New York's UCB Theatre last night.
A fund raiser for staff who have been laid off during the writers strike, it was organised by Amy Poehler and featured the full cast, along with ex SNL members Rachel Dratch and Horatio Sanz. Plus Norah Jones turned up to sing on The Lonely Island's "Iran (So Far)".
Yo La Tengo were the band. And one Michael Cera was the host.
Comprised of sketches too weird, too off color and perhaps too funny (!) for network TV, it was quite fantastic.
I feel privileged indeed to have been front row for this amazing event and see performers like Will Forte, Kristen Wiig, Jason Sudekis, Fred Armisen Andy Samberg and Bill Hader off the leash.
This is my last night in NYC, onto Philly tomorrow, then Roanoke, Virginia, then Asheville, NC and beyond!
P.S. Please note that you cannot give me sightseeing suggestions for a past road trip. Unless you happen to be the Tenth Doctor.
Hello there, I wanted to rescue some of my old MySpace blogs and archive them here on my own site. Over the next few weeks I will retroactively chronicle a particularly colourful period exactly two years ago. This was originally posted on November 17th, 2007.
So get this.
I am currently in New York and starting Monday am going to embark on my very own Kowalski episode.
That's right, I'm going to drive all the way back to Los Angeles, just in time for the start of the New Beverly season.
Can't wait.
First stop, Philly.
Then onto Asheville, Nashville, Memphis and hitting along the way Little Rock, Fort Smith, Oklahoma City, Amarillo, Albuquerque, then maybe Flagstaff, maybe Phoenix, maybe Yuma…then back to L.A.
That's the plan.
Thoughts welcome.
P.S. Please note that you cannot give me advice in the past. Unless Doc Brown happens to be your neighbour.