I've done two seasons at LA's New Beverly Cinema showing favourite movies of mine. For my third season I had the brainwave that I should show all the classics and cult gems that I haven't seen.
Three musical comedies. One from the fifties, one from the 80′s and my own from last year. With more rock & roll and visual jokes than you can handle. Be there or be square.
With guest hosts Joe Dante, Eli Roth & Allan Arkush (schedule permitting).
Friday, December 9th / ROCK & ROLL ALL NITE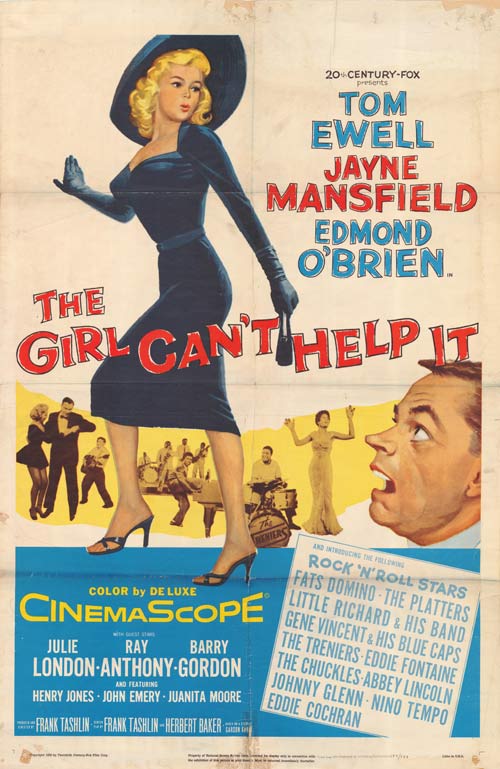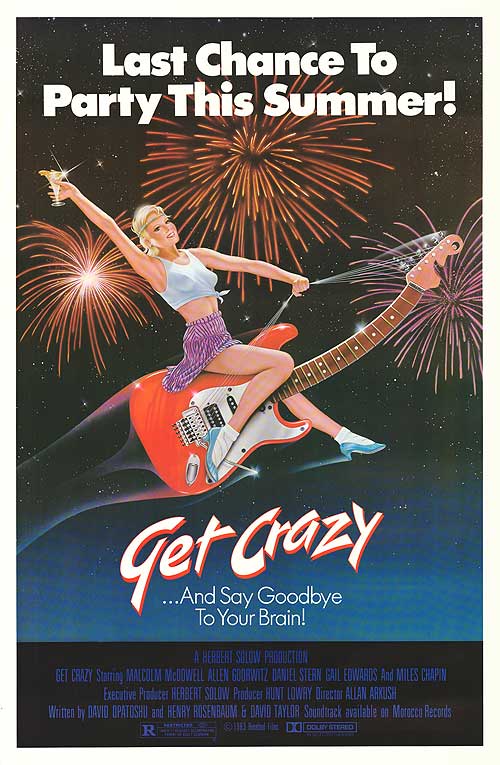 7:30 pm / The Girl Can't Help It
1956, USA, 99 minutes, 35mm, Criterion Pictures USA/20th Century Fox
Directed by Frank Tashlin
Starring Tom Ewell, Jayne Mansfield, Edmond O'Brien,
Julie London, Ray Anthony, Barry Gordon, Juanita Moore,
Little Richard, Gene Vincent, Fats Domino, The Platters,
The Chuckles, Eddie Cochran, Abbey Lincoln, The Treniers
IMDB
PLUS, on the same double feature:
9:40 pm / Get Crazy
1983, USA, 92 minutes, 35mm, MGM Repertory
Directed by Allan Arkush
Starring Malcolm McDowell, Allen Garfield, Daniel Stern, Ed Begley Jr., Lou Reed,
Lee Ving, John Densmore, Mary Woronov, Paul Bartel, Dick Miller, Clint Howard
IMDB
PLUS, Midnight Screening (Separate Ticket)
Midnight / Scott Pilgrim vs. the World
2010, USA/UK/Canada, 112 minutes, 35mm, Universal Pictures
Directed by Edgar Wright
Written by Edgar Wright & Michael Bacall
Based on the graphic novel series by Bryan Lee O'Malley
Starring Michael Cera, Mary Elizabeth Winstead, Kieran Culkin, Chris Evans,
Anna Kendrick, Alison Pill, Brandon Routh, Jason Schwartzman, Mark Webber,
Ellen Wong, Johnny Simmons, Brie Larson, Aubrey Plaza
IMDB
Edgar says: ('The Girl Can't Help It' suggested by Joe Dante / John Landis | 'Get Crazy' suggested by Quentin Tarantino)

A night of rock & roll comedy to kick things off. I have long wanted to immerse myself in Frank Tashlin's movies and what better way than to see this 50's Scope cult classic on the big screen. Coupled with 'Get Crazy', a film by Allan Arkush who himself is a huge Tashlin devotee and indeed 'The Girl Can't Help It' is one of his favorite films of all time (he may join on the night, schedule permitting). Arkush's film is not available on DVD, so I am thrilled to be seeing this for the first time at the New Bev.

If you're geeky enough to go for the full triple the rock and roll comedy theme extends to my own 'Scott Pilgrim Vs The World' in its monthly midnight slot. Arkush himself says, "All three of those movies together could do some serious damage to impressionable minds.".

Screening hosted by Edgar Wright, Joe Dante & Allan Arkush (Schedule permitting)
The Wright Stuff III / Movies Edgar Has Never Seen [Full Post]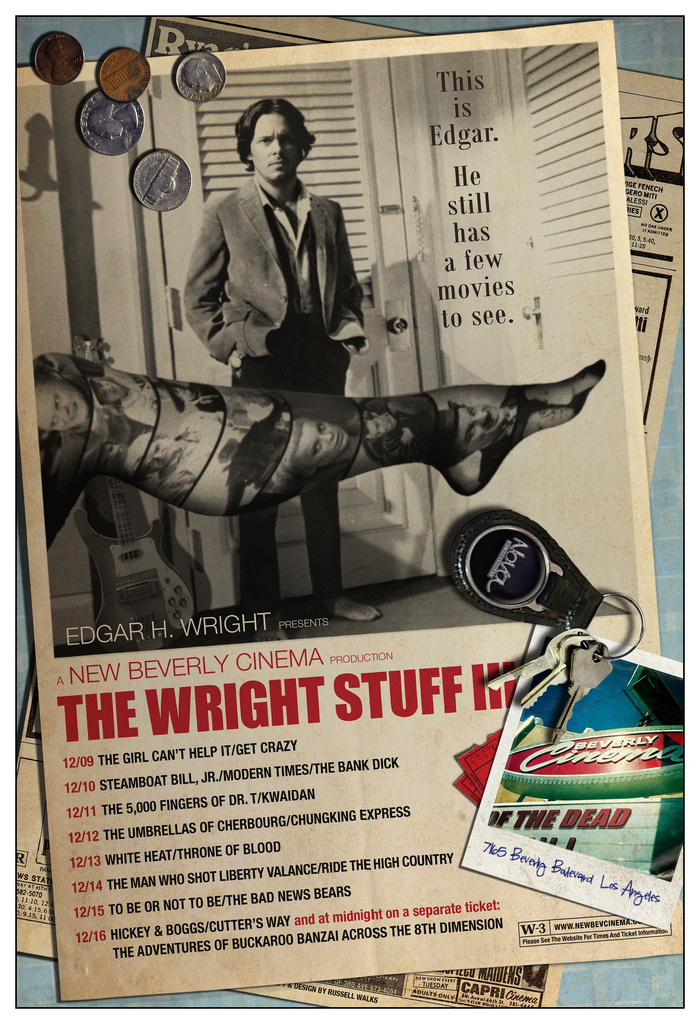 (Artwork from Russell Walks - www.russellwalks.com / www.russellwalks.tumblr.com)