Hello there, I wanted to rescue some of my old MySpace blogs and archive them here on my own site. Over the next few weeks I will retroactively chronicle a particularly colourful period exactly two years ago. This was originally posted on December 10th, 2007.
So, here it was, my last day of my road trip.
And sure enough it was all about the road today. Flagstaff to Los Angeles was about 466 miles. I got out of my hotel around 6 AM, intending to get to L.A. just after lunch.
That didn't quite work out, but boy, did I do some driving.
First up, I took a little sunrise detour through the Sunset Crater Volcano Monument park, where I took this incredibly poncy photo.
Look at those wild eyes and haggard bumfluff. I'm a king of the road, godammit.
So I did the 32 mile scenic route in a flash and then zipped back to Flagstaff for something very important.
Coffee.
If this trip has been about anything it's been about the tunes, the landscape and the endless consumption of coffee, both good and bad.
Late For The Train thankfully made a damn fine coffee. And then I was off.
The most amazing thing about my last day was the surreal and sudden changes in terrain and weather all day.
The Sunset Crater had seen glimmers of sunshine, then rain on the way back to Flagstaff.
Suddenly now I was on Rte 66 on my way to Parks in dense fog, with only ten feet visible in front of me. Spooky.
I kept the hammer down past Williams and the Grand Canyon (done that) until I hit the mecca for Route 66 enthusiasts, Seligman.
Truth is, it was grey and raining and a little ghost town-ish, but since I'd done this part of the Route before, it was fine to plough onwards.
I was in Kowalski mode today, I had no time to stop, was going to keep driving on through.
I couldn't resist these snaps though.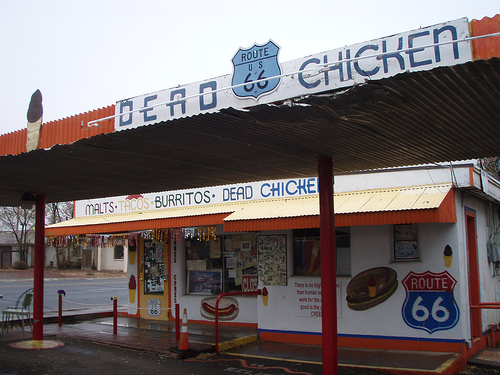 Then was a glorious strip of desert road and parallel train tracks taking me through Peach Springs, Hackberry, Kingman and then onto an amazing stretch before the town of Oatman.
Just before hitting California, there is a crazy stretch of craggy peaks and valleys, with a winding mountain route straight out of Wages Of Fear. It was amazing to be here, hours after leaving Flagstaff.
Easily the most remote and dangerous looking (15mph) part of the trip. And my trusty Ford Escape navigating the switchbacks and curves. Intense. Not to be attempting with coffee shakes.
This part of the journey takes about ten times as long as the I-40, but by god it was worth it.
I was so overwhelmed at being the only traveller on this mountain range, I was inspired to take this crazy eyed photo. This is what ten days on the road will do for you.
As you come out of the mountain range, you hit on the town of Oatman, which was quite a trip.
I know I may have sailed close to (and way past) the speed limit a few times, but I had started to think I was back in 1885.
The old mining town looked pretty amazing set againsts the mountains. The rain, gloom and mud only added to the Django vibe.
I stopped in Olive Oatman's Restaurant And Saloon and had a grilled cheese sandwich next to the mannequin of an old barkeep.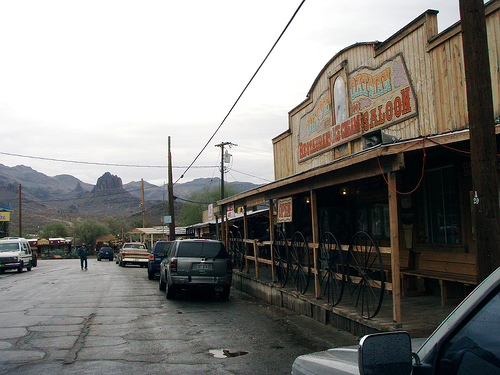 Then it was onwards. Through driving winds and pouring rain. Through Needles onto an intensely lonely stretch to Amboy, through another crater, down a 60 miles desert road with nothing as far as the eye could see.
The rain was really pounding, so the only music that could cut through was Gogol Bordello's Gypsy Punks.
I was driving hard and fast, on a mission to get Back To The Future, or at least to back to Los Angeles…
The last portion of the trip goes hand in hand with most existential 70's trips. It had kind of a downer ending.
I was onto my second tank of gas when I stopped in Barstow and the rain was getting really bad. In California no less.
At this point I decided to get back fast and join the I-40. Immediately I hit the 80 miles of sprawling malls that made up the Inland Empire.
It was a bit of a bummer. Suddenly after 12 days of freedom I was in traffic. It continued all the way home.
I got back to where I was staying and though I felt a great sense of accomplishment, I also could completely empathise with Sal Paradise.
Within 15 minutes of being back, I kind of wanted to hit the road again.
No joke.
I fully intend to do so again. It was a trip in every sense of the word.
And while I didn't have the sexiest car to do it in. I think that my Hertz rental did look a little cooler when absolutely caked in desert mud.
Til next time.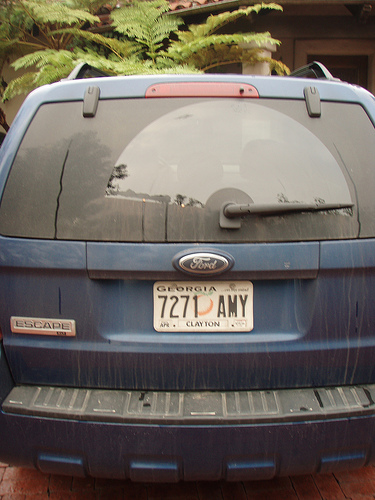 Tunes For This Part Of The Trip
Disco Inferno - The Trammps
The Night They Drove Old Dixie Down - The Band
Baby, Let Me Follow You Down - Bob Dylan & The Band
Mo' Onions - Booker T. & The MG's
Watch Out For Me Ronnie - Yo La Tengo
Hot Rail - Calexico
Harem Scarem - Focus
Theme From Retro - Blur
Rumplestiltskin - Rumplestiltskin
John I'm Only Dancing (Again) - David Bowie
Tossed - Frank Black
Rock and Roll, Pt. 2 - Gary Glitter
Thunderbuck Ram - Mott The Hoople
How Does It Feel To Feel - The Creation
I Feel Free - Cream
Super - NEU!
Radar Love - Golden Earring
Shimmy Shimmy Ya - Ol' Dirty Bastard
In For The Kill - Budgie
Rocket - MUD
Digging Your Scene - The Blow Monkeys
For Pete's Sake - The Monkees
Charmer - Kings of Leon
Moonchild - M83
The Wrath Of Marcie - The Go! Team
Scotch On The Rocks - The Shadows
Darth Vader Theme - osymyso
Pioneer To The Falls - Interpol
How You Sell Soul to a Soulless People Who Sold Their Soul? - Public Enemy
Rock Me Now - Metric
We Used To Vacation - Cold War Kids
Lucio Starts Fires - Joe Lean & The Jing Jang Jong
A Stroll Through Hive Manor Corridors - The Hives
Zeus -Jonny Trunk
End Of The Movie - Cake
Hello there, I wanted to rescue some of my old MySpace blogs and archive them here on my own site. Over the next few weeks I will retroactively chronicle a particularly colourful period exactly two years ago. This was originally posted on December 5th, 2007.
White Lines? Don't do it.
Yellow Lines. Do it, do it, do it.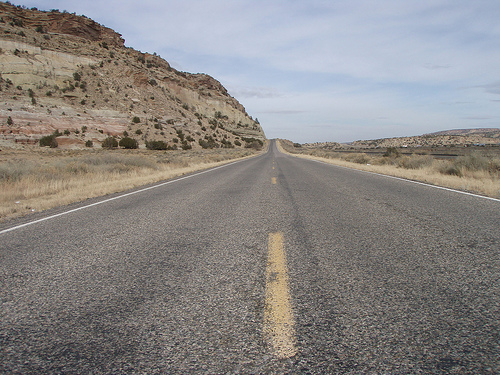 Another day, another day. It was ridiculously early again and I was out of the door. Had a quick breakfast at the Church Cafe in Old Town Alberquerque.
I looked again to see if the Rattlesnake Museum was open, but it was closed due to illness. Illness? At the Rattlesnake Museum?
I pondered for a second if just inside the door there was a pile of bloated museum guides looking all black and blue like Susan George in VENOM.
Perhaps not.
I stocked up on yet more espresso at the Satellite Cafe on Central and then got the hell out of town on Rte 66 with the whole of Entroducing DJ Shadow soundtracking the drive under the grey skies.
Through Acome Pueblo, Grants, Thoreau I eventually got to Gallup. When realising that my camera battery was dead and hadn't charged up properly I make a detour into the darkest country I'd yet encountered.
Wal Mart.
Whilst getting my battery, my eye was caught by the shiny cover of the HOT FUZZ and even though I had freebie copies waiting for me in L.A, I couldn't resist buying one.
I can't believe I bought one in Wal Mart. Ha.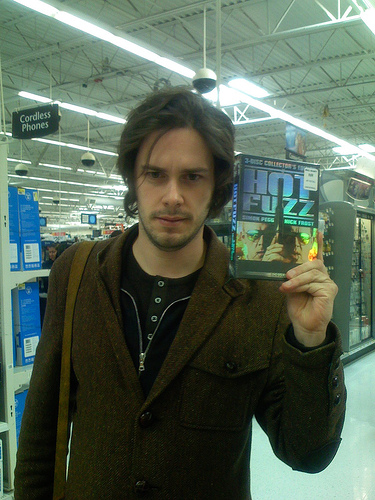 Then charged up by ACDC's Powerage and Dirty Deeds Done Dirt Cheap, I held the hammer down through into Arizona and the towns of Houck, Sanders, Chambers, before taking a spin through the Petrified Forest, 60,000 acres of volcanic ash and colorful sediment.
And what better soundtrack to accompany this detour through psychedeilic mud than a Rhino compilation of disco standards. You haven't lived until you've toodled around a scenic route with Sylvester's "You Make Me Feel Mighty Real" blasting.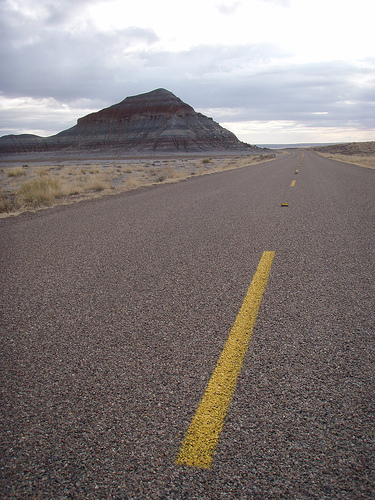 It was at some point while taking this photo that I had a terrible feeling of deja vu. Not because I was essentially taking the same photo of either a) yellow lines or b) me holding the camera and pulling a funny face. But - godammit - I'd been here before.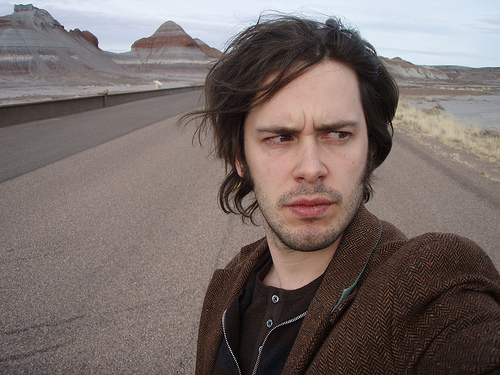 I did a desert drive back in 1998 and had done Flagstaff before - and so it seemed this very National Park. I felt a little sad and stupid for having not realised and quickly hopped back in the car, letting the disco cheer me up.
I then headed to Holbrook, past this brilliant prehistoric typo. Good work.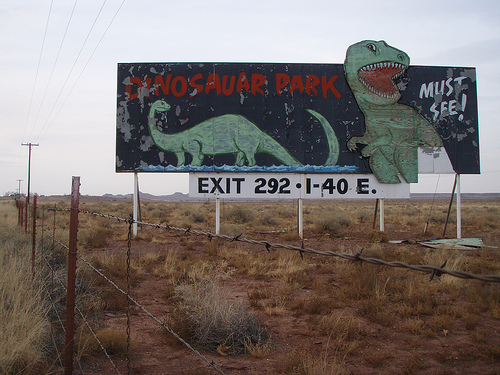 I couldn't help thinking of Hal Holbrook as I drove into this small Arizona tourist trap. Before INTO THE WILD, Holbrook for me had always been the quintessential bad apple in so many films, MAGNUM FORCE and CAPRICORN ONE to name two. His superior villain status should have tipped me off that something bad was going to happen…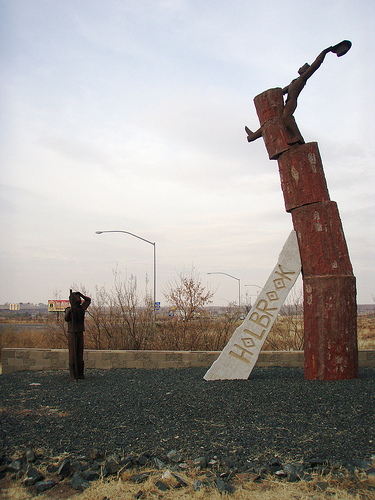 So I'm rolling down Navajo Boulevard, sun is going down and I'm trying to get to the Winslow Meteor Crater before sundown.
But then on my poncy GPS, a cross street sails through the frame.
'Bucket Of Blood Street'
What the?
I stopped by a rock gift shop with a bunch of plastic dinosaurs, performed a quick U-turn and headed back to get perhaps the greatest photo of the whole damn trip. A snap of Bucket Of Blood Street.
And there at the intersection with Navajo was this incredible sign. I was in a rush, so I left the engine running, disco still blasting and jumped out to take a snap.
Click. And promptly locked myself out.
Oh.
My phone is inside, the engine is running, headlights on, disco still blasting.
Oh.
All I had on me was my digital camera. And a rather shocked expression.
Oops.
The area I was in didn't look too great either. Everything was closed. And the sun was going down.
I tried to flag down a passing cop car. Didn't stop. Not a big FUZZ fan. Prefers RENO 911: MIAMI clearly.
So I head to the Rainbow Rock Shop - the nearest place open. There's two dudes behind the counter taking it very easy.
"Can I use your phone"
"What's up bro?"
"Erm. Car trouble"
"What up?"
"I just locked myself out"
"Do you want a locksmith?"
"I was going call Hertz Roadside Assistance. Or the police I guess"
"Nah, get a locksmith. I know a guy. What kind of car is it?"
"A Ford Escape"
"No problem. I know a guy"
"Erm"
He starts calling.
"Al? What up bro? Hey, there's a dude here who's locked out of his car. Ford Escape. Where's he at?"
"Erm. Corner of Navajo and Bucket Of Blood"
The Rock Shop guy hangs up, tells me "Al will be here in 15 minutes. He's a punk but he'll get you car open. Cost you about 60 bucks maybe. He drives a red Durango".
Oh-kay. Much as I'm not entirely sure about Al the Punk's credentials, Hertz must be over 150 miles away and that cop didn't even stop. Fuck it.
I slip this guy 20 bucks for helping out.
What to do for 15 minutes? Well, for starters, I get the guy from the rock shop to take a picture of me with his big dino out front.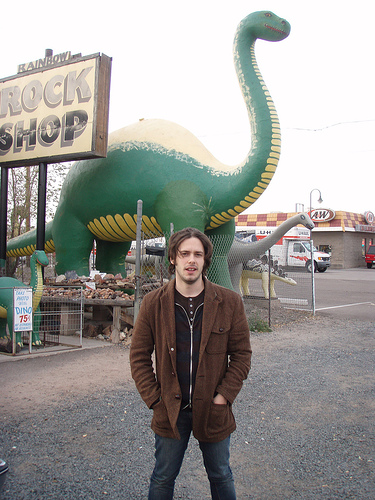 Then I get a coffee and head back to the car.
The sun is dipping completely and I want nothing more than to speed away from Navajo and Bucket Of Blood. Especially since there are some reasonably suspicious looking types around and - good god - I'm a stranded English fop wearing a history teacher's jacket standing outside a car that is still booming Chic, the Andrea True Connection and Gloria Gaynor. The gayest music in my collection.
Oh god. I'm going to die. So I get the picture I was trying to earlier. At least I'll have that. And then Al shows up.
Al looks like less of a punk than the guys in the shop - he's fortyish and his wife sits in the car. With barely a hello, he wedges the windows and gets a jimmy to open the door, fishing around inside with a wire.
Funkytown by Lips Inc is now booming from inside. Al smiles.
"I like your music. My wife says no-one listens to this kind of music no more. I guess she's wrong, huh?"
"Yeah. I like a little disco on occasion."
"Maybe I should get her out here, have us a party"
"Maybe"
Al fishes around for a good ten minutes and three songs, regaling me with his disco years.
"I used to have a boombox, walk around playing this, I had a fro. The whole deal".
Al still can't get in however.
"Your car doesn't want to let me in. Maybe it likes the music too".
Then just as Heart Of Glass kicks in. Click.
We're in.
"That will be 40 bucks".
"Here's 80"
Al the Punk. What a lifesaver.
I jumped back in and stopped briefly by the Rainbow Rock Shop to tell the guys; "You deserve the fucking gold medal."
And I was off. A narrow squeak indeed.
Was the photo worth it?
Yeah it was…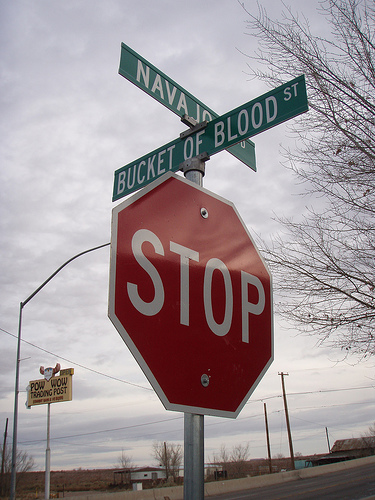 After that I made a brief coffee stop at Joe & Aggies before trying to see this crater before sundown.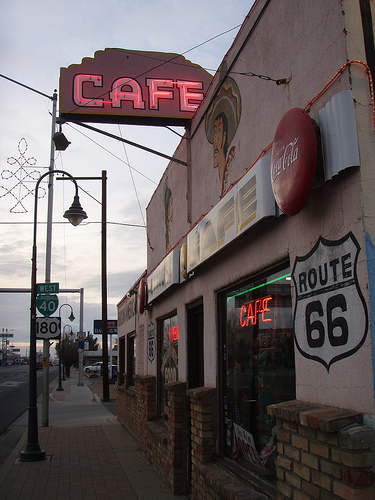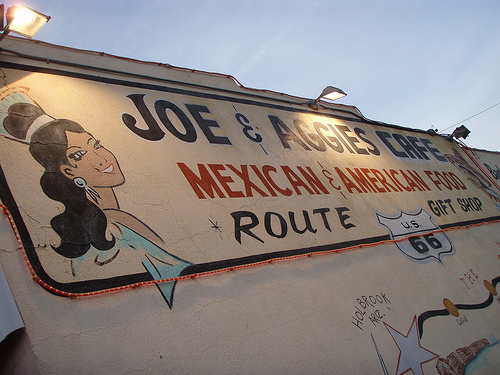 I roared back onto the road, past Joseph City (although tragically with no time to see the plastic rabbit) and towards the meteor crater. But too late. It was closed for the day. And I had to make do with another desolate shot of yellow lines.
Although this one is a little bit like the old Bruckheimer / Simpson logo, it must be said.
Then it was onto Flagstaff, which I'd been to before. It's a cool little college town up high in the mountains, with pine trees and springs and shit. I like it.
My hotel was actually on Route 66 and after some dinner at Josephine's I wound down with the most barking entertainment possible.
At the Applesauce Teahouse was a music and comedy night, featuring a two man band called Tentacle Craft. Who only sang songs about Cthulhu. All featuring lyrics about parallel dimensions and tentacles.
They did a song in binary, they sang songs in squid masks, they instructed the audience to rolll an oversized twelve sided die.
They were playing to 20 people max and I quickly became their most vocal supporter.
One guys looked like a baby faced version of Captain Beefheart, the other the spitting image of Jimmy Duval.
They lost half there audience during a long Cthulhu ballad mid set. I stuck it out and clapped loud. Clearly Flagstaff did not deserve there mad brilliance. This blurry I Phone photo is all I could get.
I can't believe I actually managed to randomly see them.
And that was my last night on the trip, only one more day of driving. All the way to California! Woo and most crucially hoo.
The last installment - next.
Tunes for this part of the trip.
The Number Song - DJ Shadow
Manha Manha - Cake
Never, Never Gonna Give You Up - Cake
Rock 'N' Roll Damnation - AC DC
Up To My Neck In You - AC DC
Rocker - AC DC
Fuck Christmas - Eric Idle
Duelling Banjos - Eric Weissberg & Steve Mandell
Mini Skirt Esquivel - Fa Fa Fa
Vamos A Matar Companeros - Ennio Morricone
Stay With Me - Faces
You Make Me Feel (Mighty Real) - Sylvester
I Want Your Love - Chic
Ring My Bell - Anita Ward
I Will Survive - Gloria Gaynor
Heart Of Glass - Blondie
Forget Me Nots - Patrice Rushen
Up On Cripple Creek - The Band
Sailor's Life - Fairport Convention
Paper Sun - Traffic
Wynder K Frog - Harpsichord Shuffle
Rainbow Chaser - Nirvana (UK)
P.S. Please note that you cannot give me sightseeing suggestions for a past road trip. Unless you happen to know a working Time Tunnel.
Hello there, I wanted to rescue some of my old MySpace blogs and archive them here on my own site. Over the next few weeks I will retroactively chronicle a particularly colourful period exactly two years ago. This was originally posted on December 2nd, 2007.
So. Another sunrise start. Another awesome desert plain. Another desolate photo of yellow lines down the middle of an empty road.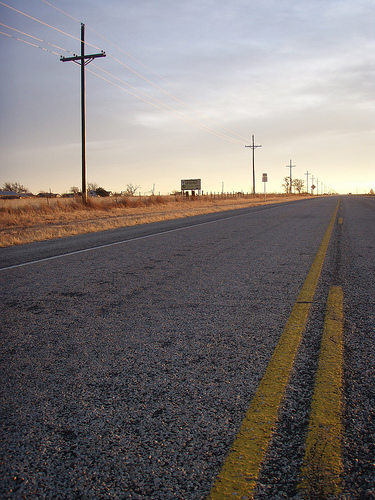 After downing a good two double espressos at Roaster's Coffee at Wolfin Village (not run by any Premier League footballers, thank god*). I headed south on the I-27 to Palo Duro Canyon as the sun came up and promptly did the scenic drive around the deserted-at-this-hour-canyon.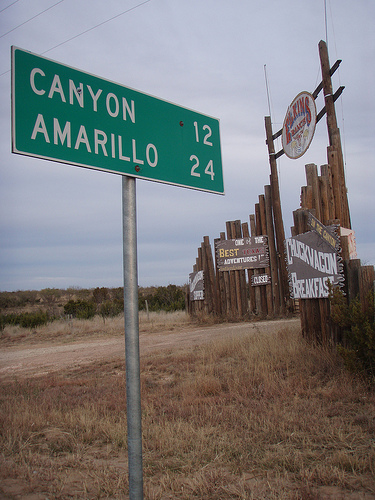 The 16 mile scenic drive had an recommended duration of 45 minutes. I did it in 20 and took the time to start working my way through The Band's Greatest Hits.
My crush on Robbie Robertson continues unabated. Yes, that's right, I was honestly thinking of switching sides in good Ol' Texas.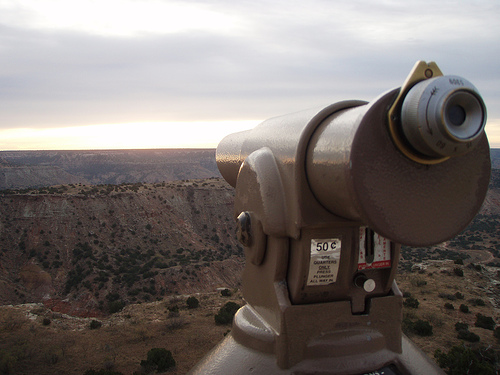 I then cruised over to Canyon, Texas to fill up and stop at Hasting Music & DVD to get some more road tunes.
You simply cannot go wrong with a Driving Rock compilation. I picked up a whole bunch of stuff for the next 287 miles or so.
I needed more tunes, even though my trip could not be more full of music cliches. "Is This The Way To Amarillo?" - Yes, I just left there. I was getting my kicks on Route 66, heading past Viva Las Vegas (the New Mexico one) and onto Alberquerque, home of hotdogs and jumping frogs.
Whilst buying a stack of CDs, I enquired to the clerk if he had the HOT FUZZ Collector's Edition in stock. He didn't but replied "Awesome movie". Then as he saw my debit card, the elements came together. "Holy Shit, you're Edgar Wright. Excuse the language".
The very lovely clerk Jason was surprised to a) find me without Simon and Nick b) find that I was in Canyon, Texas.
I signed a bit of receipt and sped off the sounds of Boston and Kansas, among many other non State related FM bands.
Through Wilmerado, I stopped off in the tiny town of Vega on the ironically titled Business Route.
There I paid a visit to Dot's Mini Museum, a celebration of bric-a-brac in two adjacent trailers. Dot was nowhere to be seen and there didn't even seem to be a donation tin, so I took these photos as evidence - and got outta there.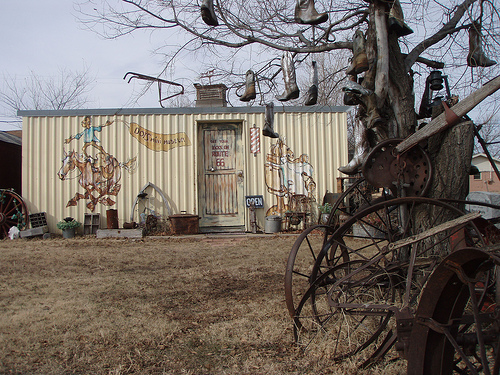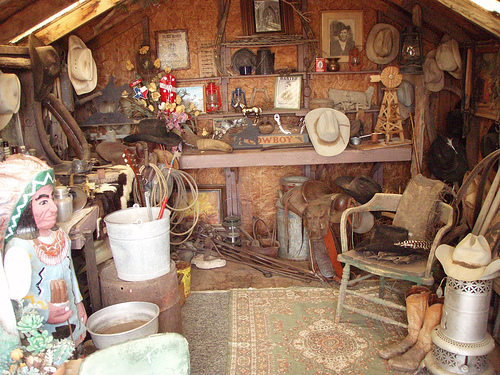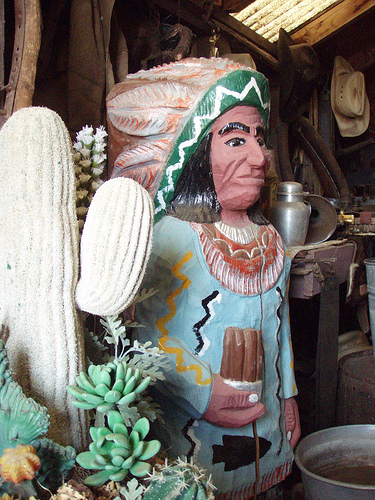 Next up was Adrian, where the famous Midpoint Cafe resided. The town's slogan is "When you're here, you're halfway there".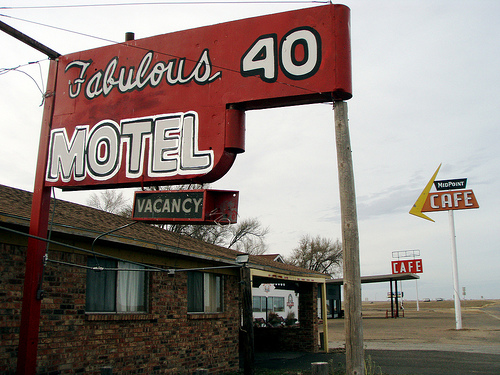 Sadly, there was no one there when I pulled up. This trip was starting to feel like 28 Miles Later.
64 miles of Explosions In The Sky later, I rocked up in Tucumcari, grabbed a coffee and took these snaps of the again-famous, but again-closed-for-winter, Blue Swallow Motel.
I'm not sure what a Blue Swallow entails, but it may be similar to a Jelly Doughnut or Arabian Goggles. Google it, but be aware it may well be NSFW. Or even NSFHE (Not safe for home, either)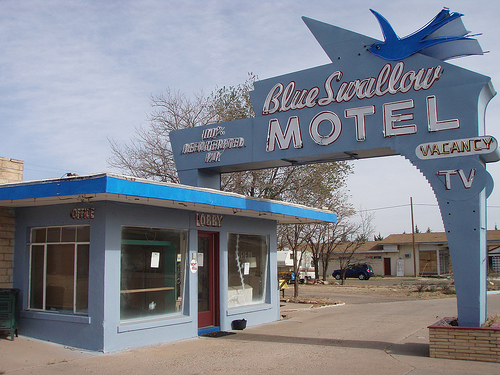 52 miles of Magical Mystery Tour later brought Santa Rosa, this thrilling photo op at Joseph's Cafe and the awesome derelict cars outside the Route 66 Restaurant.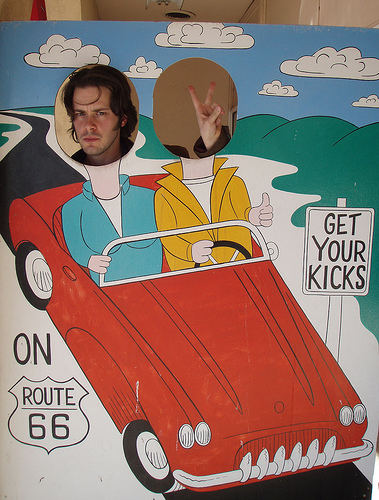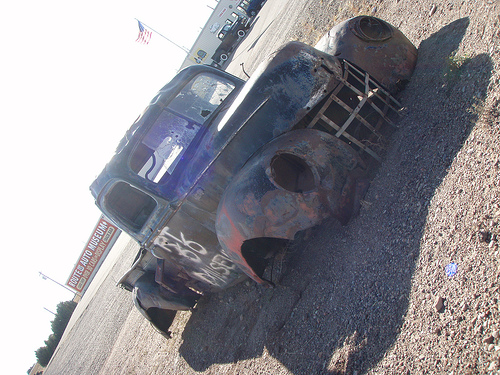 Then a big detour of 58 miles on the original Route 66 brought me to the other Las Vegas, the smaller, cuter one in New Mexico.
I took this snap of the famous-but-closed-for-winter Estelle's, stocked up on more coffee at the awesomely named Charlie's Spic And Span Bakery And Cafe and saw this great marquee for the New Mexico premiere of No Country For Old Men.
I'm guessing Joel and Ethan weren't in town for this prem. (Variety slang)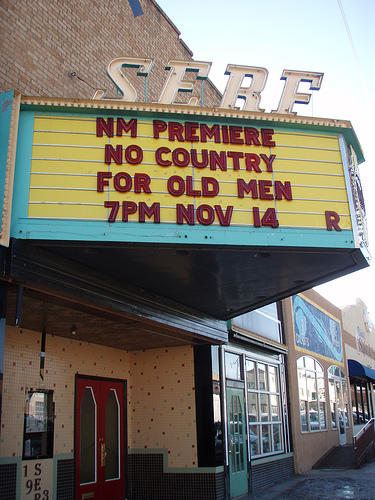 Then it was go-go-go, trying to hit Alberquerque by sundown. I missed out on Santa Fe almost entirely. Oh well.
I was also getting the coffee shakes pretty bad. Maybe Kowalski had the better idea by popping amphetimines. Luckily Eagles Of Death Metal kicked in as the sun went down providing up tempo desert driving rock.
It was dark by the time I got to Alberquerque, but I quickly scoped it out. Sadly the Rattlesnake Musuem had long closed in Old Town, so I headed to student hangout Nob Hill.
Here I stocked up on - yes - more coffee at the Satellite Cafe and stocked up on - yes - more music at the great record shop Natural Sound on Central.
I was too tired and not in too adventurous to go out partying so I did a quick bit of people watching at the rightly famous and very open Frontier Cafe, where students can eat burritos 24 hours a day.
Woo hoo. Free Wi Fi too, unlike the Hyatt Regency where I was staying where you had to log on as a T-Mobile Hot Spot customer.
Two words for that. Fuck that.
I liked what I saw of Alberquerque, it seemed like it was the Austin of New Mexico, with a cool crowd. Shame I couldn't stay longer, but tomorrow promised Arizona and some close calls and insanity.
More later.
Tunes For This Part Of The Trip…
The Weight - The Band
You Can Have It All - George McCrae
It's Natural to Be Afraid - Explosions In The Sky
Some Cities - Doves
Love Is An Unfamiliar Name - The Duke Spirit
The Desperados - The Eagles (not the U.S. Eagles)
Your Mother Should Know - The Beatles
Chase The Devil - Eagles Of Death Metal
Seven Seas - Echo & The Bunnymen
Light My Fire - Edmundo Ross
Silent To The Dark The Electric Soft Parade
Citta' violenta - Ennio Morricone
Hold Your Head Up - Argent
Raw Power - Iggy & The Stooges
Black Betty - Ram Jam
(Don't Fear) The Reaper - Blue Öyster Cult
Only Love Can Break Your Heart - Neil Young
(*Can UK talkbackers explain this filth to US talkbackers?)
P.S. Please note that you cannot give me sightseeing suggestions for a past road trip. Unless you happen to be Rachel McAdam's husband.