Cheers! The fantastic Drafthouse cinema chain celebrates pub life by featuring 'The Worlds End' in the August issue of BIRTH.MOVIES.DEATH. Get your copy now and stay tuned for more info on screenings of 'Shaun of the Dead', 'Hot Fuzz', 'The World's End', the full Cornetto trilogy in one sitting and other pub centric cinema.
Check out the August issue of BIRTH.MOVIES.DEATH. here
Alamo Drafthouse August Montage 2013 from Alamo Drafthouse on Vimeo.
Peter Jackson talks to Edgar Wright, Simon Pegg, Nick Frost about THE WORLD'S END.
We were lucky enough to have Edgar Wright host a premiere of his new film "The World's End" in Wellington last weekend. It's terrific - the most enjoyable movie I've seen in a long time. I deliberately avoided the trailers, and glad I did. It's a movie with great unexpected twists. My favourite of their wonderful "Cornetto trilogy", and a very refreshing highly original movie at the end of the summer of franchises. Made by a clever creative team for all the right reasons - they love what they do.

I got to sit down with Edgar, Simon Pegg and Nick Frost early on Sunday morning to have a chat about the film, and filmmaking.
Originally posted here: https://www.facebook.com/PeterJacksonNZ/posts/10151733046751558
Check the full list of locations below to see if your local cinema will be holding a special midnight screening of The World's End on July 19 and book tickets HERE or on the relevant cinema website.
Cinemas marked with an * will also run special Three Flavours Cornetto Trilogy Screenings of Shaun of the Dead, Hot Fuzz and The World's End starting at 7.30pm on July 18. Find out more about these screenings by clicking HERE
Aberdeen - Cineworld Union Square
Aberdeen - Vue*
Acton - Vue*
Aylesbury - Odeon
Basingstoke - Vue*
Bath - Odeon
Birkenhead - Vue
Birmingham - Empire
Birmingham - Showcase
Birmingham - Vue*
Blackburn - Vue*
Bluewater - Showcase
Boldon - Cineworld
Bolton - Vue*
Braehead - Odeon
Brighton - Cineworld
Brighton - Odeon
Bristol - Showcase
Bristol - Showcase Cinema de Lux
Bristol Cribbs - Vue*
Bristol Longwell - Vue*
Brixton - Ritzy
Bromborough - Odeon
Bury - Vue*
Camberley - Vue*
Cambridge - Vue*
Canterbury - Odeon
Cardiff - Cineworld
Cardiff - Odeon
Cardiff - Showcase
Cardiff - Vue*
Chatham - Odeon
Chelmsford - Odeon
Cheshire Oaks - Vue*
Clapham - Picturehouse
Cleveleys - Vue*
Coventry - Odeon
Coventry - Showcase
Cramlington - Vue*
Crawley - Cineworld
Croydon Grants - Vue*
Croydon Purley - Vue
Derby - Odeon
Derby - Showcase Cinema de Lux
Didsbury - Cineworld
Doncaster - Vue*
Dublin - Vue*
Dudley - Odeon
Dudley - Showcase
Dunfermline - Odeon
East Kilbride - Odeon
Eastleigh - Vue
Edinburgh Omni - Vue*
Exeter - Odeon
Exeter - Vue*
Feltham - Cineworld
Finchley - Vue
Finchley Road (O2 Centre) - Vue*
Glasgow - Showcase
Glasgow Quay - Odeon
Guildford - Odeon
Hackney - Picturehouse
Halifax - Vue*
Hamilton - Vue*
Harrogate - Odeon
Hartlepool - Vue*
Hastings - Odeon
Hatfield - Odeon
Huddersfield - Odeon
Hull - Vue*
Inverness - Vue*
Islington - Vue*
Kilmarnock - Odeon
Kingston - Odeon
Lancaster - Vue*
Leeds - Showcase
Leeds Kirkstall - Vue*
Leeds Light - Vue
Leicester - Odeon
Leicester - Showcase Cinema de Lux
Leicester - Vue*
Letchworth - Broadway
Limerick - Odeon
Lincoln - Odeon
Liverpool - Showcase
Liverpool One - Odeon
Llanelli - Odeon
Machester - Vue*
Maidstone - Odeon
Machester Printworks - Odeon
Mansfield - Odeon
Marble Arch - Odeon
Merthyr Tydfill - Vue*
Metrocentre - Odeon
Milton Keynes - Cineworld
Newbury - Vue
Newcastle - Empire
Newcastle East - Odeon
Newcastle-under-Lyme - Vue*
Newham - Showcase
Northampton - Vue*
Norwich - Odeon
Norwich - Vue*
Nottingham - Showcase
Nuneaton - Odeon
Oxford - Vue*
Oxford Magdalen St - Odeon
Paisley - Showcase
Peterborough - Showcase
Plymouth - Vue*
Poole - Empire
Portlaoise - Odeon
Portsmouth - Vue*
Preston - Vue
Reading - Showcase
Reading - Vue*
Romford - Vue*
Scunthorpe - Vue*
Sheffield - Odeon
Sheffield - Vue*
Southampton - Odeon
Southport - Vue
Staines - Vue*
Stevenage - Cineworld
Stockton - Showcase
Stoke - Odeon
Stratford (Westfield) - Vue*
Stroud - Vue*
Surrey Quays - Odeon
Swansea - Vue*
Tamworth - Odeon
Taunton - Odeon
Tottenham Court Road - Odeon
Thanet - Vue*
Thurrock - Vue*
Trafford Centre - Odeon
Uxbridge - Odeon
Walsall - Showcase
Waterford - Odeon
Watford - Vue*
West End (Leicester Square) - Vue*
Westfield London - Vue*
Wimbledon - Odeon
Woodhall Spa - Kinema in the Woods
Worcester - Vue*
Wrexham - Odeon
York - Vue*
[Further clarification and up to the minute updates can be found here (http://universalpictures.co.uk/theatrical/worlds-end-special-midnight-screenings).]
"The Three Flavours Cornetto Trilogy"
"Director At Work"
"Pegg and Frost"
"Friends Reunited"
Ever wondered where the Cornetto obsession comes from? Well…
And if U.K. fans want to experience the full 'Cornetto' in all its nutty glory, Universal has teamed up with VUE Cinemas for all three flavours. Starting on July 18 at 7.30pm, audiences will be treated to special screenings of Shaun and Fuzz followed by a first viewing of The World's End at midnight. The trilogy will screen at select Vue Cinemas across the country, will full details over at Edgar Wright's own blog.
Originally posted with comments and discussion on IGN
I'm liking this cinematic fisticuffs supercuts from Robert Jones.
There's 98 fights in here, proud that my films make up three of those.
So on April 18th, my birthday no less, I got to introduce one of my favourite films 'An American Werewolf In London' at the BFI Southbank as part of their Screen Epiphanies series.
This is my intro. With props, back projections and special guests!
Writer and director Edgar Wright discusses An American Werewolf in London, John Landis's cult comedy-horror, as a film that continues to inspire him. He's joined by actors Michael Carter and David Schofield, who appear in the film. This introduction formed part of the BFI's Screen Epiphanies members' event strand, presented in partnership with American Express.
Thanks to Alan Jones for the mint condition 'Starburst' and 'Beware The Moon's Paul Davis for helping me track down my guests.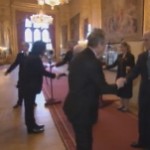 I wasn't allowed to take phones or cameras into Windsor Castle yesterday so thank you to the news cameraman at the event who recorded this fleeting meeting between me, Her Majesty and the Duke Of Edinburgh at their celebration of British Film.
That's me in the glasses, just after Count Dracula and Kane from 'Alien'.
Yes, I know!
Thanks to Matt Galo for the clip. Now watch George Lucas transform into me. It's magic.
Tomorrow, Friday the 15th of March, marks the fourteenth Red Nose Day, Comic Relief's fabulous bi annual fundraiser for charities at home and abroad. People all over the country will be doing their part to raise money for those less fortunate.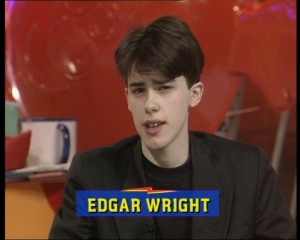 Back in 1991 I did my bit for the third Red Nose Day by entering a competition on Saturday morning kids show 'Going Live!'. The competition was to make a short film about one of the causes that Comic Relief support and I made an animated film about the then lack of disabled access in cinemas.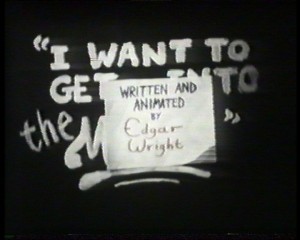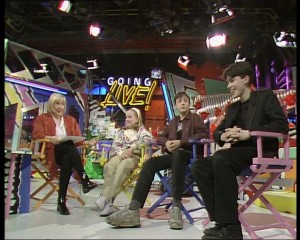 And on the morning of March 16th 1991, I was live at BBC Television Centre. It was very surreal as you can tell by my subdued, overawed manner in the following clip.
Enjoy the 16 year old me! And then find out how to donate for this years event.
Some notes:
- I was wearing my sixth form suit.
- I did not become the 'world's best animator'.
- Somewhere in a box is my framed, signed photograph of Lenny Henry.
- Just out of shot - Philip Schofield, Gordon The Gopher, Ben Elton, Hale & Pace, Trevor & Simon and The Mock Turtles.
- I shot the animation in one night, the 17th of January 1991 as the first Gulf War strike was happening. The news of the raid soundtracked the shoot.
- My classmate Fiona Lunnon told me to enter the competition and has forever since claimed all credit for my career. Fiona, you are correct.
- Someone at 'Comic Relief' told me I had won by mistake and I had to fake my look of surprise on the live show. It's not quite a 'Quiz Show' scandal, but I think that I did a pretty good actings.
- I used the video camera to shoot no budget epics like 'A Fistful Of Fingers', 'Dead Right' and my superhero opus 'Carbolic Soap'.
- I did not get off with Sarah Green.
- Philip Schofield smoked during the cartoons.
- 'Going Live!' was shot in Studio TC7, which is soon to be bulldozed as part of the reconstruction of BBC Television Centre. Boo.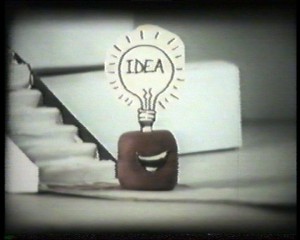 Enough about me - DONATE TO COMIC RELIEF NOW!
At this point I'm not sure if Tom Haigh from the ITV archive is a great friend or a mortal enemy, as he has now unearthed three more clips of a teenage me as amateur film-maker on various ITV shows.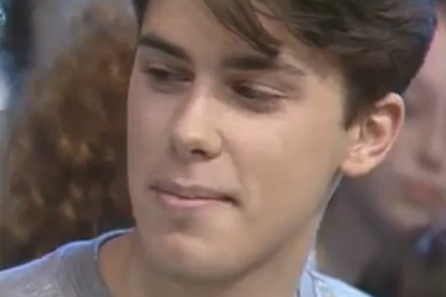 I dread to think what obscurities he'll dig up next. Previously unseen CCTV footage of my first fumbled snog with a girl in the back row of 'Mannequin' at the Wells Regal? Or me badly singing 'Bad Guys' from a 1987 school production of 'Bugsy Malone'? We shall see…
As I've said before, I started making zero budget films at the tender age of 14. First with a second hand Super 8 camera and then on Video 8. And some of these landed me on the telly.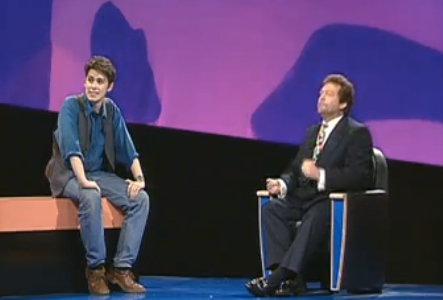 Behold a clip of me on the pilot for 'Hot Shots', a vehicle for the late Jeremy Beadle that was a spin off from 'You've Been Framed'. Viewers could win 500 quid with a comedy sketch or clip. I sent in my 1992 hour long video version of 'A Fistful Of Fingers' they edited it into a trailer and dubbed on some uproarious laughter from the audience. Check out my extremely short interview right here.
Edgar Wright on Beadle's Hot Shots (1994)
Three notes. That is not the 16mm feature version of 'Fistful'. Secondly I definitely remember doing a full interview with the Beadle. Maybe it was ruthlessly cut out. And secondly, I actually worked as researcher on the first series of the show at the age of 20. It was actually a lot of fun working at LWT as a mere child.
Next up is the full interview of myself and a very tactile Jenny Powell. This also features my good friend and great director Corin Hardy. I cannot explain my eye rolls or facial expressions.
Edgar Wright on Gimme5 (1993) - Extended Clip
Finally here is long clip of the opening of the same episode. It doesn't really feature me but it is archive gold for fans of early 90's graphics.
Also, look sharp around the 1.30 mark and you can see young Brian Cox, now science superstar, but then a member of D:Ream. Great end of the clip too.
Gimme5 (Intro)
I think that's it for the while. Maybe I will dig up my 'Going Live!' appearance…if you are good.
My oh my. A good fellow by the name of Tom Haigh at the ITV archive sprung a surprise by unearthing five clips of me as teenage amateur film-maker on various shows.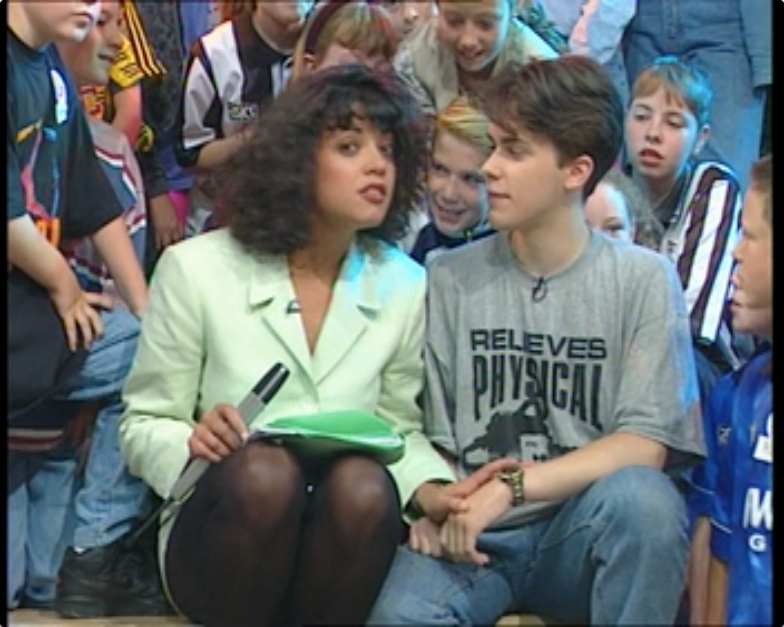 I started making zero budget films on second hand Super 8 camera in 1989. Two years later I won a video camera on 'Going Live!' in a contest revolving around 'Comic Relief'. From there, I started making as many no-budget shorts and featurettes as I could. And some of these landed me on childrens' TV.
Watch and be wowed by: my hair, my skinny frame, my line in waistcoats and my ever changing voice which goes from well spoken middle class schoolboy to would be bloke from Lan-dahn.
First up, here's me with the very fragrant Jenny Powell on Tyne Tee's 'Gimme Five'. I travelled up to Newcastle with my good friend Martin Curtis to show our short 'Help!' which I made at the age of 18. Please note the rainbow lines of VHS crash editing on every single cut and also my outrageously arrogant answer to the question; "So anyone can do it?".
Myself & Martin are playing much too cool for school. We secretly had the raging hots for Jenny.
Edgar Wright on Gimme5 (1992)
The next year I was asked back to Newcastle and this time they showed clips of my short 'Infra Red Fred' which is bit like a proto version of 'Click' and apparently a lot like a Benny Hill sketch I must have subconsciously stolen from. They don't show the whole piece, but it's worth watching for my weird angry face I pull at the end. What was I thinking?
Edgar Wright on Gimme5 (1993)
This in depth profile with a girly voiced young film maker was as a result of entering into the Co-Op Young People's Film Festival a few years in a row. My interviewer was a lady called Georgey Spanswick.
This piece includes clips from the video8 version of 'A Fistful Of Fingers' which I shot with schoolfriends in the summer of 1992. I do like to complain a lot about how long it takes to make movies.
Edgar Wright on The Film and Video Showcase (1994)
After appearing on 'Going Live!' and 'Gimme Five', I was asked to be an 'expert' on Yorkshire TV's 'Brill'. I wanted to talk about amateur film-making but they wanted to focus on home-made special effects and make up. Which as you can see from the show, is not my forte.
Presenter John Eccleston was also a puppeteer for Henson's and I later worked with him on the 'French & Saunders' Titanic special when the Leprechauns from 'Live & Kicking made' an appearance.
On this show we could not say 'vomit' or 'spew', so the odd alternative of 'huey' was used instead. Huey.
Edgar Wright on Brill (1994)
This final and very short clip of me was part of a late night report on the zero budget film scene in mid nineties London. By the year 1996 I had moved to the capital and apparently decided that an orange shirt and goatee was a good look. I do not know what is going on with my voice. I may have had a sore throat or been hungover or maybe I was trying to sound more like my more worldly peers.
This contains a clip of the 16mm version of 'A Fistful Of Fingers'.
Edgar Wright on Hotel Babylon (1996)
Somewhere out there are even more clips. Thanks to Tom again for embarrassing me like this.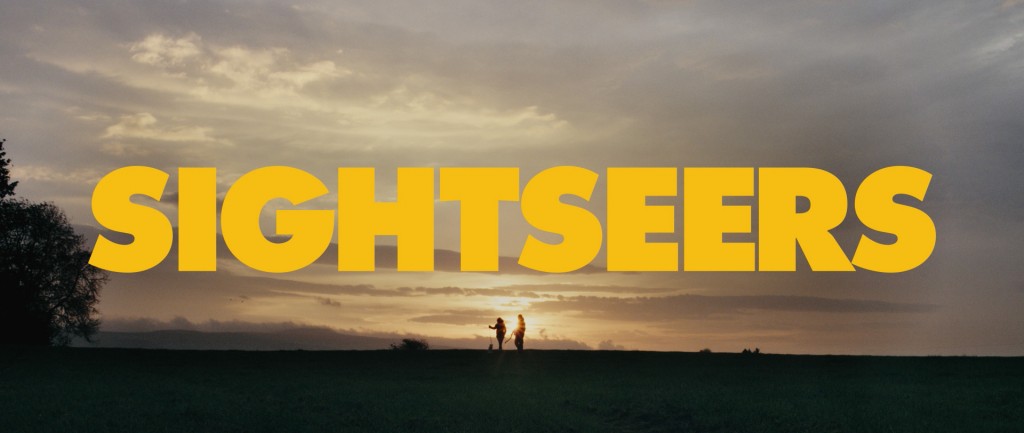 Please check out the trailer for the new film from Big Talk Pictures.
I saw Alice Lowe & Steve Oram's short 'The Sightseers' back in 2007 and suggested to producer Nira Park that it might make a great feature.
Five years later it is, courtesy of the fantastic director Ben Wheatley.
You are going to love it. Can't wait for you to check it when it opens in November. Behold!
Sightseers - The third film from award-winning director Ben Wheatley (Down Terrace, Kill List), Sightseers is written by its stars, Alice Lowe and Steve Oram with additional material by Amy Jump.

To be distributed by Studiocanal in the UK, the forthcoming comedy is a Big Talk Pictures production in association with Rook Films. It is produced by Nira Park (Big Talk Pictures) and Claire Jones and Andy Starke (Rook Films), and executive produced by Matthew Justice, Danny Perkins, Jenny Borgars and Katherine Butler. Big Talk's development of the film was funded by Film4 and the BFI Film Fund. The film is financed by StudioCanal, Film4 and the BFI Film Fund.

International sales are being handled by Protagonist Pictures.
The good people at T3 have shortlisted me as their 'Gadget Personality Of The Year' for my work on 'Brandon Generator'. Which is very nice.
If you haven't seen the site yet, then go here and knock yourself out. And vote below!
Most famous for directing the Simon Pegg and Nick Frost movies, Wright turned his hand to tech this year with an awesome interactive, social-media infused online comic book.

Edgar Wright's Brandon Generator project pushed back the boundaries of what can be achieved with HTML5 web browsers - specifically Internet Explorer 9.

Part graphic novel, part interactive game, part tech experiment, Brandon Generator encouraged the audience to participate in the development of the story, by submitting prose, drawing creatures, solving puzzles and leaving messages for the main character.

Does the hyper-cool Wright's contribution to the tech world deserve an official nod from the T3 Awards? That's up to you - vote below!
NB. The link above will tweet your vote for me in the Gadget Personality of The Year Award.
Check out these mini making of documentaries about the creation of 'Brandon Generator'.
Behind The Scenes of Brandon Generator
Brandon Generator - The Teasers
In January, I was asked to by the good people at Three Monkeys and Microsoft if I'd like to create a 'crowd-sourced animated film'. Six months later, we have four instalments of 'The Random Adventures Of Brandon Generator'. Watch the finale right here.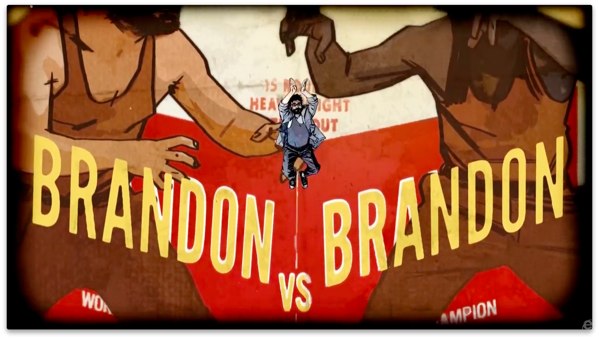 I'd like to thank the amazing Tommy Lee Edwards for his illustration and animation. It's been an absolute pleasure working with him and I have been consistently bowled over by what he managed to do in the time. I think each episode looks better than the last and I can't believe he pulled off the final episode in three weeks. Kudos to him and tireless animation wizard Scott Benson and also 3D boffins Don Cameron and Daryl Bartley .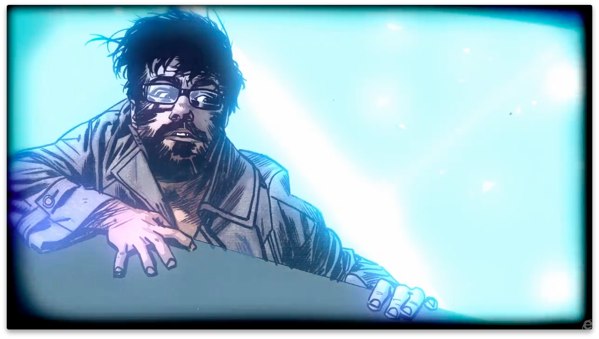 Big shouts also go to silky voiced Julian Barratt, the supercool music maestro that isDavid Holmes, creative brainbox Boz Temple Morris, our amazing sound editor Alisdair McGregor and the whole team at LBI for making the site come to glorious life.
And of course thanks to you all! Not just the 96 of you who contributed to Episode 4, but the 9000 of you who left art, prose and wacky voicemails on the site.
You've informed, shaped and percolated my ideas for 'Brandon Generator' with your contributions and you all rock. I hope you are proud of the caffeine soaked insanity we produced together. It's been a blast.
Let's do this again.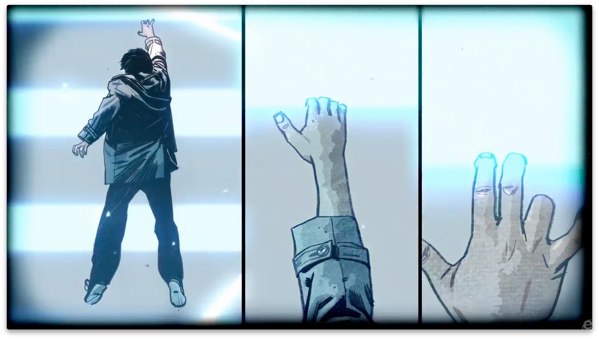 Here's the credits for Episodes #4.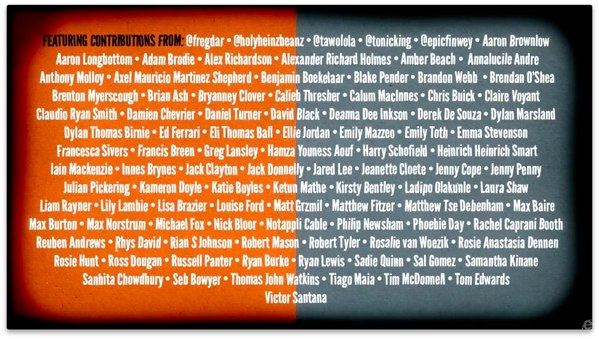 After you've watched all four episodes go to Brandon's desk and get writing future instalments…
Am always happy to make a super cut. Here's a great assembly of pre-mortem wisecracks where Scott Pilgrim is in the amazing company of Harry Callahan, Ash & John Matrix.
(It's only missing Todd Ingram questioning the validity of the word 'Vegone'.)
And then here is a super cut of three point landings. I'll confess that when I shot this scene, I did not know there was even a technical term…
So here's a thing.
From thousands of contributions we used 69 submissions from the public in the second episode of 'Brandon Generator' in the form of dictaphone ideas, prose, creature sketches and voicemails.
But only 68 are credited. Why?
Because we have no details for the lady who left this message in the episode…
So our fictional mystery girl is a real mystery girl.
If this is you then please come forward. We want to credit you and perhaps use you again…
Speaking of which, go to Brandon's car at the end of Episode 2 and you can write what happens next, draw your own version of events and leave a message for Brandon.
And if you want to be his mystery girl for real, either leave a message as her or upload your photo. Your face could be immortalised by Tommy Lee Edwards and / or your voice could star alongside Julian Barratt. So artists, models, actors and writers…pitch in for Episode 3 now.
Observe.
Uploaded by Snovyda27 on Nov 24, 2022
A little mash-up I made using some of the works of Edgar Wright.
Clips from:
Spaced
Shaun of the Dead
Hot Fuzz
Scott Pilgrim Vs. the World
Song: Mindless Self Indulgence - Straight to Video
No copyright infringement is intended. All rights belong to their respective owners.
Rocky, Indy, Amadeus, Ferris Bueller, Bruce Lee… Scott Pilgrim. Good company to be in.
Running counts. Jams count. Style counts. Splits count. Basketball, soccer, tennis, football, snowboarding, skiing, lacrosse, baseball, softball - those all count. Walking, flying, training, cardio, jumping, stacking, taking the stairs - they all count too.

The Nike+ FuelBand. Life is a sport. Make it count.

To find out more about Nike Fuel go to http://www.nike.com/fuelband